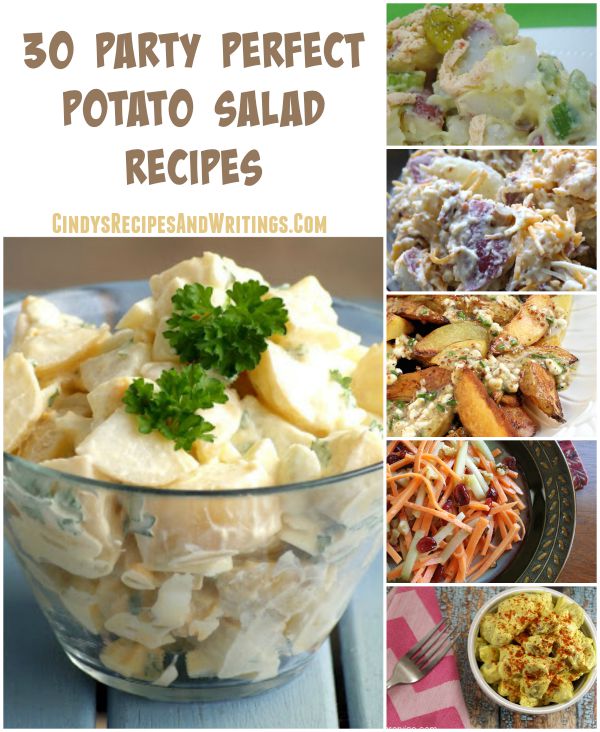 Everybody has a favorite potato salad. It could be your Mom or Grandma's recipe. Maybe you stumbled onto an oldie but goodie in an old cookbook or magazine. Then there is your Food Network favorite or maybe Julia or Lidia offered a family winner.
One thing is certain, Potato Salads will always be on the picnic menu.
Here are 30 Potato Salad recipes that will please the pickiest potato salad connoisseurs at your get-together.
1. Healthy Yogurt Potato Salad
2. Potato Salad with Cottage Cheese Dressing
3. Loaded Baked Potato Salad
4. Deviled Egg Potato Salad
5. Old Fashioned Potato Salad
6. Great Canadian Potato Salad
7. Roasted Potato Salad in Dijon Goat Cheese Dressing
8. Moms Potato Salad
9. Russian Potato Salad
10. Vegan Potato Salad
11. Mustardy Lentil and Sweet Potato Salad
12. Southern Potato Salad
13. Sweet Onion Potato Salad
14. Nectarine Summer Salad
15. Lemon Herb Potato Salad with Pickled Celery
16. Bloody Mary Potato Salad
17. Classic Potato Salad
18. Loaded Baked Potato Salad
19. Buttermilk Dill Potato Salad
20. Mexican Potato Salad
21. Creamy Cilantro Potato Salad
22. Spicy Asian Potato Salad
23. Grilled Potato Salad with Charred Lemon Dressing
24. Roasted Sweet Potato Salad
25. Easy Mayo Potato Salad
26. Greek Potato Salad
27. Blue Cheese Roasted Potato Salad
28. Low Carb Potato Salad
29. Grilled Peach and Sweet Potato Salad with Honey Balsamic Vinaigrette
30. Sweet Potato Salad with Granny Smith Apples