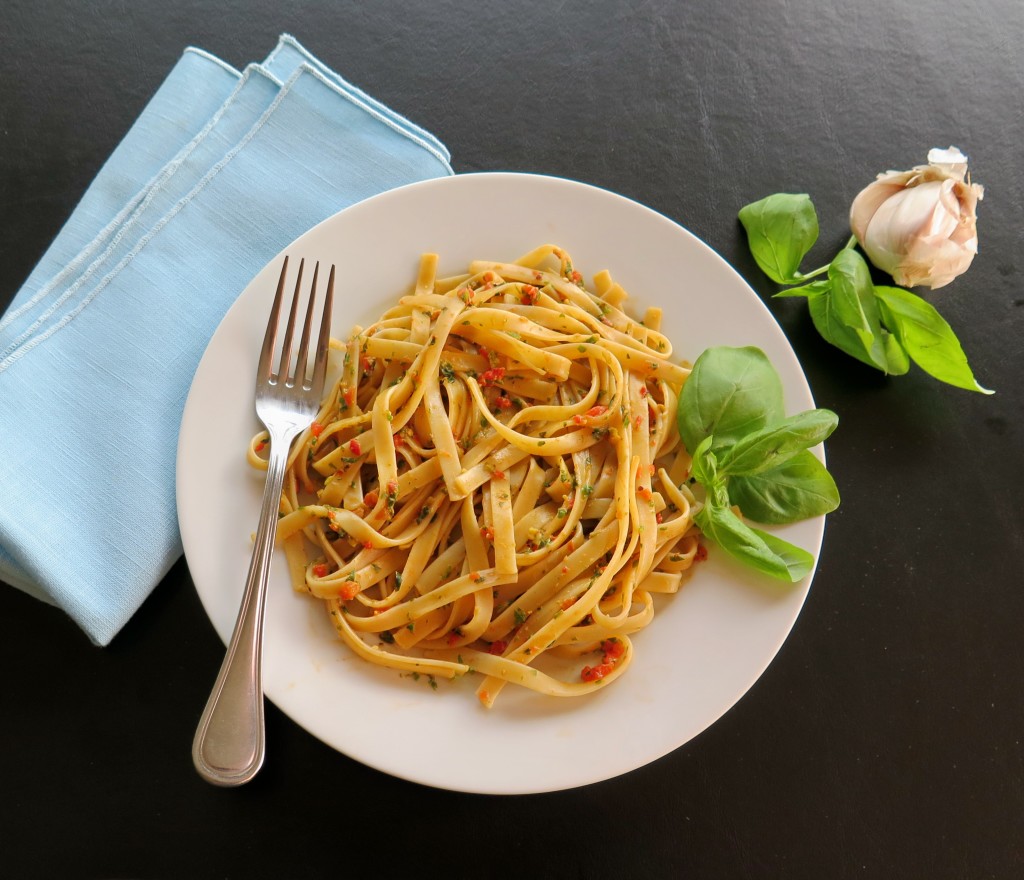 I love pesto of all kinds. Have you ever bought those little jars or tubes? I've found them to be very pricey. Pesto is actually easy to make: herbs, garlic, oil, cheese, nuts, salt and pepper. That's it. Imagine all the wonderful possibilities you can make at home.
Making your own is DIY Kitchen Essentials is today's Recipe ReDux Challenge!


What favorite kitchen staples do you now make from scratch – but in the past you purchased? Show us your best DIY recipe for keeping cupboards, fridge or freezer stocked with healthy basics. Think homemade frozen waffles, salad dressing, broth or other kitchen essentials.
I already make most of my own broths, seasoning blends and dressings. I've made and froze pizza dough, waffles, pancakes, breads and breadcrumbs. Pasta too on occasion.
I picked a pesto because you can keep it in the fridge for several days and use it in a variety of ways. I used it as a pasta sauce, chicken topping, bruschetta or in place of garlic bread. You can mix it into rice or whole grain dishes. It makes a great pizza topping too!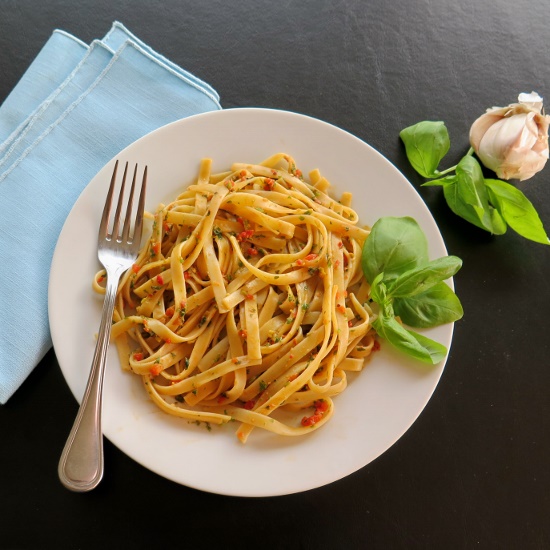 Arugula Pistachio Red Pepper Pesto is easy to make and blends well with any pasta.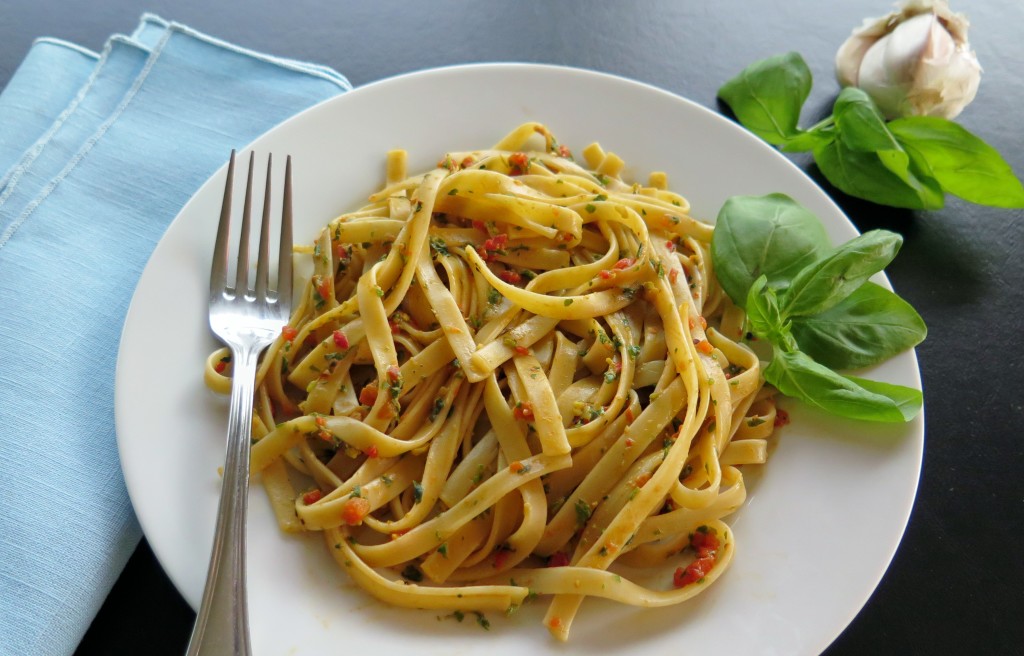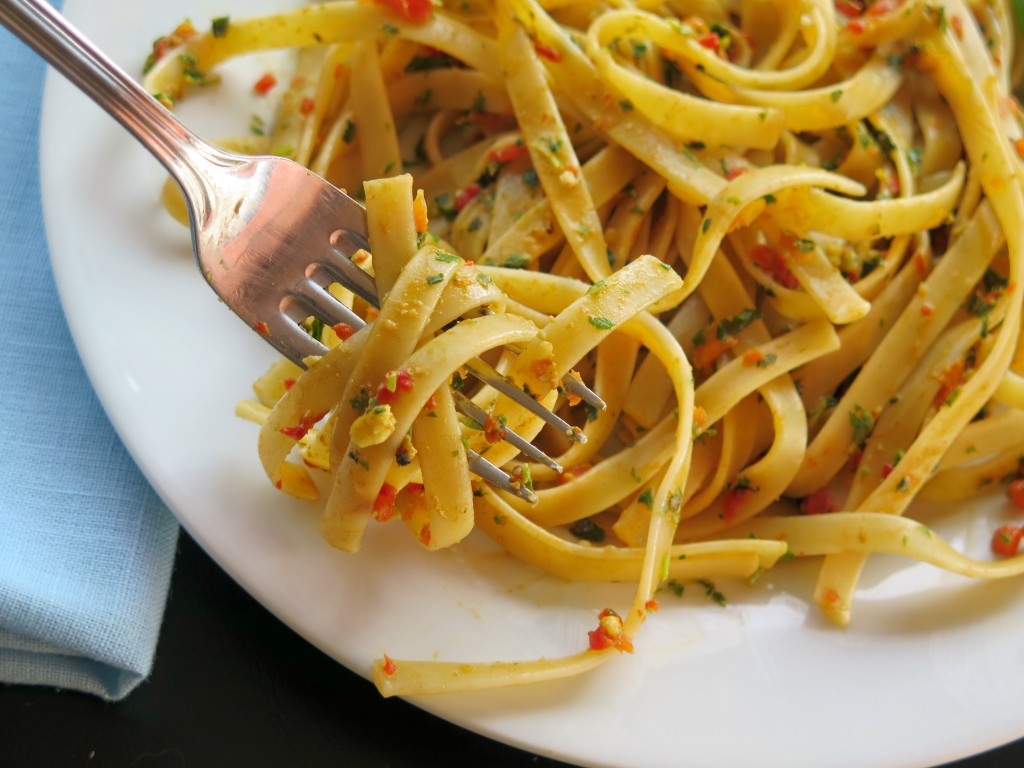 Arugula Pistachio Red Pepper Pesto
Ingredients
1 cup baby arugula
1/2 cup fresh basil leaves
2 cloves garlic, chopped
2 Tablespoons chopped Pistachios
1/4 cup grated Parmesan
1 Tablespoon olive oil
1 cup roasted red peppers, drained and chopped
salt and pepper to taste
Instructions
Place arugula, basil and garlic in a food processor. Grind. Add cheese and nuts. Grind together.
Keep processor running and drizzle in oil to form a paste.
Add red peppers and process until smooth. Salt and pepper to taste.
Store unused pesto in the refrigerator for up to four days.
http://www.cindysrecipesandwritings.com/arugula-pistachio-red-pepper-pesto-reciperedux/
Here are a few more pesto recipes to try: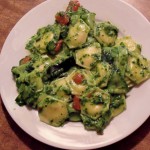 Spinach Pesto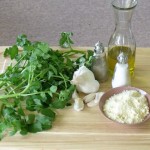 Watercress Pesto
Homemade pasta too!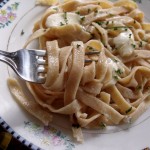 Kamut Pasta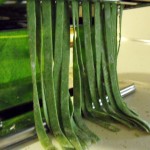 Spinach Pasta
About Recipe Redux:
As the first and only recipe challenge founded by registered dietitians,The Recipe ReDux is focused on taking delicious dishes, keeping them delicious, but making them better for you. Dietitians Regan Jones (ofReganMillerJones, Inc.), Serena Ball and Deanna Segrave-Daly (both of Teaspoon Communications) founded the group on the belief that healthier eating should always taste delicious. As the Latin term "redux" means to revisit or reinvent, we are reinventing the idea of healthy eating with a taste-first approach. We aim to inspire the food lover in every healthy eater and inspire the healthy eater in every food lover.
You can apply to join here .
Enjoy these great DIY Kitchen Essentials from Recipe ReDux!