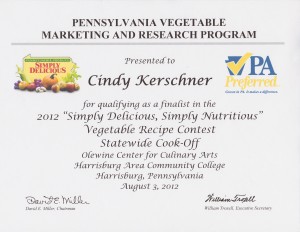 My 2 closest friends each commented on my third trip as a finalist to the Pennsylvania "Simply Delicious, Simply Nutritious" Vegetable Recipe Contest Cook-Off.
One said, "Three's the charm!" The other said, "Three strikes you're out!" 😉 . Guess which one I took along to Harrisburg!

The cook-off is sponsored by The Pennsylvania Vegetable Marketing and Research Program at paveggies.org to promote local farms and buying local veggies and help vegetable growers with agricultural and marketing issues.
The host facility is actually a college where you can study the culinary arts and earn your degree. The center has a fully equipped kitchen and we were given full privileges to use any equipment we needed!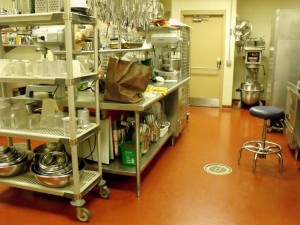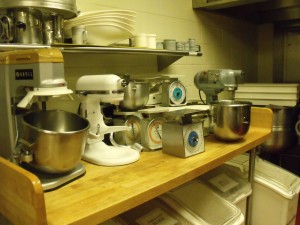 The cook-off was divided into 4 categories: melons/cucumbers, summer squash, tomatoes/peppers/eggplant and winter squash.
Each category is called when its your turn to present your entry for judging. You get a few minutes to stage your dish and take pictures of your own. The press and marketing committee also takes photos.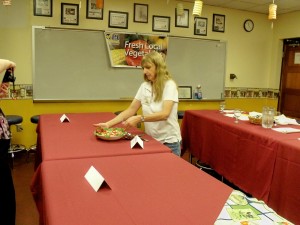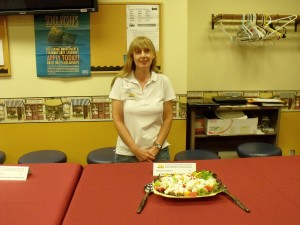 This year I entered my Tangy Tomato and Strawberry Salad and my
Zesty Melon and Shrimp Salad.
The best part is we get to sample each others entries!
This is what was left of my Zesty Melon Shrimp Salad! 😉
Last year one of my entries that made it to the finals was a salad with broccoli, cauliflower, turkey and orzo, the recipe is listed below. Each year the Council picks several of the finalists and winners recipes and prints these recipe cards to distribute at events and various locations throughout PA.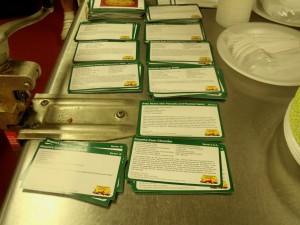 Here's one of my cards!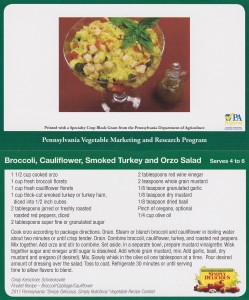 Here's the recipe!
Broccoli, Cauliflower, Smoked Turkey and Orzo Salad
Serves 4 to 6
Ingredients
1 c. Broccoli Florets – fresh
1 c. Cauliflower Florets – fresh
1 c. Smoked Turkey or Turkey Ham – thick cut, diced into 1/2 inch cubes
1 1/2 c. orzo – cooked
2 T. Roasted Red Peppers – jarred or freshly roasted, diced
2 T. Super Fine or Granulated Sugar
2 T. Red Wine Vinegar
2 tsp. Whole Grain Mustard
1/8 tsp. Granulated Garlic
1/8 tsp. Dry Mustard
1/8 tsp. Dried Basil
pinch of Oregano – optional
1/4 cup Olive Oil
Cook orzo according to package directions. Drain. Steam or blanch broccoli and cauliflower in boiling water about 2 minutes or until crisp tender. Drain. Combine broccoli, cauliflower, turkey, and roasted red peppers. Mix together. Add orzo and stir to combine. Set aside.
In a separate bowl, prepare mustard vinaigrette. Wisk together sugar and vinegar until sugar is dissolved. Add whole grain mustard, mix. Add garlic, basil, dry mustard and oregano (if desired). Mix. Slowly whisk in the olive oil one Tablespoon at a time.
Pour desired amount of dressing over the salad. Toss to coat. Refrigerate 30 minutes or until serving time to allow flavors to blend.
I didn't win the top prize, but I did walk away with a vocher for $50.00 for veggies at a participating farm stand of my choice. That would be Lyon Creek Farm in New Tripoli! The Council prepaid Lyon Creek and I get a voucher exclusive to their farm! Win win! I get delicious veggies AND get to promote local farms!