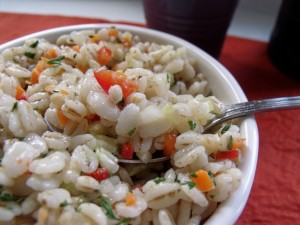 I can eat salads anytime of year. So I was especially excited to learn about this great new group of salad lovers over at The Salad Bar on Facebook. Each month we'll have a theme to build our salad around.
This month we're bringing a potluck salad to the picnic!
I chose to make a barley salad with vegetables instead of potato, pasta or a salad with greens. Whole grain barley works well in salad without needing mayo or to be propped up on a bed of lettuce.
This salad had a light oil and vinegar dressing. Keep it cold and it will travel well. You can make it ahead its better the next day!
Barley Salad
2 cups cooked barley
2 Tablespoons finely diced celery
2 Tablespoons finely diced carrots
2 Tablespoons finely diced red peppers
1 Tablespoon red onion
1 Tablespoon parsley
1 Tablespoon rice vinegar
3 Tablespoons olive oil
2 teaspoons honey
1/2 teaspoon low-sodium soy sauce
Salt and pepper to taste
Mix barley and veggies together. Whisk together vinegar, oil, honey, soy sauce, salt and pepper. Add dressing to barley mixture. Chill and Serve.
Check out all the great Potluck Salads this month at The Salad Bar!
Related articles