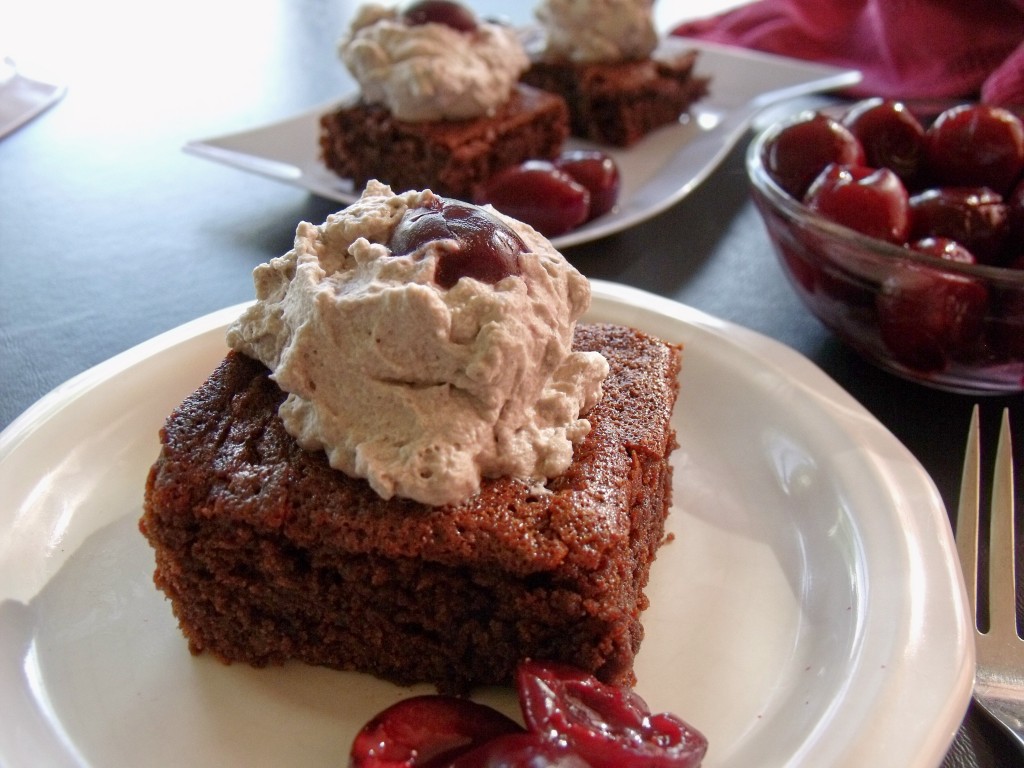 Black Forest Torte was one of the first cakes we were taught to make at school. We used Bing cherries. I was already very familiar with these sweet, dark jewels.
I grew up blessed with all kinds of fruit growing around the neighborhood. There were wild raspberries and mulberries. Our next door neighbors had a strawberry patch, apple and pear trees too. There was an apricot tree on a nearby abandoned lot. The bonus was that most of it was free for the picking. That was the neighbors' policy. As long as you didn't waste it. One particular neighbor had a Bing cherry tree. These were always a late summer treat.
Since making that first torte, I've loved the taste of chocolate and cherries together. I lost that recipe a long time ago, but I've toyed with other combos like chocolate cherry ice cream and even pudding.
Brownies are a go-to dessert for me. They're quick, versatile and always crowd pleasing. So combining rich dark chocolate and sweet, dark cherries sounded like a great tasting brownie possibility to me. A touch of rum and a dollop of chocolate whipped cream made these Black Forest Brownies a new favorite at my house.
If you love brownies and food as much as I do, I have an opportunity you will love!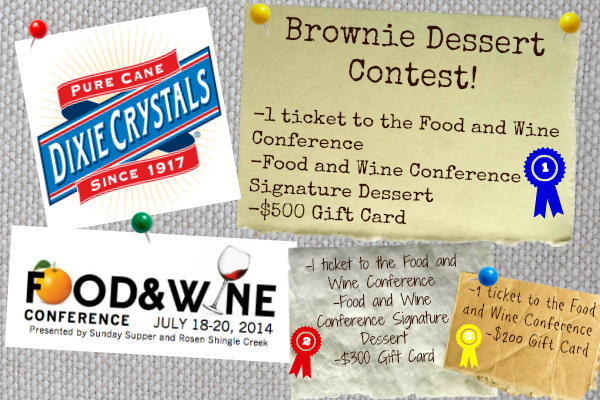 The 2014 Food and Wine Conference held in Orlando, Florida July 18th-20th has an exciting way you can enter a brownie contest with a chance to win a free conference pass and more!
Find out more about this opportunity and how to enter: Dixie Crystals Brownie Dessert Contest 2014 .
Black Forest Brownies
Ingredients
2 squares unsweetened chocolate
½ cup unsalted butter
1 cup Dixie Crystals sugar
2 eggs, beaten
½ cup flour
½ tsp baking powder
½ tsp salt
¼ cup diced black sweet cherries or Bing cherries (fresh or frozen)
½ tsp rum or rum extract
¼ tsp vanilla extract
Chocolate Whipped Cream
2 cups heavy cream
1 tablespoon cocoa
¾ cup Dixie Crystals powdered sugar
½ tsp vanilla
½ cup black sweet cherries or Bing cherries cut in half for garnish.
Instructions
Melt butter and chocolate in a double boiler or microwave. Set aside to cool. Add diced cherries, rum, vanilla extract.
Whisk eggs and sugar together.
Slowly incorporate cooled, chocolate/butter/cherry mixture into the eggs and sugar.
Mix together flour, baking powder, salt and in a separate bowl. Stir dry ingredients into wet mixture.
Spread into a well-buttered 8×8-inch baking pan.
Bake at 350 for about 25 minutes and until inserted toothpick comes out clean. Let cool before cutting and serving.
Chocolate Whipped Cream
Pour cream into a well-chilled mixing bowl
Mix powdered sugar and cocoa
Add vanilla and powdered sugar mixture
Beat on med-high until stiff peaks form.
Top with whipped cream and garnish with a cherry.
This recipe was entered in a #FWCon contest sponsored by Dixie Crystals where I have a chance to win selected prizes. I was not compensated for writing this post.