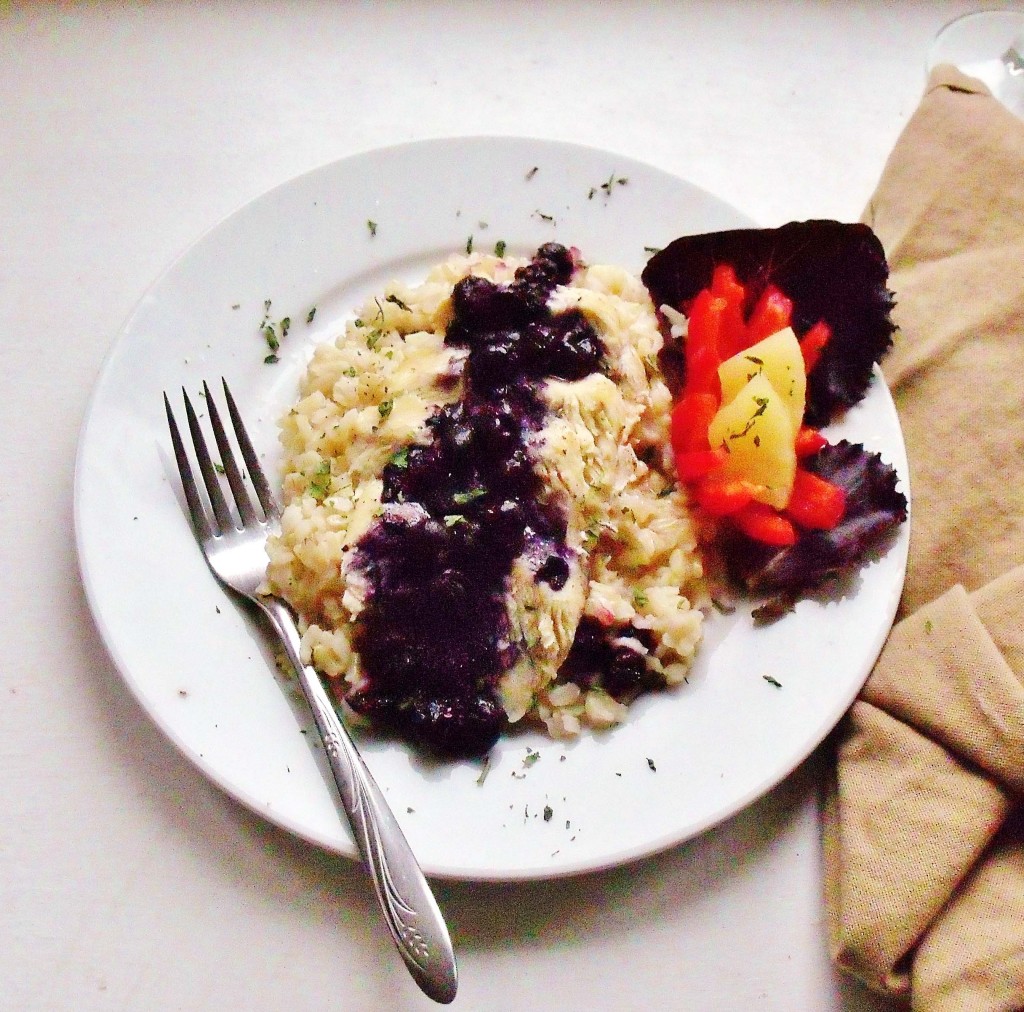 This post is sponsored by American Family Insurance. All opinions are my own.
Eating healthy doesn't mean you need to give up all the foods you love. In reality, moderation is the key. Moderation when eating is one of the big secrets to successful dieting or maintaining a healthy weight.
We crave fats and sweets even though we know a diet rich in these isn't good for us. So why not replace some of that sugary sweet craving with a naturally sweet fruit like blueberries?
Blueberries are a Super Food, high in antioxidants. In fact, these little blue drops are rated as the highest of any fruit in antioxidants. Blueberries are also high in fiber and vitamin C with a fair amount of Vitamin B-6, iron and Vitamin A.
It is a good idea to add a blueberry or two to your salads, cereal, yogurt or pancakes. Anytime you can improve on a Family Favorite recipe to make it healthier its a win for your whole family!
Blueberry glaze perks up everyday chicken breast. Perfect served over a whole grain rice like brown rice.
Blueberry Chicken and Rice
Ingredients
2 4-ounce chicken breasts, pounded to ½-inch thickness
1 Tablespoon olive oil
1 cup blueberries
½ cup sweet white wine (I used Moscato)
¼ teaspoon cinnamon
Salt and pepper to taste.
2 cups cooked rice
Instructions
Place blueberries, wine and cinnamon into a small saucepan. Bring to boil, whisking constantly. Reduce heat and cook uncovered to reduce sauce to one-third the volume. Whisk occasionally to distribute heat and keep berries from sticking.
While sauce cooks, prepare chicken.
Season chicken with salt and pepper. Heat oil in a medium skillet and brown chicken on both sides. Cook until internal temperature reaches 160 and juices run clear.
Serve chicken over rice and top with blueberry sauce.

American Family Insurance recognizes the importance of healthy eating habits. Follow the Family Favorites Turned Healthy #ChooseDreams Pinterest board for more makeover recipes!
http://www.pinterest.com/amfaminsurance/family-favorite-recipes/
Stay in touch with American Family Insurance for their latest news and recipes.
Website: http://www.amfam.com
Linkedin: http://www.linkedin.com/company/american-family-insurance
Youtube: http://www.youtube.com/user/amfam/custom
Google+: https://plus.google.com/u/0/+amfam/posts
Twitter: https://twitter.com/amfam
Facebook: https://www.facebook.com/amfam
Pinterest: http://pinterest.com/amfaminsurance/

Look to our Weekday Supper Menu for more great quick healthy weekday meals!
Monday – Blueberry Chicken and Rice by Cindy's Recipes and Writings
Tuesday – Greek Chicken and Orzo Salad by The Girl In The Little Red Kitchen
Wednesday – Sesame Salad with Edamame by Ruffles & Truffles
Thursday – Portuguese Flank Steak by Family Foodie
Friday – Pasta & Pea Sauce by The Foodie Army Wife
Visit our #WeekdaySupper Pinterest board for wonderful weekday menu suggestions all month long!
This post is sponsored by American Family Insurance. All opinions are my own.