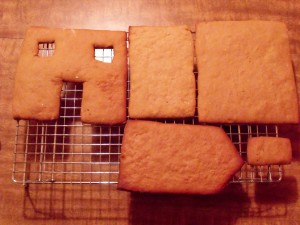 It's been a few years since I made a Gingerbread House. The last one was a decoration displayed at my old job. That was before my blog so I don't have any step by step pics, heck, I don't even know if I saved a picture of it! 😮
So I guess it's time to do it again!!!
If you don't have a pattern, you can use these dimensions:
Cut a 7″ x 6″ rectangle to use for the front and back.
Cut a 4″ x 6″ rectangle for the sides, angle one end for the peak.
Cut a 7 1/2″ x 4″ rectangle for both sides of the roof.
You see that these pieces are worn, time for new ones, huh?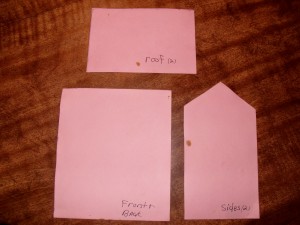 Like any construction project, it is only as strong as its foundation. In the case of a Gingerbread house, it starts with the cookie. You can make a spectacular tasting cookie or a strong building block but can it be both?
I say yes!
Here's the recipe:
Gingerbread (recipe adapted from an old school recipe)
1/2 cup butter, softened
1/2 cup brown sugar
2/3 cup molasses
2 eggs
4 cups flour, divided
1/2 teaspoon baking soda
1/2 teaspoon salt
1/2 teaspoon allspice
1/2 teaspoon ground cloves
1/2 teaspoon cinnamon
1/2 teaspoon ginger
1. Preheat oven to 350
2. In a large bowl, cream butter and sugar together.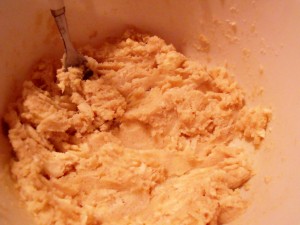 3. Add molasses and eggs.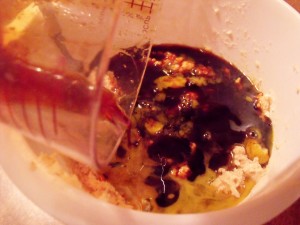 4. Combine spices, 1 cup flour, salt and baking soda. Add this to the wet mixture.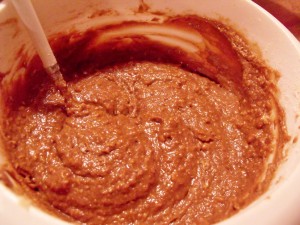 5. Slowly add remaining flour. work into a stiff dough. Add a little more flour if needed.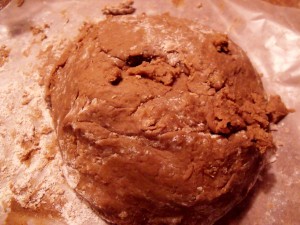 6. Wrap in waxed paper or non-stick paper and put into a closable bag. Refrigerate dough for an hour or up to 24 hours before using.
7. Work with half at a time, refrigerate the other half until needed. Roll out dough to 1/4-inch thickness. Layout the pattern pieces and cut out with a pizza cutter or sharp knife. Cut out windows and door if you like. Save door piece. Reroll any scraps to get the most cuts.
Spread out pieces onto cookie sheets. Make 2 of each house pieces and roof pieces. Leave a bit of space between the cookies; they will spread. Use extra dough to make extra pieces (just in case you drop one or the puppy helps himself). Don't worry if they aren't perfect (who is 😉 ).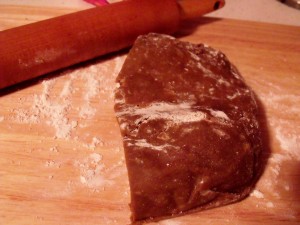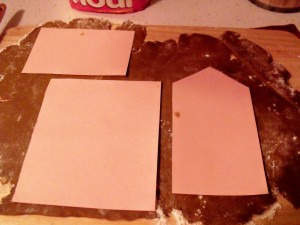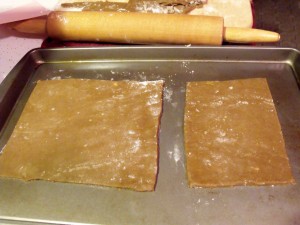 8. Bake at 350 for 8 to 10 minutes or until brown and firm but not too dark, cookies baked too long get brittle. You don't want your house to crumble!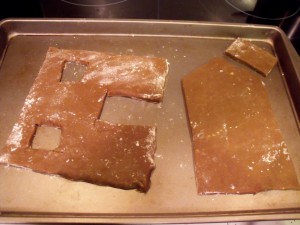 9. Let the cookies cool a few minutes before taking them off the cookie sheet. Cool completely on a cookie rack before using.
Don't worry about the extra flour. It disappears when you bake them. It's COOKIE MAGIC! 😉
Next step is building your house. Grab a hard hat and get ready to build your dream (gingerbread) house!