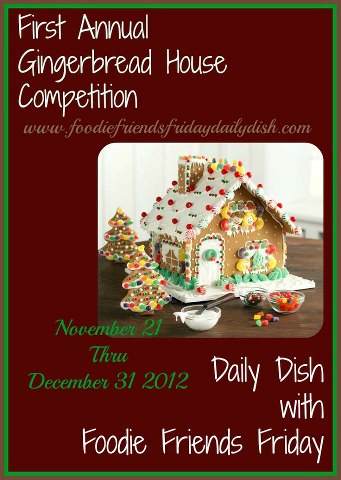 Here's some tips for putting together a Gingerbread House to add to your Christmas display.
If you missed part one, you can find it here .
Use a good Royal Icing. Here's a recipe from Alton Brown for a simple royal icing that works great!Royal Icing
Build your Gingerbread House on a solid foundation. I use cardboard covered with foil. You can cover the foil with icing when decorating.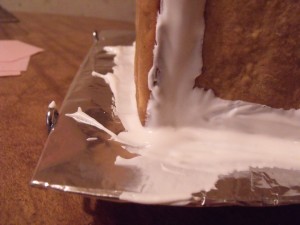 Run a bead of icing along the foil. Put the back in place. Glue one side to the back with icing. Run a bead inside and outside the joint.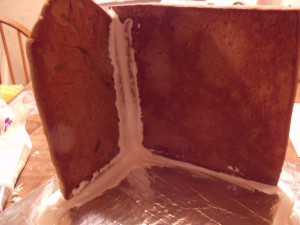 Hold the pieces together for a minute or two until icing starts to set.
Add a box for stability if needed.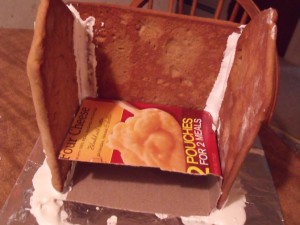 Add the other side and front one piece at a time.
Wait at least an hour before attaching the roof. It doesn't need to be a perfect peak. That's what the icing is for!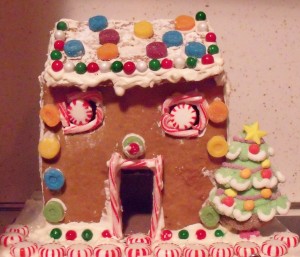 Decorate with your favorite candies.
Most of all:
be patient
have fun
Finished yet? Fantastic. How about entering your Gingerbread House in our contest?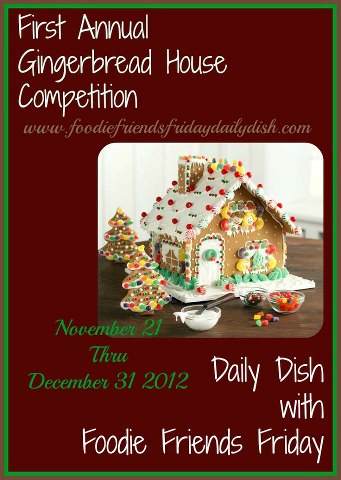 Its a random drawing for a cool Gingerbread House apron from Cynthia at Home Matters 1st.
Visit my co-hosts and show them some Foodie Love!
Foodie Friends Friday http://www.foodiefriendsfriday.com
Tracy at Busy Vegetarian Mom http://www.busyvegetarianmom.com
Robyn's View http://www.robynsview.com
Marlys at This and That  http://marlys-thisandthat.blogspot.com/
Lois at  Walking on Sunshine http://walkingonsunshinerecipes.com
Michelle at  From Calculus to Cupcakes http://www.fromcalculustocupcakes.com
Cynthia at Feeding Big  http://www.feedingbig.com
Jodie at Binomial Baker http://www.binomialbaker.blogspot.com
R Dawn at Spatulas on Parade http://www.spatulasonparade.blogspot.com
Angie at A lil Country Sugar http://www.alilcountrysugar.blogspot.com
Jutta at HungryLittleGirl http://www.hungrylittlegirl.com/
Kelly at http://www.adornedwell.blogspot.com/
Cindy at Cindy's Recipes and Writings: : http://www.cindysrecipesandwritings.com
Joanne at Winelady Cooks:  http://www.wineladycooks.blogspot.com
Marlene at Nosh My Way: http://www.noshmyway.com
Ericka at http://www.chefpickykid.com
Kiera at http://www.lusciousdelights.blogspot.com.au