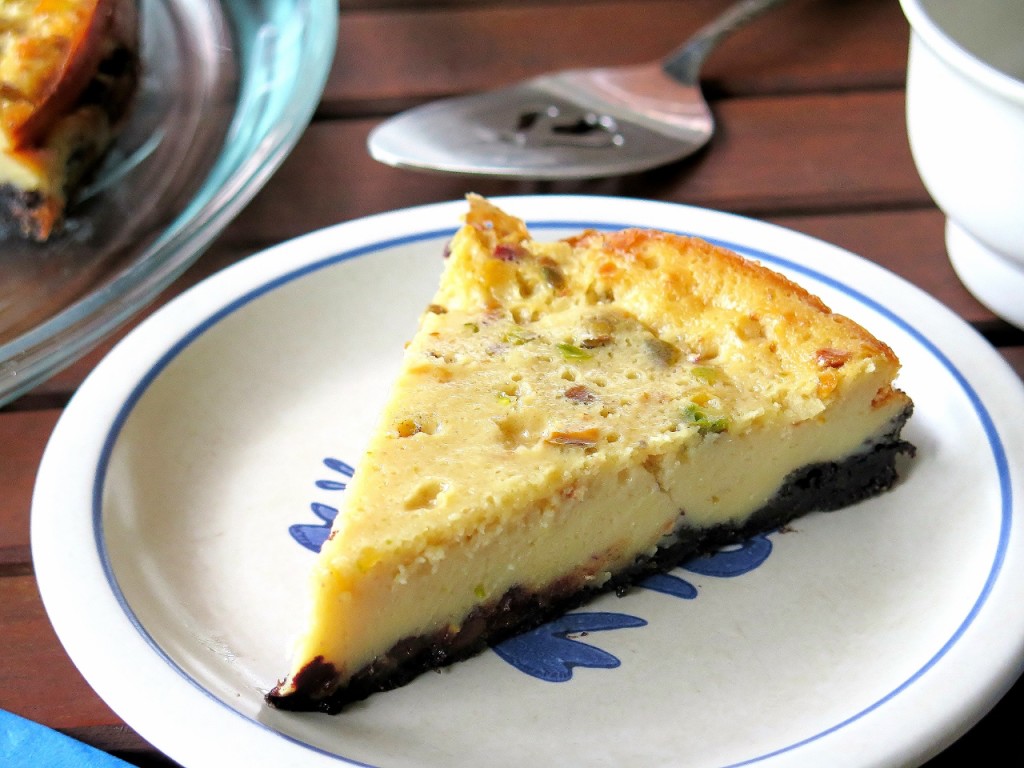 Caramel Pistachio Torte serves dark chocolate chips and pistachios in a rich caramel layer atop a chocolate cookie crumb crust. This recipe is entered in a Food Wine Conference contest sponsored by Florida Dairy Farmers where you can win prizes. I received no further compensation for writing this post. All opinions are my own.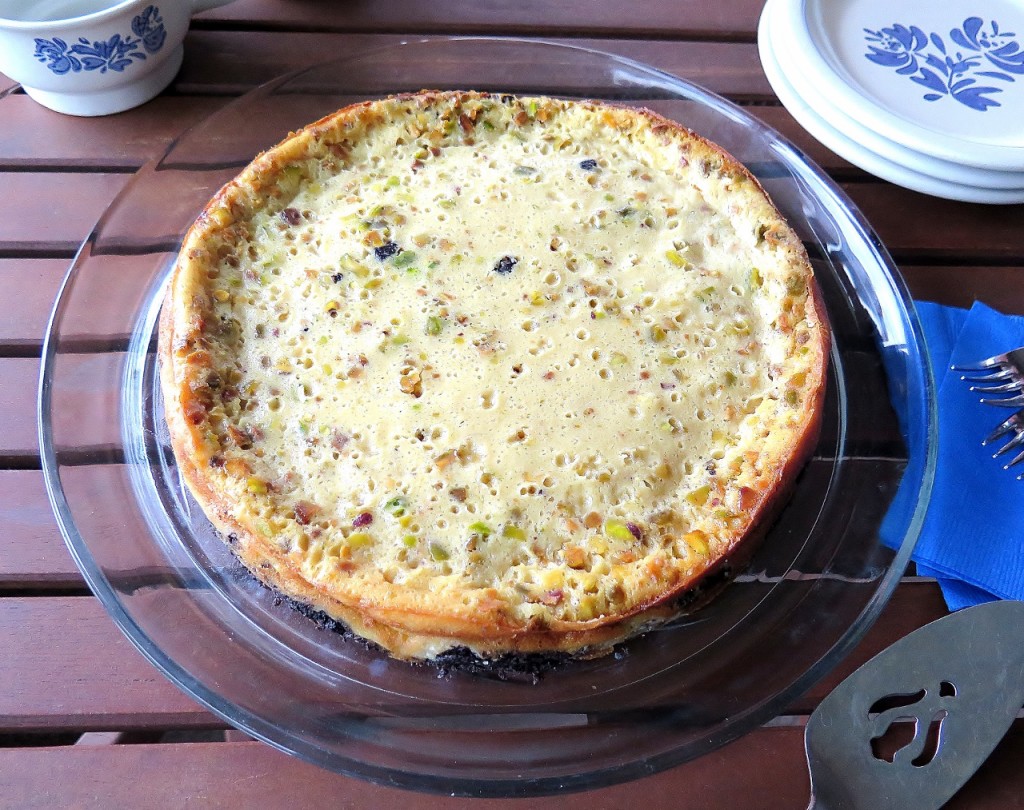 Sometimes I feel like diving into a rich dessert, head first.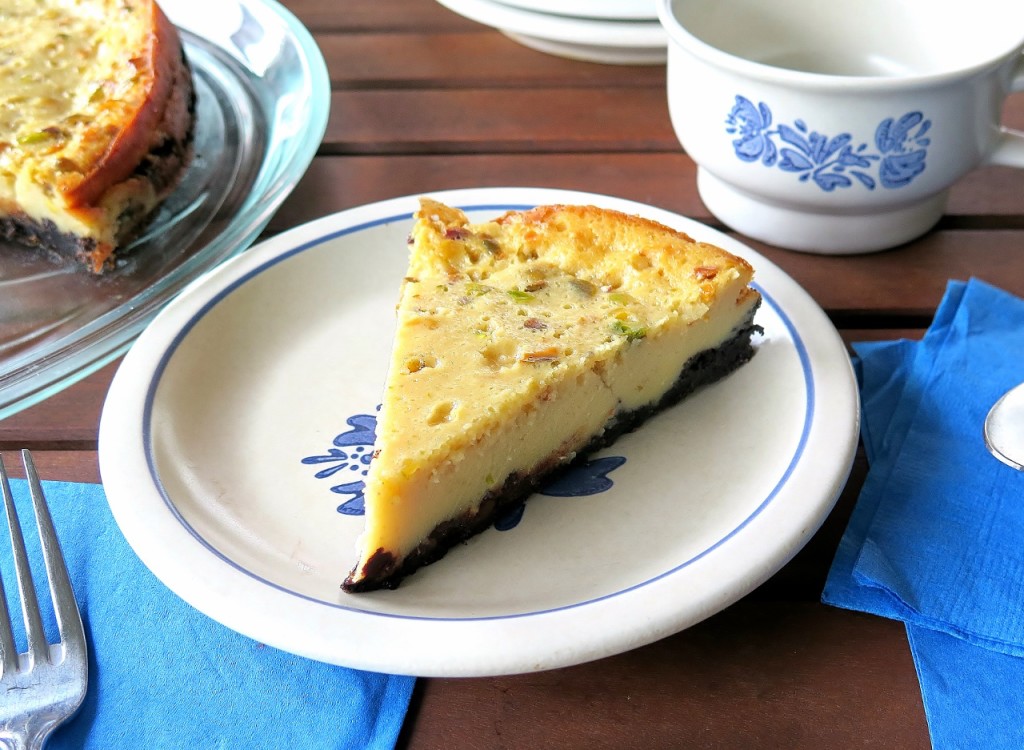 You know the feeling. Maybe you had a bad day and need some comfort. Better yet, you had a great day and want a little reward!
Either way or maybe, just because you love caramel, nuts, and of course chocolate!
Caramel Pistachio Torte layers the richness of milk and yogurt swirled with chocolate chips and bits of pistachios inside. A thick, dark chocolate cookie crust holds its own in flavor.
Together these flavors treat your taste buds to a wild flavor ride! Grab a cup of coffee or better yet, a glass of milk and dig in!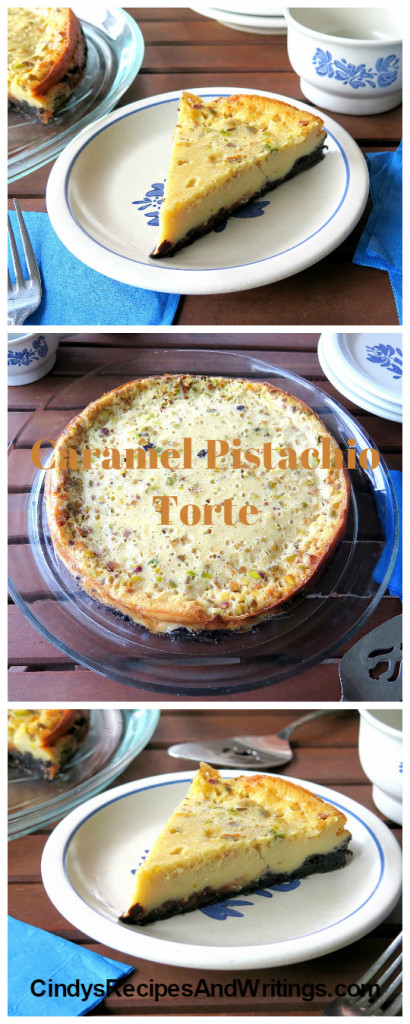 Ingredients
crust

2 cups (30 to 35 chocolate sandwich cookies filling removed), crushed
1/2 cup butter melted
1/4 cup sugar

torte filling

1/2 cup flour
1 cup sugar
1/2 cup maple sugar
1 cup milk
1 cup low fat Greek Yogurt
4 eggs, beaten
1 teaspoon almond extract
1/2 cup dark chocolate chips
1/4 cup chopped pistachios
Instructions
Grease and flour a 10-inch spring-form pan

crust

Mix together crushed cookie pieces, sugar and melted butter. Press mixture evenly into the prepared pan.

torte filling

Mix together flour, sugar and maple sugar in a large bowl.
In a separate bowl, whisk together, milk, yogurt, eggs and almond extract. Fold into dry ingredients.
Stir in chocolate chips and pistachios. Pour over crust. Bake at 350 for about 45 minutes until set and inserted toothpick comes out clean.
Cool for about 30 minutes before removing hinged pan. Cool completely before transferring torte to serving platter.
Notes
Use Florida Dairy Farmers milk, yogurt and butter as available.
http://www.cindysrecipesandwritings.com/caramel-pistachio-torte-makeitwithmilk-fwcon/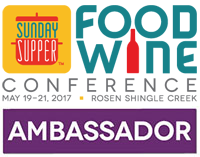 The Food Wine Conference brings together bloggers, small business owners, winemakers, chefs, public relations professionals, traditional media, new media, authors and brands. This is the conference to inspire, empower and make a difference in your business and the lives of others.
Florida Dairy Farmers is returning as a Platinum sponsor for the 2017 Food Wine Conference.

Florida Dairy Farmers (FDF) is Florida's milk promotion organization, representing more than 130 Florida dairy farmers who work every day to provide a steady supply of fresh milk. The farmer-funded organization works to enhance the industry's image with a goal of increasing milk and dairy product sales statewide via consumer marketing and education. The Dairy Council of Florida is a component of FDF and serves Florida educators and health professionals.
Follow Florida Dairy Farmers on Facebook, Twitter, Pinterest, Instagram, and YouTube for the latest news, recipes and contests.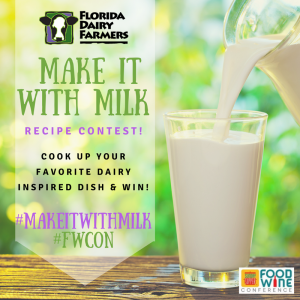 FIRST PLACE WINNER WILL RECEIVE:
Florida Dairy Farmers Gift Basket Featuring:
SECOND PLACE WINNER WILL RECEIVE:
Florida Dairy Farmers Gift Basket Featuring:
THIRD PLACE WINNER WILL RECEIVE:
Florida Dairy Farmers Gift Basket Featuring:
Here's how you can enter the contest!
Good Luck!
Wait, there's more!
I can save you $50! Purchase your ticket to Food Wine Conference #FWCON $50 off Use code CindyK2017. Register Here! Cheers!

See you there!