Sometimes its hard to say goodbye. You know its time. Time to go your separate ways. You need a change. Something new. Maybe plastic? Now wait a minute. What are we talking about?
I'm talking about my hand-me-down colander.
This vital piece of equipment is found in most kitchens. Mine has sentimental value attached. It was my Mom's. Countless piles of cooked potatoes drained in there for potato salad or mashed potatoes. Green beans picked fresh from the garden got a bath in there. Shrimp was thawed and pasta drained.
I still prefer this beat up old metal one to newer plastic ones.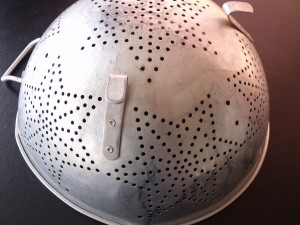 This month The Recipe Redux challenged members to share a story of classic cookware – and a healthy recipe to go with it.



One dish stands out in my mind that Mom made. Macaroni and Cheese. She always used elbow macaroni and processed cheese, you know the kind that comes in a box.
A very easy, fairly inexpensive meal. Sometimes she added hamburger. She'd cook the elbows and drain them in the colander. Mom always saved a small dish of pasta with a little butter just for me.
I still like mac and cheese and I make it several ways.
For today's challenge I used veggie based pasta, low-fat cheddar and chicken breast. The top of the casserole gets dotted with Neufchâtel cheese and smoked paprika.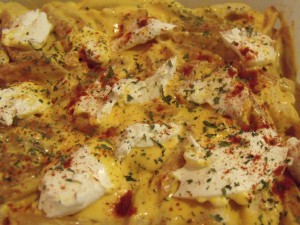 Cheesy Chicken Pasta Bake
Ingredients
2 cups uncooked pasta, I used a veggie based one
1 8-ounce chicken breast, cut into bite-sized pieces
1 Tablespoon olive oil
1 teaspoon smoked paprika
parsley for decorating
sauce
1½ cups 2 percent milk
2 tablespoons cornstarch
1 teaspoon dry mustard
salt and pepper to taste
2 cups low-fat cheddar
4 ounces Neufchâtel cheese
Instructions
cook pasta according to package directions
brown chicken in olive oil, reduce heat, cook thoroughly
add chicken and pasta to a casserole dish
sauce
whisk together milk, cornstarch,mustard,salt and pepper. bring to a boil over low heat, stirring constantly.
when sauce thickens, remove from heat stir in cheddar
add sauce to chicken pasta mixture, stir
dot with Neufchâtel, sprinkle with paprika and parsley
bake at 350 for about 20 minutes until cheese melts and casserole is thoroughly heated
Stop by for more recipes and stories from these Recipe Redux members!