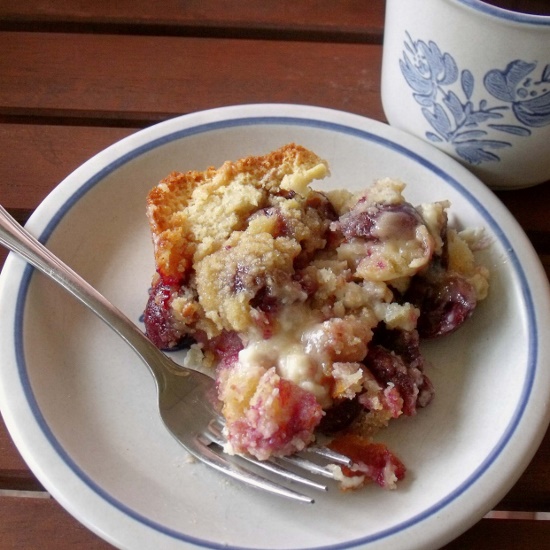 Sweet, ripe dark cherries are finally in season! I'm planning a lot of cherry goodness over the next few weeks. First on the list is Cherry Cheese Streusel Cake.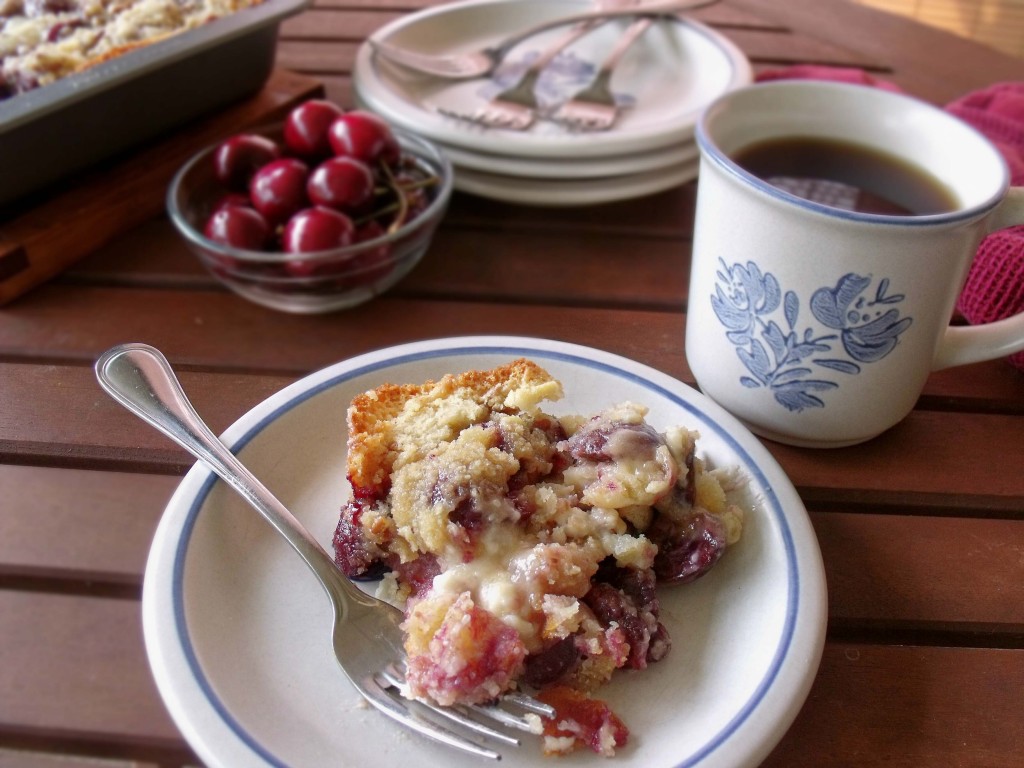 If you follow my blog, I'm sure you have heard me share my childhood stories of living in a neighborhood of fresh fruit free for the picking. Back roads were lined with wild raspberry bushes and Mulberry trees. Neighbors had peach, apple and pear trees. One neighbor had a strawberry patch for a few years. Not far from the coal processing plant an apricot tree grew providing enough apricots for us and the groundhogs. But that's another story.
I still haven't mentioned my favorite. A special tree where dark, sweet cherries grew. The tree was always loaded with cherries and us kids hung out under it on many a hot summer day.
The owner didn't mind as long as we obeyed the rules. We could have any cherries on the ground or what we could reach without climbing. Sounded fair then, it still sounds right now.
This cherry coffee-style cake starts with buttery-rich cake on the bottom of layer. Patches of sweetened Neufchâtel cheese dot the batter. Then add the stars of the show, dark sweet cherries. Sprinkle a streusel crumb topping with pecans over all that goodness. Hello summer!

Cherry Cheese Streusel Cake
Ingredients
Streusel
¼ cup flour
2 Tablespoons sugar
2 Tablespoons light brown sugar
2 tablespoons cold butter
¼ cup chopped pecans
Filling
4 ounces Neufchatel cheese, softened
¼ cup sugar
2 cups pitted cherries
Cake
1¼ cups flour
1 teaspoon baking powder
¼ teaspoon salt
6 Tablespoons unsalted butter
⅔ cup sugar
1 egg
1 teaspoon vanilla
¼ teaspoon almond extract
⅔ cup low-fat milk
2 Tablespoons almond milk
baking spray or grease and flour for pan
Instructions
Streusel
Combine flour and sugars. Cut butter into mix, working in small pieces at a time to form crumbs. Add nuts, set aside.
Filling
Cream together cheese and sugar, set aside.
Cake
Mix together flour, baking powder, salt. separately, whisk together milks, egg and extracts.
In a medium-sized bowl, cream together butter and sugar.
alternate wet and dry ingredients to form batter.
Place batter into a well-greased 8x8-inch or 9x9-inch pan.
Dot with creamed cheese mixture.
Add cherries. Top with streusel.
Bake in preheated 350 degree oven until inserted toothpick in cake comes out clean and cake and topping brown. (about 45 minutes)
Serve warm or cold.
Notes
Only use the coldest butter possible for streusel to get the best crumbs. Keep topping in freezer until you're ready to assemble cake.
Adapted from The Best of Relish Cookbook.