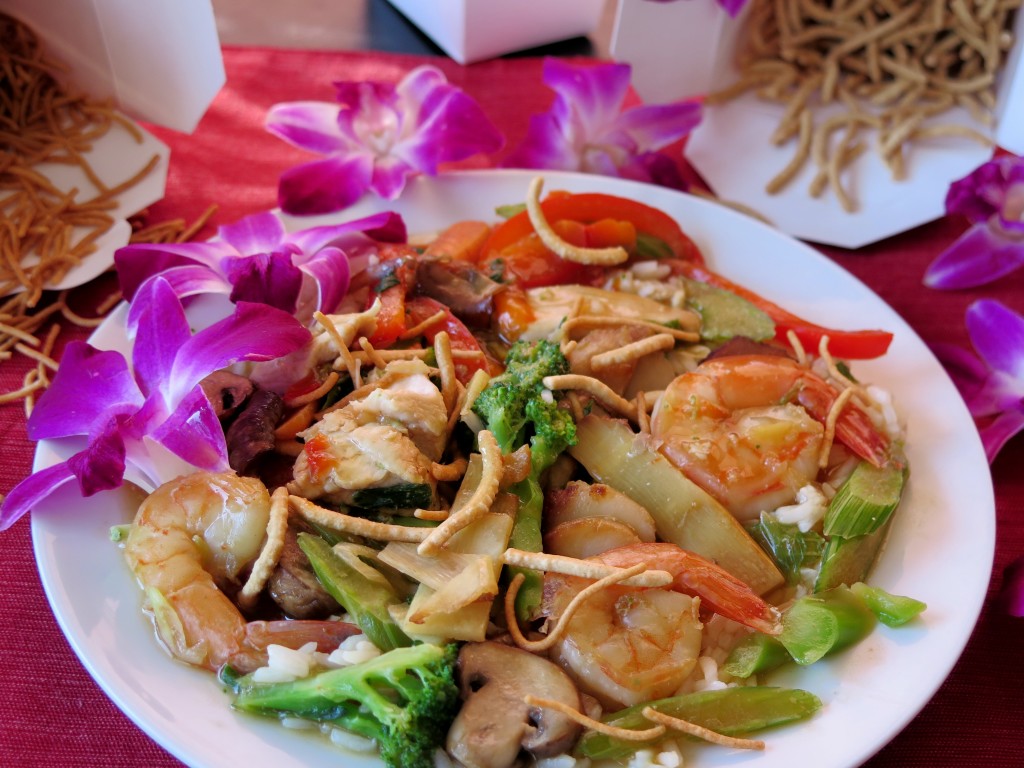 This week, Weekday Supper focuses on back to school. With school back in session (or soon to be) parents are battling lots of activities over the dinner hour that make having dinner together difficult. What can you make ahead that can be reheated at various times during the evening to satisfy lots of schedules?
Chicken and Shrimp Stir-Fry brings better than takeout to the table. Fresh crisp veggies, tender chicken and shrimp in a light brown sauce. Easy to reheat for families on the go!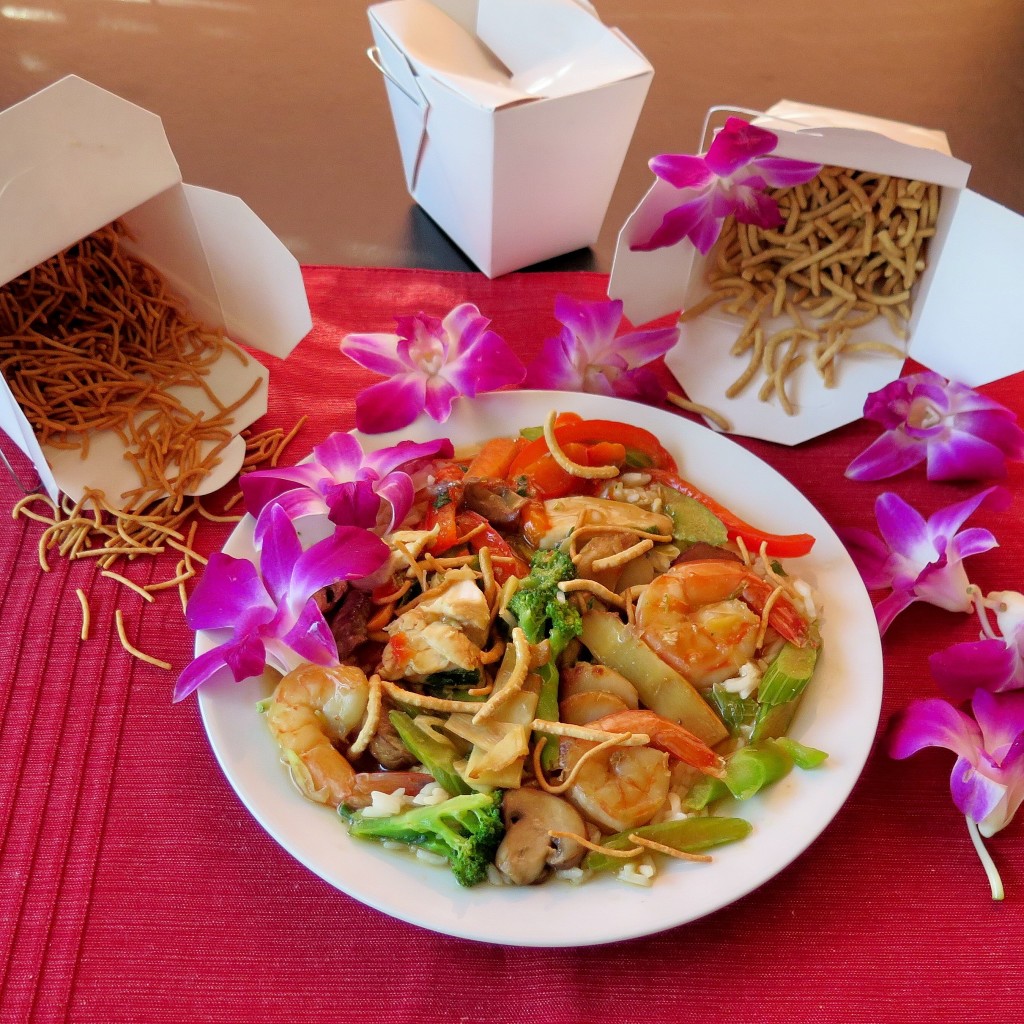 I love the taste of chicken and shrimp together. The first time I had this combo was from a Chinese restaurant. Where I grew up we didn't have any Asian cuisine restaurants. My Mom used to buy the Chinese canned meals. You know the kind. The package has two cans to combine chicken and sauce from the top can with the veggies from the other can into one meal. Not my favorite but it was inexpensive, quick and filling for Mom to heat up.
Fast forward to when I became a Mom. Work schedules pushed meal times back some nights to 7:00 pm. Even later if I needed to stop for groceries.
As much as I loved to cook dinner myself, it was just too late for my little one to wait. Cooking extra and having leftovers worked for a while. I still needed a better plan for those extra late nights.
The grocery where I shopped shared a common area with a Chinese restaurant. I passed by that restaurant without ever giving it a second look. Those canned dinner kind of turned me off to trying any kind of Asian cuisine.
One night an old woman stood outside with a tray of samples. She smiled and motioned for me to try one. I had no idea what any of the food was on those plates.
One thing looked like corn dog bites (sweet and sour chicken), meat on a stick and some kind of dumpling.
My daughter was so hungry she just grabbed a piece of sweet and sour chicken. Big smiles.
The woman shoved the plate in my direction. Okay, since I got the thumbs up from my daughter I try a corn dog bite.
Hmmm it was chicken. Pretty good.
I took a piece and we went inside. I held my hand out and asked for some of it to take home. They packed a menu too.
Over time we tried many items off that menu. Some hits and some misses.
Chicken and Shrimp Stir-Fry reminds me of that restaurant's, "Happy Marriage" dinner. Fresh crisp veggies, tender chicken and shrimp in a light brown sauce.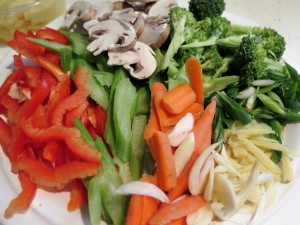 Side note: We served an Asian Salad at work and I got to bring a few orchids home 😉 !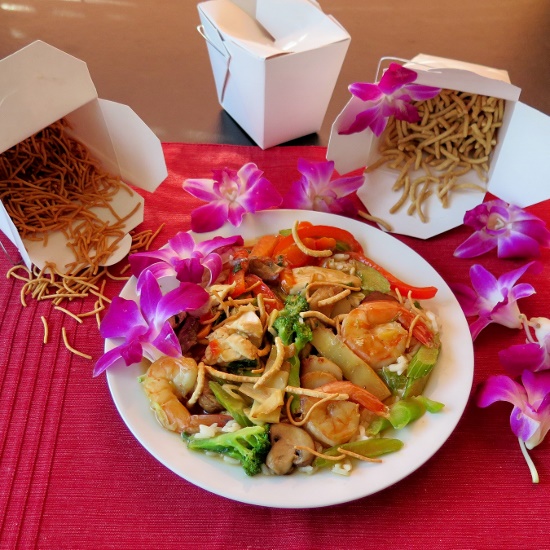 Chicken and Shrimp Stir-Fry
Ingredients
1 lb shrimp, peeled and de-veined
1 8-ounce chicken breast, thinly sliced into 2-inch pieces
1 cup celery, thinly sliced
1/2 cup red pepper, thinly sliced
1/2 cup carrots, thinly sliced
1/2 cup broccoli, thinly sliced
1/4 cup green onion, thinly sliced
1/4 cup sliced mushrooms
1/4 cup bamboo shoots
1/4 cup sliced water chestnuts
1 Tablespoon ginger thinly sliced
2 cloves garlic thinly sliced
3 cups chicken broth, divided
1 Tablespoon sesame oil
1 Tablespoon soy sauce
2 teaspoons teriyaki sauce
1 Tablespoon cornstarch
1 cup rice
chow mein noodles, optional
Instructions
Bring 2 cups chicken broth to a boil. Add rice, reduce heat and simmer until tender (about 15 minutes)
Heat sesame oil in skillet or wok. Add chicken and shrimp. Cook 1 minute, stirring constantly Add vegetables, water chestnuts, bamboo shoots, ginger, garlic and soy sauce cook one minute.
Add 1/2 cup chicken broth and teriyaki sauce. Reduce heat and simmer.
Dissolve cornstarch into 1/2 cup chicken broth. Add to pan. Cook until chicken and shrimp are thoroughly cooked and sauce thickens.
Top with chow mein noodles or rice noodles if desired.
http://www.cindysrecipesandwritings.com/chicken-and-shrimp-stir-fry-weekdaysupper/
Enjoy these easy make ahead and reheat as needed meal ideas from Weekday Supper!
Monday – Pickled Purple Cabbage Salsa for Fish Tacos by Simply Healthy Family
Tuesday – Gluten Free Meatballs and Spaghetti by Gluten Free Crumbley
Wednesday – Chicken and Shrimp Stir-Fry by Cindy's Recipes and Writings
Thursday – Jerk Chicken Rice Bowl by Casa de Crews
Friday – Perfect Ceviche by Lifestyle Food Artistry