Chicken Cordon Bleu
The term "Cordon Bleu" once referred to a ribbon awarded for excellence in cooking. Cordon Bleu as a dish has that ribbon look to it. You see layers of meat and cheese when you cut it open!
Don't feel intimidated if you've never made it before. It isn't difficult but it can be messy! But that's okay, because the outcome is worth it!
I first made this recipe in class, step by step with our Chef. I tweaked it a little (like by seasoning my own homemade breadcrumbs) but his advice still holds true.
Ingredients
2 8-ounce chicken breast cutlets (or 4 4-ounce)
4 1-ounce cheese slices, Swiss or Gruyere
4 1-ounce ham slices, pork or turkey
2 eggs, beaten
1/2 cup flour
1 cup plain breadcrumbs
1 Tablespoon dried basil
1 Tablespoon Italian seasoning (or 1 tsp dried basil, 1 tsp dried oregano, 1 tsp dried rosemary)
1 teaspoon granulated garlic
1 teaspoon seasoned salt or sea salt
2 Tablespoons olive oil
1. Pound cutlets with flat side of mallet into 1/4-inch thickness. Set aside.
2. Place one slice of cheese on top of one slice of meat and roll tightly. Tuck ends underneath, set aside.
3. Combine flour and basil on a flat plate. On another plate, combine breadcrumbs, Italian seasoning, garlic and salt together.
To Assemble:
Dredge cutlet in seasoned flour. Shake off excess.
Place ham/cheese rollup (2 end to end if using 8 ounce breasts) in center of underside of cutlet. Fold all sides together making sure to cover the rollup. Pinch shut.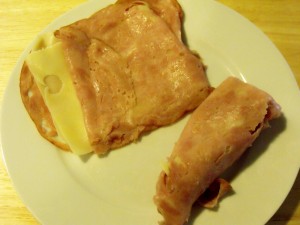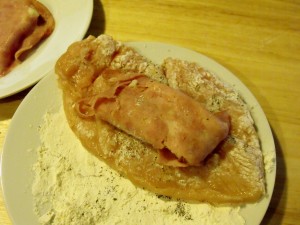 Here comes the start of the messy part!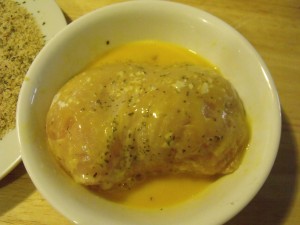 Dip the chicken into the beaten egg. Carefully coat all parts. Pinch together to seal seam. Immediately roll in breadcrumb mix. Pinch shut. Redo the egg bath and breadcrumbs as necessary to close seam. (Only redo parts of seam as necessary).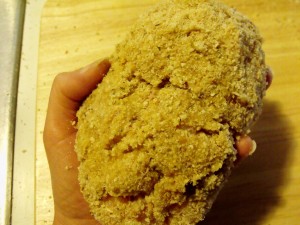 Place finished breasts seam-side down on a clean plate sprinkled with lightly with breadcrumbs to prevent sticking. Cover and refrigerate anywhere from 15 minutes up to overnight to allow Cordon Bleu to set.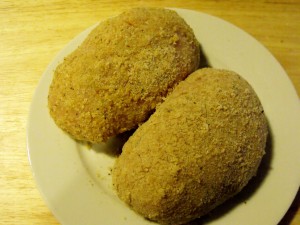 Preheat oven to 350.
Add oil to glass baking dish. Place Cordon Bleu seam side in dish. Cover with foil.
Bake for 20 minutes. Flip over. Bake an additional 20 minutes, flip back to seam side down. Bake an additional 10 minutes until internal temperature taken at the thickest part of chicken reaches 165 degrees.
Serve whole or let rest 5 minutes and slice.
Note: There will be a "pink" color on the chicken left there from the ham. It can be easily mistaken for improperly cooked chicken!