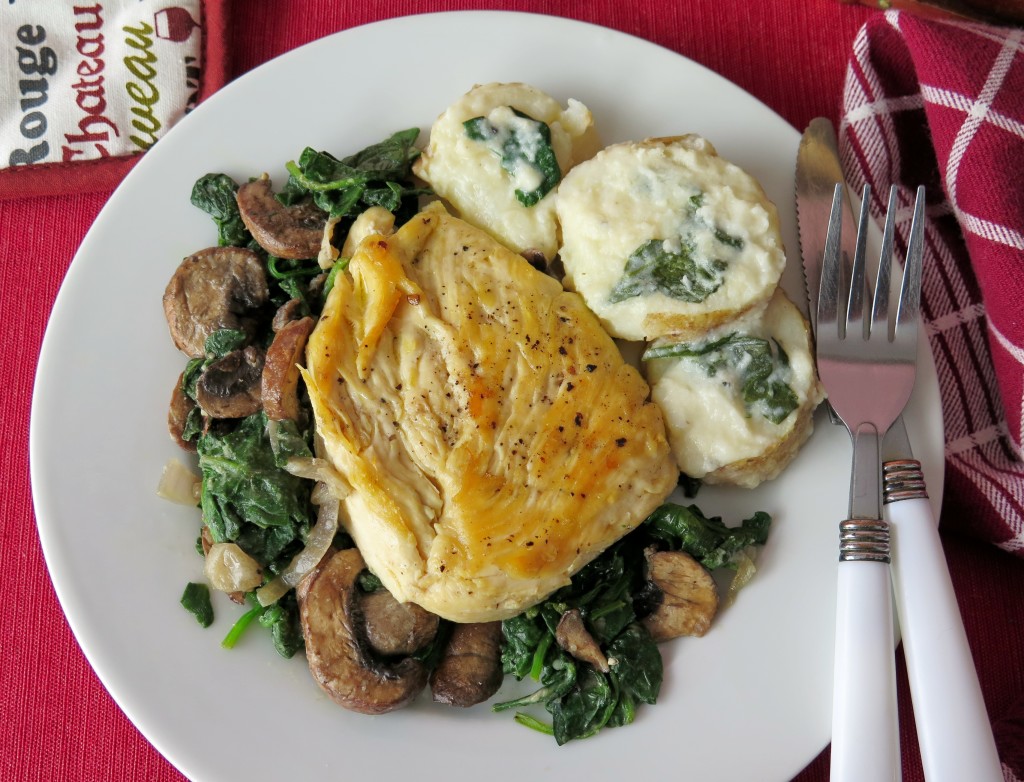 Florentine in cooking has come to mean, "with spinach" but it actually means recipes that represent the Florence region of Italy. Florentine dishes–whether meat, poultry, fish or seafood–typically use spinach with Mornay Sauce or are served on a bed of spinach.
For my Chicken Florentine, sautéed spinach was the way to go. Tender chicken breast fillets rest on a moist, dark green bed of sautéed spinach, shallots and baby portobellas. No sauce required.
For quick meals I often make casseroles and skillet dishes with sauces. Pure comfort food like spaghetti makes its way to the table in a hurry too. Sometimes I just want a quick chicken dish with some healthy sautéed vegetables on the side.
The best thing is it can be ready in 30 minutes or less!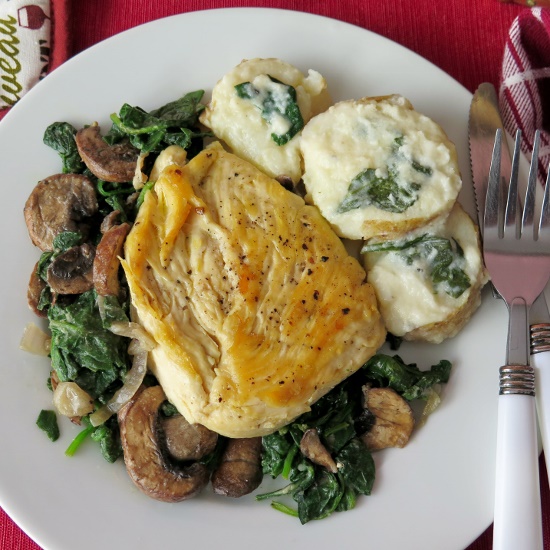 I served this with leftover creamy Parmesan potatoes. A bit of a splurge but so worth it. Sometimes I like to use leftover side dishes as is and other times I add them to other ingredients and make a whole new dish. If you are interested, I included the recipe for the potatoes below.

Chicken Florentine #WeekdaySupper
Ingredients
2 4-ounce chicken breasts
1 Tablespoon olive oil
5 ounces of baby spinach
8 ounces sliced baby portobella mushrooms
1 shallot, sliced
1 clove garlic minced
½ lemon
¼ cup chicken broth (optional)
salt and pepper to taste
Instructions
Pound chicken breast to ¼-inch thickness. season with salt and pepper.
Heat oil in a medium-sized skillet. Brown breasts on both sides, Cover and simmer until thoroughly cooked.
Remove chicken to a plate and cover with foil to keep warm.
Add spinach, shallots, mushrooms and garlic to the pan. add broth if needed if pan is dry. Sauté until mushrooms are cooked through.
Plate spinach mixture. Drizzle with lemon juice. Top with cooked chicken.
Parmesan Potatoes
Ingredients
6 small white potatoes cooked with skins on
1 cup 2 percent milk
½ cup vegetable broth
2 tablespoons cornstarch
½ cup Parmesan cheese
salt and pepper to taste
Instructions
Slice cooked potatoes, skins on ½-inch thickness
Combine milk, broth, cornstarch, salt, pepper in a medium saucepan. Bring to a boil over medium heat, stirring constantly.
Cook until thickened. Remove from heat and add cheese.
Layer potatoes and sauce in a casserole dish.
Cover with foil and bake at 350 for about 30 minutes until thoroughly cooked and sauce has set.
Check out all this week's great Weekday Supper ideas from the Sunday Supper Group!
Monday – Chicken Florentine by Cindy's Recipes and Writings
Tuesday – Lime Roasted Root Vegetable Quesadillas with Goat Cheese by Dandelion Greens
Wednesday – Irish Cheddar Potatoes with Lamb and Parsley Pesto by Cooking Chat
Thursday – Broccoli Steaks and Tofu Fries by Hezzi-D's Books and Cooks
Friday – Stovetop Spinach Macaroni and Cheese by Alida's Kitchen
Find more great ideas for Weekday Suppers on our Weekday Supper Pinterest Board !