Chicken Quinoa and Apple Salad is light, tasty lunch idea. Add hemp hearts and spinach for a complete meal.
What time do you eat lunch? I work in the restaurant business so I take lunch on the run. I need to eat fast and get back to our busiest part of the day. That just makes me appreciate a leisurely weekend lunch even more.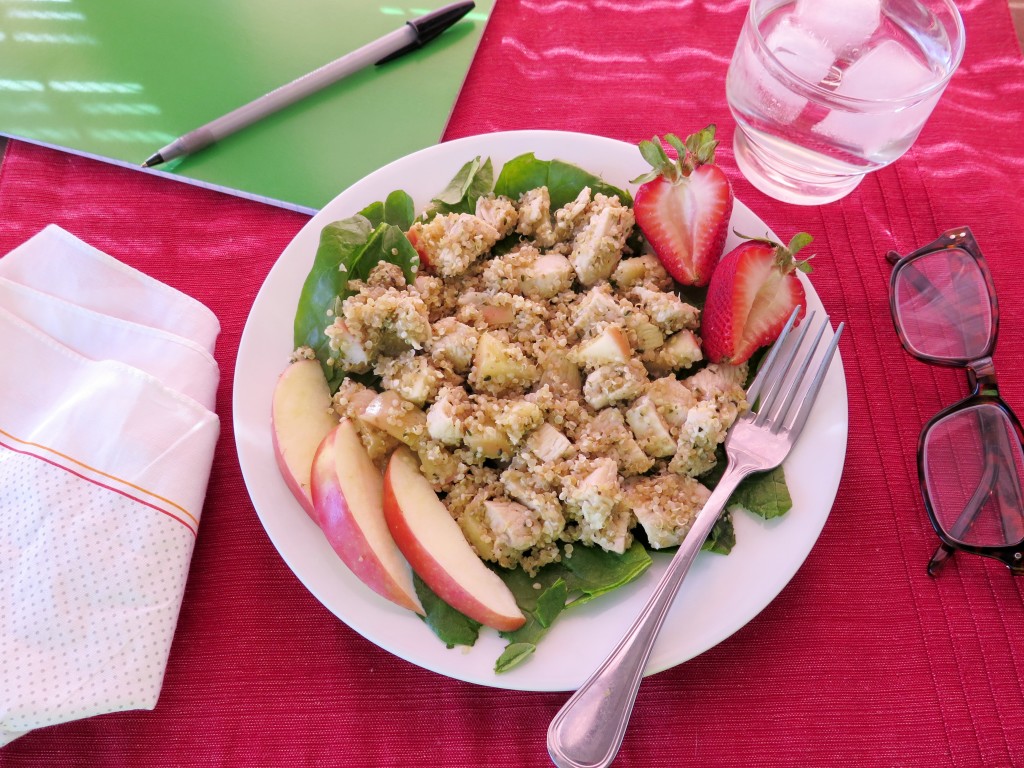 This month The Recipe ReDux put our lunchtime to the challenge.
Limpin' Along for Lunch
Ever get in a lunch rut? Need new ideas for packing your kids' or your own lunch? Are packable noontime options dwindling? Surely you've met the 'What shall I pack for lunch?" question head-on with creative ideas. Please share your healthy lunch recipe – so we can swap it into our own rotation.
A meat and grain salad like Chicken Quinoa and Apple Salad can power you through the rest of your day. Packed with protein, iron, fiber along with B vitamins and complex carbohydrates to get you through the afternoon sluggies.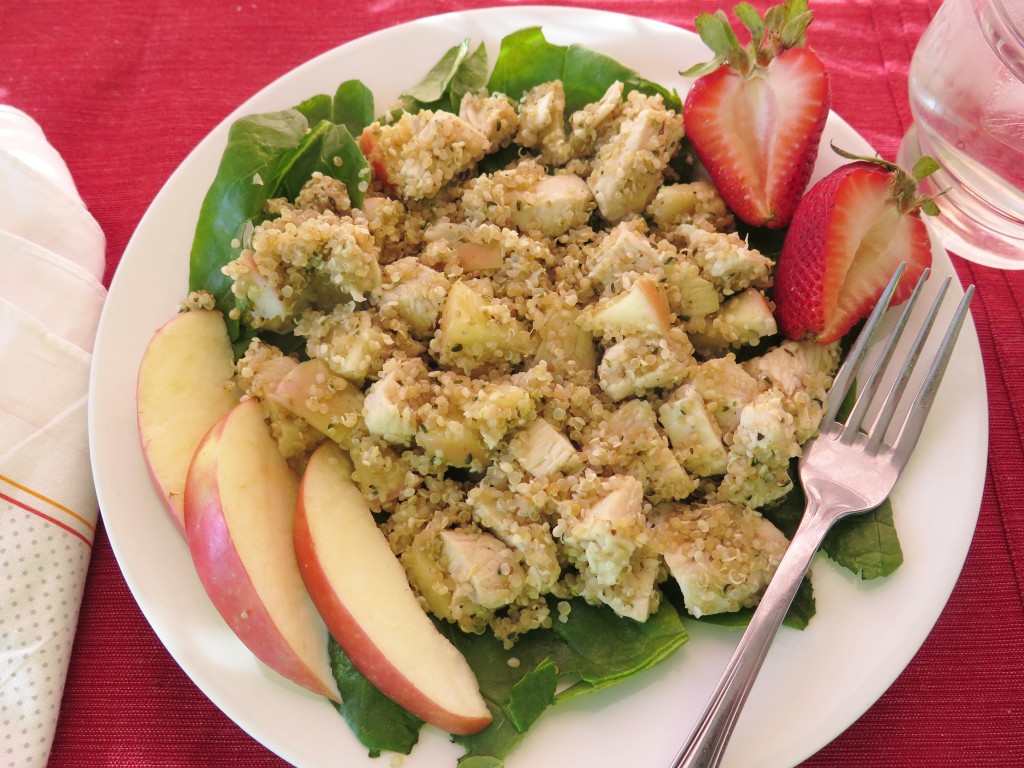 I added hemp hearts and spinach for even more bang for your bite!
Crunchy hemp hearts stole my heart. I love to toss a bunch into baked goods, salads, soups and yes in and on home-baked bread.
Chicken Quinoa and Apple Salad
Chicken Quinoa and Apples Salad #TheRecipeReDux
Ingredients
8 ounces chicken breast cut into strips
1 tablespoon olive oil
1 teaspoon Italian seasoning
salt and pepper to taste
1/2 cup quinoa
1 cup chicken broth
1/2 cup chopped apples
2 cups fresh spinach
1/4 cup hemp hearts
Instructions
bring quinoa and broth to a boil. Cover and reduce heat. Cook until tender and most of the liquid is absorbed.
Season chicken strips with Italian seasoning, salt and pepper. Saute in oil until cooked.
Combine chicken, quinoa, hemp hearts and apples in a bowl.
Arrange spinach on 2 plates.
Divide salad between plates.
Garnish with fresh fruit in desired.
http://www.cindysrecipesandwritings.com/chicken-quinoa-apples-salad-thereciperedux/


As the first and only recipe challenge founded by registered dietitians, The Recipe ReDux is focused on taking delicious dishes, keeping them delicious, but making them better for you. Dietitians Regan Jones (ofReganMillerJones, Inc.), Serena Ball and Deanna Segrave-Daly (both of Teaspoon Communications) founded the group on the belief that healthier eating should always taste delicious. As the Latin term "redux" means to revisit or reinvent, we are reinventing the idea of healthy eating with a taste-first approach. We aim to inspire the food lover in every healthy eater and inspire the healthy eater in every food lover.
I'd love to hear about your favorite healthy lunch! Drop me a line in the comments below!
Enjoy a new twist on lunch from The Recipe ReDux!