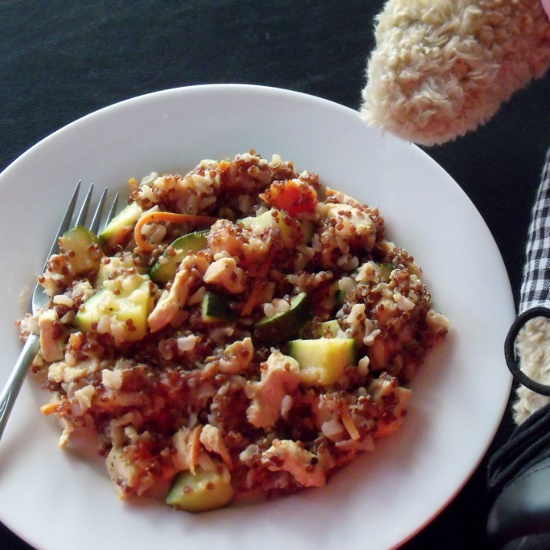 Busy days and busy nights make me wish for quick after work meals. Chicken Quinoa Skillet Dinner to the rescue!  Chicken, quinoa and brown rice blended with colorful veggies make a healthy, eye-catching skillet dinner your family will love!
Add quick-cooking veggies like zucchini, carrots and onions for a complete meal.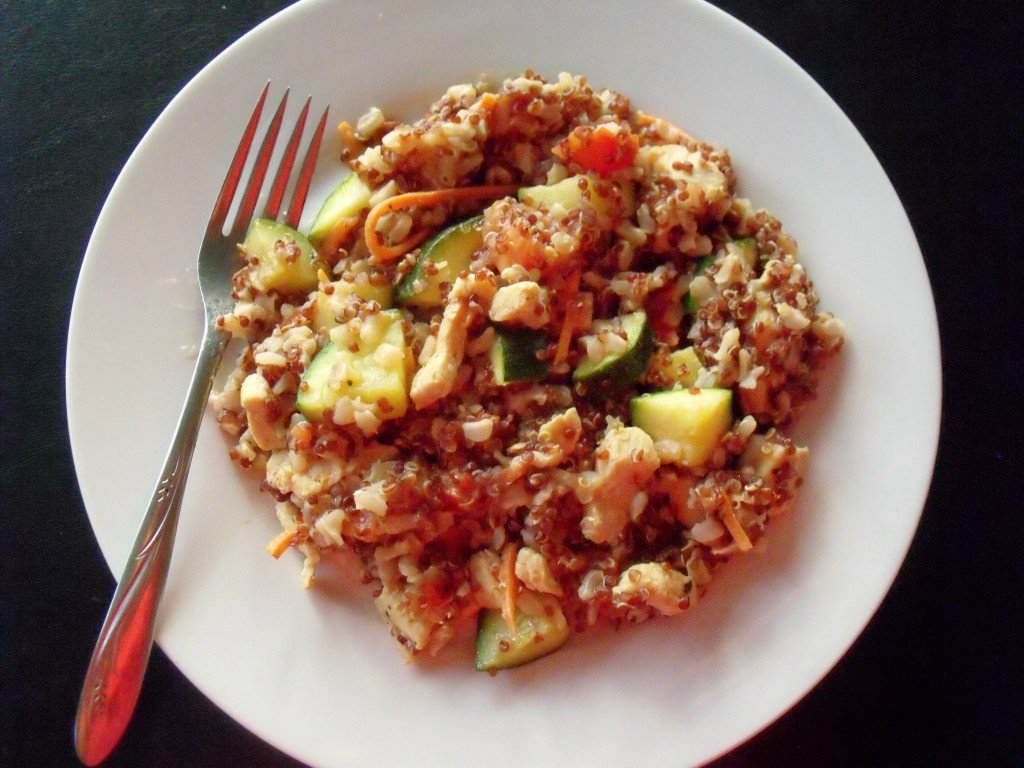 Chicken Quinoa Skillet Dinner #WeekdaySupper
Ingredients
½ pound chicken breast cut into 1-inch pieces
1 cup cooked brown rice
½ cup quinoa
2 cups chicken broth, divided
1 cup zucchini
½ cup shredded carrots
½ cup roasted red peppers, chopped
½ cup onion, chopped
¼ cup Moscato wine or white wine or additional broth
1 Tablespoon white wine vinegar
1 teaspoon dried thyme
Salt and pepper to taste
Instructions
Bring 1¼ cups of broth to a boil. Add quinoa, cover and reduce heat. Simmer for approximately 15 minutes until kernels pop and are chewy and tender.
While quinoa cooks, saute chicken, zucchini, carrots, onion, thyme and red peppers in remaining broth and wine until chicken is thoroughly cooked.
Stir in rice, cooked quinoa and vinegar. Salt and pepper to taste.
Try these great 30 minute or less ideas for your Weekday Supper menu any night this week!
10/06/14 – Monday – Shrimp Curry (In A Hurry) by Chocolate Moosey
10/07/14 – Tuesday – Chicken Quinoa Skillet Dinner by Cindy's Recipes and Writings
10/08/14 – Wednesday – Creamy Pumpkin Sausage Pasta by eating in instead
10/09/14 – Thursday – Chicken, Broccoli and Bell Pepper Stir Fry by That Skinny Chick Can Bake
10/10/14 – Friday – Veggie Kebabs with Spicy Harissa Dip by Happy Baking Days
Follow the Sunday Supper Movement Weekday Supper Pinterest Board for great ideas all month long!