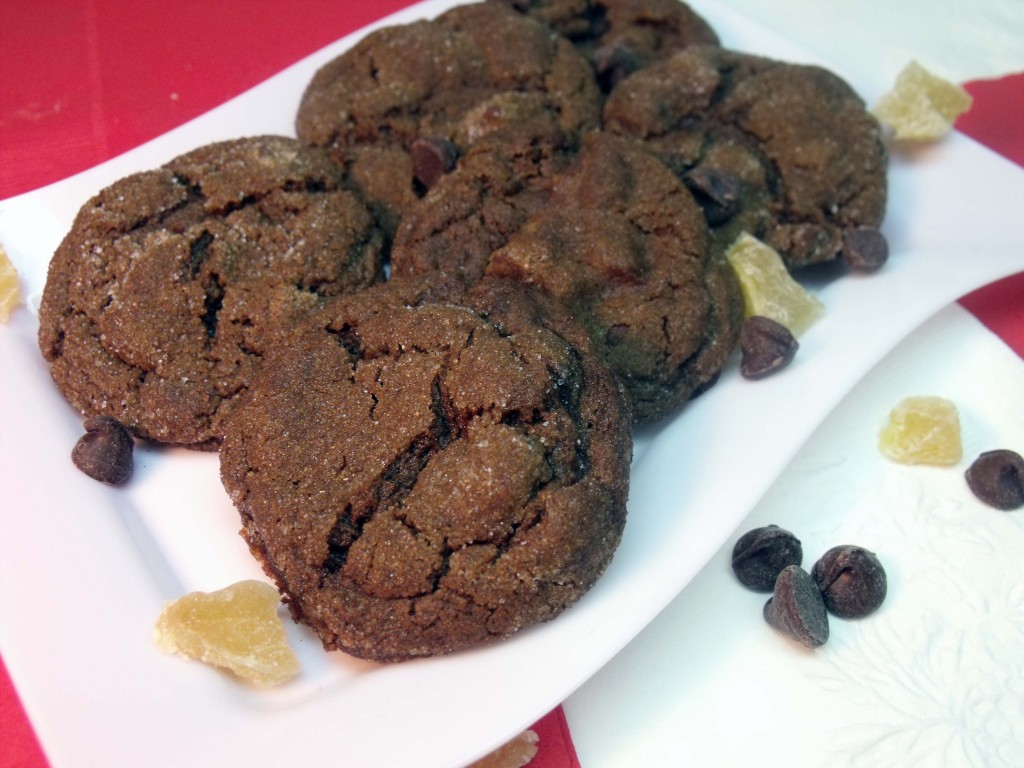 Dark chocolate cookies or gingerbread cookies? Why choose? These flavors mesh well together into a dynamite cookie!

I couldn't decide which cookie to make next, so I did a quick household poll. "Do you want more dark chocolate chip or how about some gingerbread? Mix it up a little?"
My guy says, "Sure, make chocolate gingerbread."
Actually it was a great idea.

Chocolate Gingerbread Cookies
Adapted from The Cookie Exchange Cookbook
Ingredients
8 ounces semisweet chocolate chips
1½ cups flour
1 teaspoon ground ginger
1 teaspoon cinnamon
¼ teaspoon cloves
¼ teaspoon nutmeg
1 tablespoon dark cocoa
8 tablespoons unsalted butter
1 tablespoon finely chopped candied ginger
½ cup brown sugar
½ cup molasses
1 teaspoon baking soda
1½ teaspoons boiling water
¼ cup granulated sugar
Instructions
In a medium-sized bowl combine flour, ground ginger,cinnamon, cloves, nutmeg and cocoa.
In a separate bowl beat together butter and brown sugar. Add molasses.
Dissolve baking soda in boiling water. Add to butter mixture.
Add in half the flour mixture at a time and beat until incorporated.
Add chips and candied ginger.
Wrap dough in plastic wrap or wax paper and refrigerate until firm; about 2 hours.
Roll dough into 1½-inch balls then roll balls in granulated sugar.
Place on a lightly greased or parchment covered cookie sheet and bake at 325 until cookies crack (about 10-12 minutes). Cool on cookie sheet a few minutes before moving to a wire rack to cool completely.