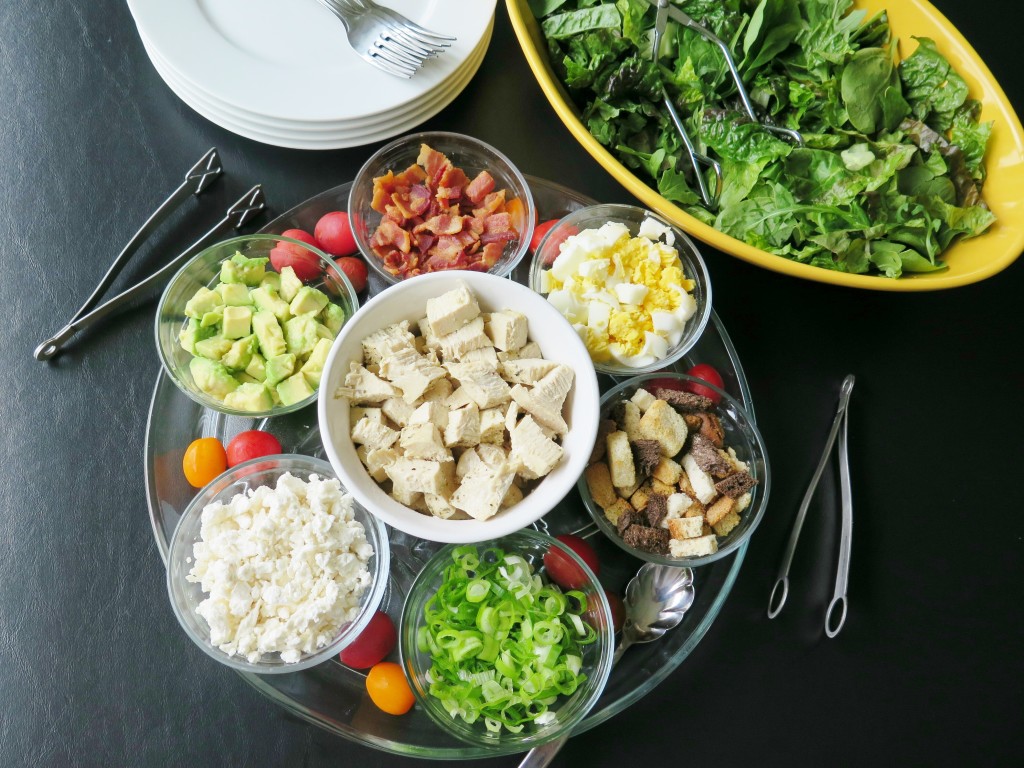 It's the Dog Days of Summer, so who wants to cook? Some days even the thought of standing over a grill makes me sweat.
This week the Sunday Supper Movement wants you to turn off the heat and rev up the flavor!  Salads, sandwiches and wraps invite you to create endless combinations.
Cold meals don't need to boring. You can add some fun to mealtime by putting out make it yourself salad bars. One of my favorite salad bars is an oldie but goody. A Cobb Salad.
Cobb Salad is named for Brown Derby owner, Robert Cobb. The story goes that one night back in the 1930's Cobb's appetite got the best of him and sent him on a quest in the kitchen for salad fixings. As we all know, the best salads, sandwiches and meals often originate from leftovers.
He found some cold cooked chicken, avocado, bacon, eggs, cheese and veggies arranged on a bed of fresh chopped greens. This colorful food palette is considered the daddy of composed salads. Some sites include the dressing as a type of French while others list red wine vinaigrette.
I say, "Eat what you like." These flavors go well with any type of dressing. Better yet, skip the dressing and drizzle a bit of olive oil and a squirt of lemon.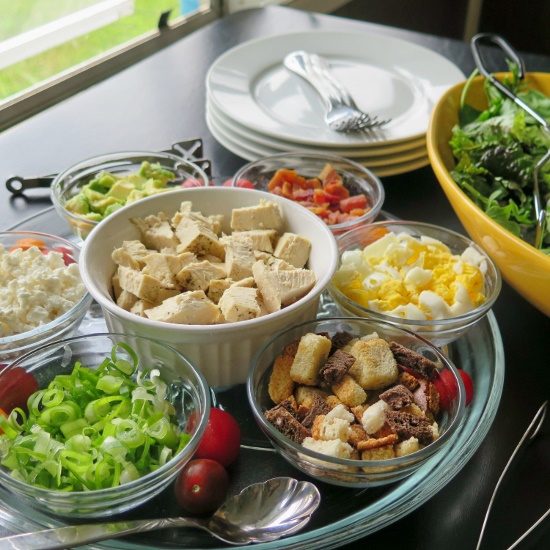 Ingredients
1 head Red Romaine, chopped or 1 5-ounce bag mixed greens
2 cups cold cooked chicken, chopped
1 cup chopped hard-cooked eggs
1 avocado, diced
1 cup chopped bacon
1 cup crumbled cheese (feta, bleu or Roquefort)
1/2 cup sliced green onion
1 cup croutons
1 cup cherry or grape tomatoes
Instructions
Fill salad bowl with lettuce.
Portion ingredients into individual bowls.
Serve with assorted dressings.
http://www.cindysrecipesandwritings.com/cobb-salad-bar-weekdaysupper/
Enjoy these No-cook dinner ideas for dinner in a snap!
Monday – Cobb Salad Bar by Cindy's Recipes and Writings
Tuesday – Simple Summer Spanish Tapas by Caroline's Cooking
Wednesday – Italian Pressed Sandwich by A Kitchen Hoor's Adventures
Thursday – Southwestern Corn Salad by The Redhead Baker
Friday – Trio Salad by The Freshman Cook
Follow the Weekday Supper Pinterest Board for great Weeknight meals ready in 30 minutes or less! Click the picture below for dozens of fresh ideas!