It is time to reveal my recipe choice for March's Surprise Recipe Swap!
This recipe comes from Susie at Earning My Cape . Susie blogs about crafts, food and much more. Check out her cartoon panels. Awesome!
Here's Susie's page,Recipes where you'll find these coconut bites. I switched up the recipe a little. Stephanie and Susie have great taste!
These coconut candies are delicious and perfect for Easter!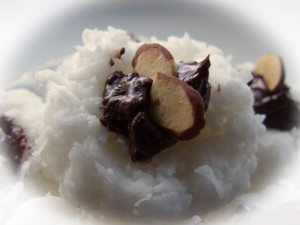 Coconut Bounty Bites
Original recipe link:Stephanie at Silver Boxes
I swapped coconut oil for the butter in her original recipe and added toasted almond slivers.
makes 2 dozen
Ingredients
3 cups sweetened flaked coconut
2 cups, powdered sugar
1/2 cup coconut oil, melted
1/4 cup chocolate chips, melted (I used candy melts)
2 Tablespoons almonds, toasted
In a large bowl, combine coconut, powdered sugar, & melted coconut oil. Form into 1 inch balls.
Make an indentation in the centre of each ball. Fill with chocolate. Add almond slicesPlace on a baking sheet lined with waxed paper. Chill until chocolate is firm. Store in the refrigerator.
Thank you Jutta from Hungry Little Girl for hosting this awesome event!
Would you like to be part of the fun? Click the button below to find out how you can be a part of Surprise Recipe Swap!