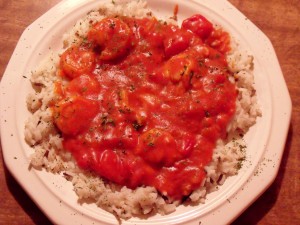 I've been submitting recipe links highlighting tomatoes for weeks now as part of #tomatolove ! Its a great cause and you get chance to win some great prizes from their sponsors.
Come share in the #tomatolove at the Tomato Love Recipe Exchange, hosted by Gimme Some Oven & Bake Your Day, sponsored this week by Pizza Home Chef. Also visit Recipe for Change to learn more about how to support tomato farmers.
This week is linking "Your favorite tomato recipe EVER!" Ladies, you have to be kidding me! You want me to pick just one? 

Oh wait, I see you allow up to 3! 😉
My version of Creole sauce is mild but can be spiced up as you choose. Serve over your favorite rice blend. Enjoy!
Ingredients
1 pound raw shrimp
peeled and deveined
1/3 cup flour
1/3 cup olive oil plus 2 Tablespoons
1 cup hot water
1 6-ounce can tomato paste plus one can water
1/2 cup red and/or green peppers, diced
1/2 cup onion, diced
diced 1/2 cup celery
2 cloves garlic, minced
1 14-ounce can diced tomatoes
1 Tablespoon Creole Seasoning
2 Tablespoons lemon juice
1/2 teaspoon lemon zest
1 Tablespoon Worcestershire Sauce
1 Tablespoon hot sauce or to taste (optional)
1 or 2 Bay leaves Parsley for garnish
1. In a large skillet, sauté peppers, onions, celery and garlic in 2 Tablespoons oil over medium heat until soft, about 3 minutes. Remove from pan and set aside.
2. In a large bowl add shrimp, tomatoes (do not drain), lemon juice, Worcestershire, bay leaves, seasoning and zest. Set aside.
3. Add flour and 1/3 cup oil to skillet. Whisk together over medium-low heat until bubbles form and mix slightly browns. Slowly add hot water a little at a time, whisking constantly to form a smooth paste or "roux". Whisk in tomato paste plus the can of water.
4. Reduce heat and add shrimp mixture. Simmer 5 minutes or until shrimp are pink and fully cooked.
5. Remove and discard bay leaves. Add hot sauce as desired. Spoon mixture over rice, garnish with dried parsley.