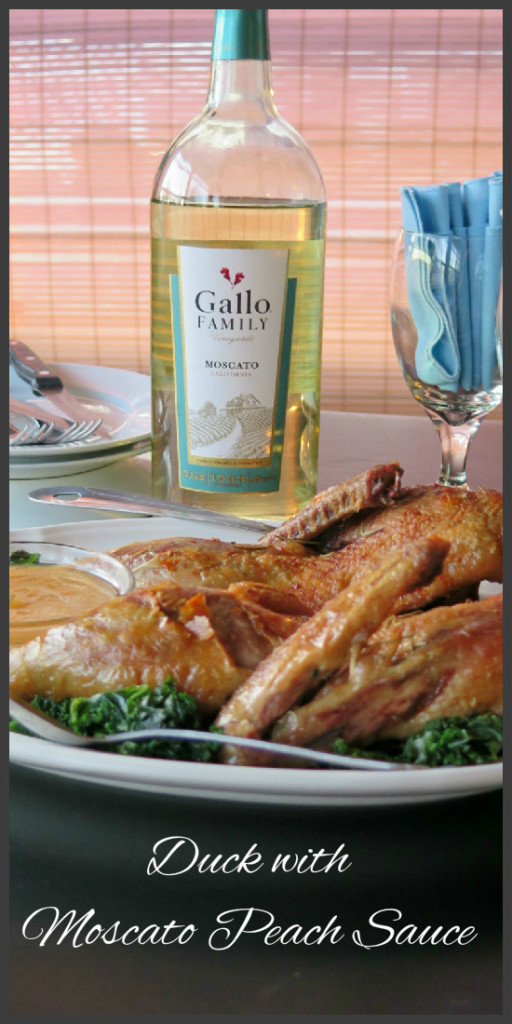 May 9th is National Moscato Day and I can't think of better way to celebrate this delicious wine than with Gallo and my Sunday Supper family!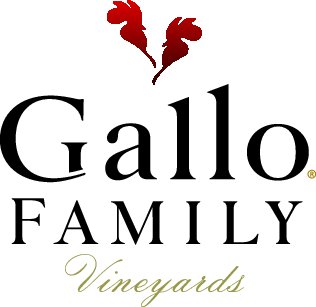 I first heard about Moscato a few years ago at a party where I helped cater the food. The hosts always supply the alcohol at these events. When the event planner opened the box, there were several bottles of Moscato among the wines.
She explained to me how white Moscato differed from other white wines. Moscato was sweeter than Sauvignon Blanc, and can easily be served as a before dinner drink or with dessert.
It didn't take long for all the Moscato to disappear. Guests seemed to really enjoy it and preferred it over the other whites available. Interesting. I vowed that night to buy a bottle to try Moscato sometime soon.
As a rule, I try to serve the same wine with the meal that I added to a dish. That usually involves the entree. Burgundy with a beef stew, Chardonnay with Shrimp Scampi or maybe a nice Merlot with steak and Merlot sauce.
Sometimes it's fun to serve different wines with each course. How could I use Moscato?
I imagined adding Moscato to fruit sauces for desserts. Fruity reductions for vanilla or chocolate ice cream. Crisp salads overflowing with ripe strawberries.  Moscato-based berry dressings drizzled over top.
What I found out was you can use it for so much more!
Try soaking dried fruit like apricots in White Moscato or Pink Moscato. I used these fruits in cakes and bread puddings.
Dried cranberries, prunes or raisins soaked in Red Moscato can be used in meat sauces or desserts. That touch of sweetness from the Moscato and fruit combination makes spicy meats just melt-in-your-mouth! Delicious!
A reduction made from this wine makes a sweet syrupy glaze for meats like ham. Experiment with all three kinds for a different spin.
Add some to barbecue sauce instead of honey or brown sugar to sweeten.
Replace the white wine with Moscato for caramelizing onions for added sweetness.
Yes it does make great poultry sauces too. The White Moscato combines as well with peach as it does with citrus.
So for National Moscato Day I chose to roast a duck.
I like the moist texture and rich flavor of duck. Duck is considered red meat and has a different texture than chicken or turkey.
Ducks have a thick layer of fat under their skin that helps them both warm and buoyant. You need to render that fat layer before serving. Cut tiny slits at an angle through the skin being careful not to pierce the meat. The fat runs off and collects in the pan. Duck fat makes excellent cooking fat.
My usual choice for roast duck is to baste it in a honey glaze. Crisp skin is a trademark quality of duck.
Other ways to prepare this water fowl include duck pieces pan-seared and served medium-rare to medium. Orange duck and traditional Chinese Duck also known as Peking Duck.
I chose to make Duck with Moscato Peach Sauce served over braised kale. This sauce would work as well with chicken or turkey.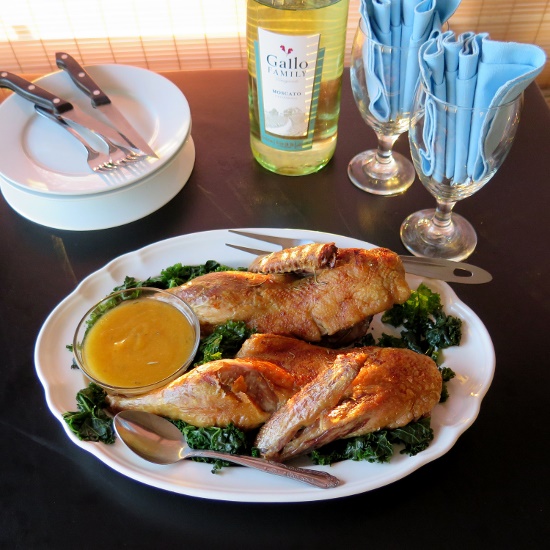 Duck with Moscato Peach Sauce #SundaySupper
Ingredients
1-5 lb Duck
2 Tablespoons Olive oil
1 Tablespoon Rosemary

Sauce

1-16 ounce bag frozen peaches, thawed
1/2 cup White Moscato
1/2 teaspoon Cayenne
3 Tablespoons Honey
1Tablespoon duck fat
1/2teaspoon salt
1Tablespoon rosemary

Braised Kale

1 9-ounce bag kale
1/2 cup chicken broth
Juice from 1 lemon
salt and pepper to taste
Instructions
Duck

Cut duck in half and remove excess fat. Pierce skin with small knife cuts being careful not to cut meat.
Place on a rack in a shallow pan.
Brush with oil and sprinkle with rosemary.
Bake at 325 for about 2 to 21/2 hours until duck reaches 160. Periodically remove rendered fat from pan.
Rest duck for about 15 minutes then transfer to kale lined platter before cutting.

Braised kale

Place kale and broth in a large skillet. Bring to a boil. Cover and reduce heat. Simmer 2-3 minutes to soften. Drain. Arrange on platter. Drizzle with lemon juice, salt and pepper to taste.

Sauce

Place peaches in blender and pulse to puree. Add remaining sauce ingredients, puree. Transfer to a 2-quart saucepan. Bring to a boil and simmer for a few minutes, stirring constantly until thick and heated. Serve warm in individual side dishes.
http://www.cindysrecipesandwritings.com/duck-with-moscato-peach-sauce-sundaysupper/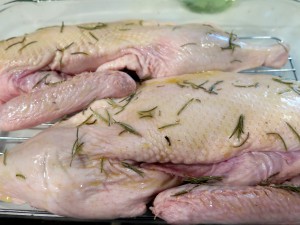 Let the duck rest several minutes before cutting. Serve the sauce warm in individual side dishes for dipping.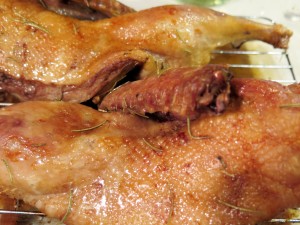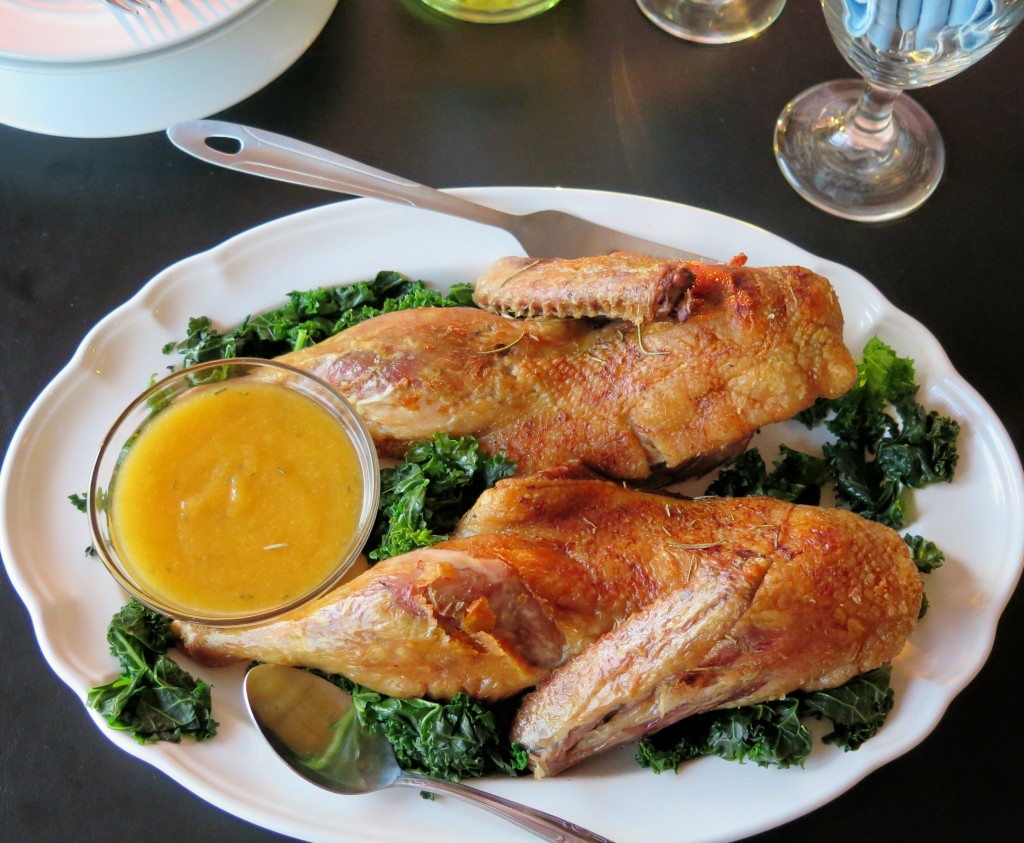 Try all these great Gallo Moscatos:
White:
White Moscato is a light and refreshing sweet white. You can taste peach, honey and ripe citrus in each sip. Serve Moscato to nicely balance spicy Asian or Mexican dishes. This wine goes excellent with desserts.
Pink:
Pink Moscato has the best of both Moscato worlds: delicate and light like White Moscato with hints of red berries like their red. Try substituting it for your go to pink for a nice surprize!
Red:
Red Moscato found a way to showcase citrus, peach and red berry in one wine. I especially love Red Moscato with chocolate. Chill this wine to bring out the delicate flavor profile for yourself! Like all Moscatos, it pairs well with spicy foods. It also makes a great wine for wine and cheese parties!
Use Gallo's handy Store Locator to find where to purchase Gallo wines near you.
Stay connected to Gallo for their latest news, recipes and promotions.
Gallo Family Vineyards website – Website
Facebook: Facebook
Twitter: Twitter
Instagram: Instagram
YouTube: YouTube
 Enjoy all these delicious Moscato recipes and pairings from the Sunday Supper Group!
Cheerful Beverages:
Tempting Appetizers:
Marvelous Mains:
Delectable Desserts:
Celebrating Moscato Day on the Sunday Supper Movement Website
Join the #SundaySupper conversation on twitter on Sunday! We tweet throughout the day and share recipes from all over the world. Our weekly chat starts at 7:00 pm ET. Follow the #SundaySupper hashtag and remember to include it in your tweets to join in the chat. To get more great Sunday Supper Recipes, visit our website or check out our Pinterest board.
Would you like to join the Sunday Supper Movement? It's easy. You can sign up by clicking here: Sunday Supper Movement.
Still not sure which Moscato to try first?
Gallo has a "Moscatofy Yourself" quiz that matches one of their Moscatos to your individual tastes and offers new ideas on how to mix it up the next time you want to uncork a bottle.
Head over now and MoscatofyYourself. I'm Pink! 😉
Keep the party going!
Visit Gallo Family Vineyards Moscato Day Celebration with Sunday Supper on their blog.
Gallo is also sponsoring a Celebrate Moscato Day Sweepstakes on their website! http://www.gallofamily.com/moscato-day There you will find great tips for party planning, recipes and a chance to win some Gallo Goodies!
Compensation was provided by Gallo Family Vineyards via Sunday Supper, LLC. The opinions expressed herein are those of the author, and are not indicative of the opinions or positions of Gallo Family Vineyards.