Artisan Dark Rye Bread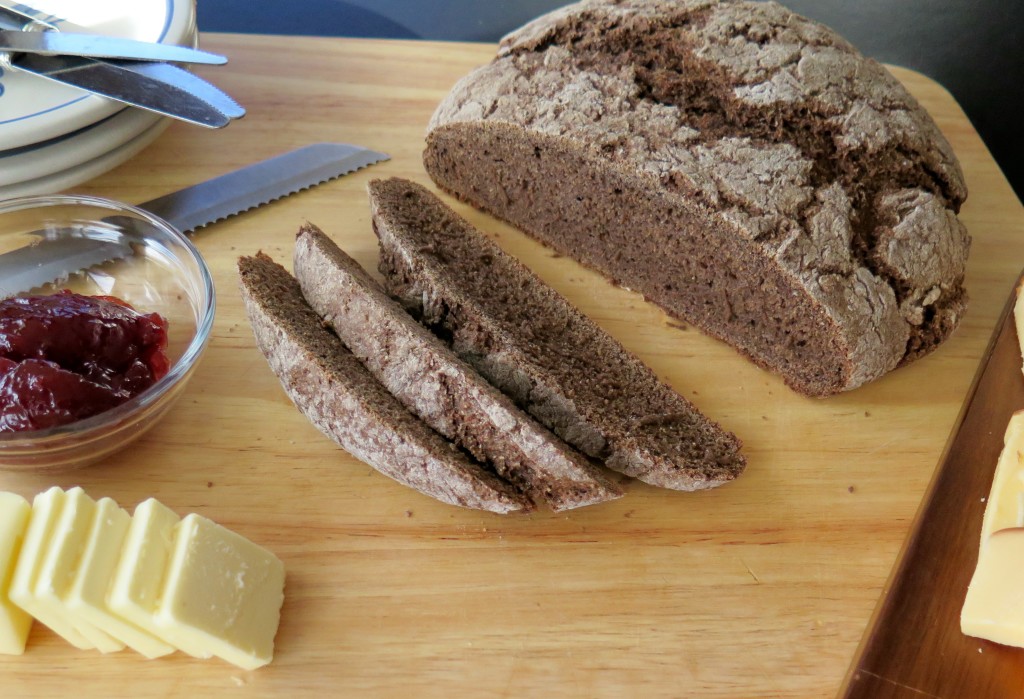 2 cups water divided
1 package dry active yeast
2½ Tablespoons molasses, divided
20 ounces rye flour (about 4 cups)
4 teaspoons vital wheat gluten
2 Tablespoons cocoa
2 teaspoons salt
Dissolve ½ tablespoon molasses in ½ cup warm water (110 degrees). Sprinkle on yeast, stir. Cover and set in a warm place to bloom.
While yeast activates, whisk together rye flour, gluten, salt and cocoa.
Dissolve remaining molasses in 1½ cups warm (110 degrees) water. Add to flour mixture.
Mix in yeast mixture.
Knead only long enough to incorporate all ingredients. Place dough in oiled bowl. Cover with plastic wrap. This dough will be very sticky so do not cover directly with cloth.
Allow dough to rise until almost doubles in size.
Poke a few holes to release gases. Allow to rise again, about 1 hour.
Dust board with flour. Scrape dough onto board. Round into loaf and place on baking sheet.
Bake at 375 for about 30 minutes until loaf registers 200 degrees.
Cool on rack for several hours before wrapping. Wait at least 48 hours to slice.