Philly Cheesesteak Bites #SundaySupper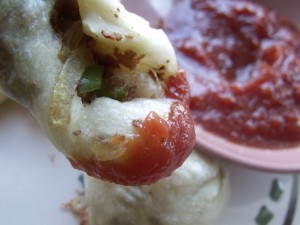 1 medium bell pepper sliced
1 medium onion sliced
4 ounces chipped steak
1 tablespoon olive oil
4 ounces American cheese
½ cup part-skim mozzarella
1 pound pizza dough
1½ cups tomato sauce
¼ cup brown sugar
2 tablespoons Worcestershire sauce
1 teaspoon garlic powder
Saute peppers and onions in oil on medium heat for 5 minutes.
Add steak and continue cooking until thoroughly cooked.
While mixture is cooking, roll out pizza dough to about ¼-inch thickness. Cut into 2-inch squares.
Place about a teaspoon of steak mixture in the center of the dough. top with cheeses.
Fold dough over and pinch shut.
Bake on a parchment lined pizza pan or bake sheet. Bake at 450 for 6 to 8 minutes until browned and cheese melted.
While cheesesteak bites bake, prepare sauce by combining tomato sauce, Worcestershire sauce and brown sugar in a small saucepan. Heat over medium heat stirring constantly until thoroughly heated.
Serve with warm steak sauce for dipping.