Coconut Sweetheart Cookies for #SundaySupper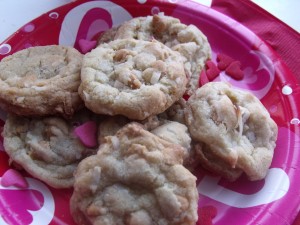 ½ cup coconut oil
1 egg, beaten
½ cup brown sugar
¼ cup sugar
½ teaspoon vanilla
1 cup plus 2 Tablespoons flour
½ teaspoon baking soda
½ teaspoon salt
1 cup butterscotch chips
¼ cup shredded sweetened coconut
Preheat oven to 375
In a medium-sized bowl, cream together coconut oil, brown sugar and sugar.
Add egg and vanilla.
In a separate bowl, mix flour, baking soda and salt.
Add dry ingredients into oil mixture. Stir to blend. Cookie dough will be a little stiff.
Mix in coconut and butterscotch chips.
Scoop into small balls and bake on an ungreased cookie sheet at 375 for approximately 10 to 12 minutes.
Cool on pan slightly before moving cookies to wire rack to cool completely.
Store in an airtight container for up to a week.