It will be up to her who she wants to pass her e-cookbook prize onto!!
Next week, we will see who is willing to give you some competition!
But because that leaves just 2 winners, we will give the 3rd e-book to our #5 recipe this week:
Gluten Free Spice Cake
Most Clicks from last week: #1 with 53 clicks is Fountain Ave Kitchen with Parmesan Zucchini Bites.  #2 with 41 Clicks is Love Bakes Good Cakes and the Kit Kat Cake.  #3 was XOXO Homemade twix bars with 40 clicks!
My host favorite last week was Chaya Selig from BIZZY BAKES for her Strawberry Coffee Cake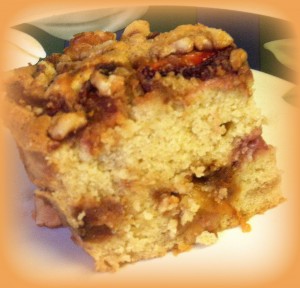 NOW ON TO THE PARTY!!!
Stop by my co-hosts blogs, say hi, and get some great recipes!!
Tracy at Busy Vegetarian Mom http://www.busyvegetarianmom.com
Robyn's View http://www.robynsviewathome.blogspot.com
Angie at A lil Country Sugar  http://alilcountrysugar.blogspot.com/
Sarah at Everything in the Kitchen Sink http://everythingkitchensink.blogspot.com