Welcome to another Foodie Friends Friday Linky Party! Can you believe that Christmas is just around the corner! Today's sponsor KC Ornaments would like to make your Holiday a little brighter with some of her handmade ornaments! So join in, link up, enter our raffle and visit all the great links for some new ideas for the Holidays!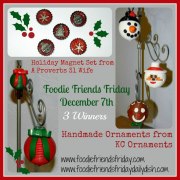 Congrats to last week's winners!
Top Voted Recipes:
| | | |
| --- | --- | --- |
| 5 votes | | 3 votes |
Most Clicked Recips:
Kissed Gingerbread Cookies
Cinnamon Sugar Donut Bites
Eggnog Cupcakes
Now on to the Party! Show our Co-Hosts some foodie love!
Foodie Friends Friday http://www.foodiefriendsfriday.com
Tracy at Busy Vegetarian Mom http://www.busyvegetarianmom.com
Robyn's View http://www.robynsview.com
Marlys at This and That  http://marlys-thisandthat.blogspot.com/
Lois at  Walking on Sunshine http://walkingonsunshinerecipes.com
Michelle at  From Calculus to Cupcakes http://www.fromcalculustocupcakes.com
Cynthia at Feeding Big  http://www.feedingbig.com
Jodie at Binomial Baker http://www.binomialbaker.blogspot.com
R Dawn at Spatulas on Parade http://www.spatulasonparade.blogspot.com
Angie at A lil Country Sugar http://www.alilcountrysugar.blogspot.com
Jutta at HungryLittleGirl http://www.hungrylittlegirl.com/
Kelly at http://www.adornedwell.blogspot.com/
Cindy at Cindy's Recipes and Writings: : http://www.cindysrecipesandwritings.com
Joanne at Winelady Cooks:  http://www.wineladycooks.blogspot.com
Marlene at Nosh My Way: http://www.noshmyway.com
Ericka at http://www.chefpickykid.com
Kiera at http://www.lusciousdelights.blogspot.com.au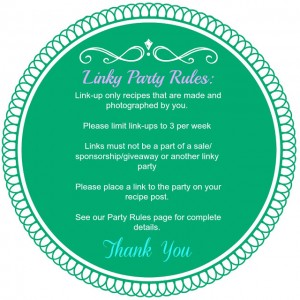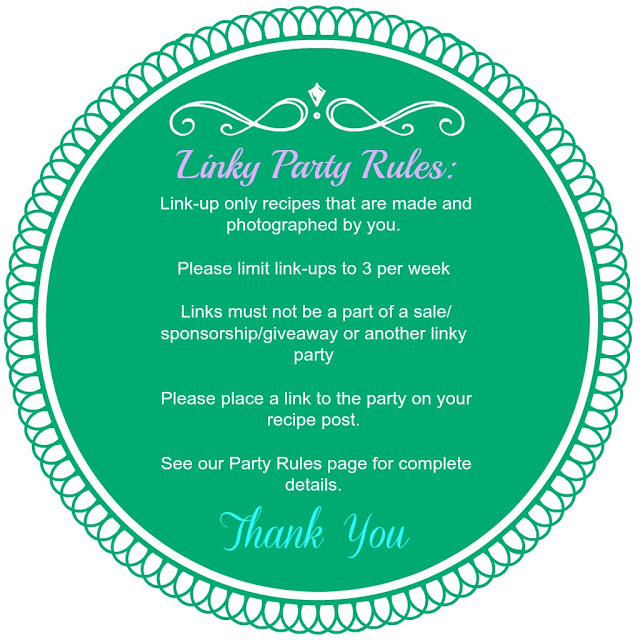 Click below to enter the giveaway!