First Annual Gingerbread House Competition
Welcome to our
First Annual Gingerbread House Competition

at Foodie Friends Friday Daily Dish!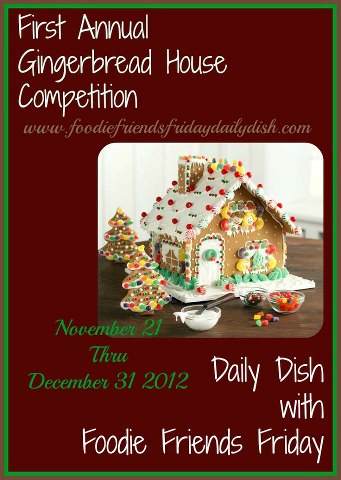 I love everything about Gingerbread Houses! I love the smell of gingerbread baking. It makes me feel all warm and toasty! I love gluing it together, (well actually that part can be nerve-wracking

) decorating it and eating the scraps too!
You too? Then we have a cool opportunity for you!
You don't need to be a first class baker, architect or artist to enter. You don't even need a blog to enter!
Here's all you need to do to join in the fun!
If you have a blog, use the linky tool below by clicking on the blue frog "Add your link" and following the instructions.
If you DO NOT HAVE A BLOG:
1. Click where it says "Add your link," it's the blue button below.
2. Three boxes will open up. The first box will ask for your URL on the link, leave this BLANK.
The next box will ask for your name, add your name or the name of your gingerbread house.
The third box will ask for your email address, please make sure you fill that in so we can notify you if you've won!
3. Now, click on the blue button that says NEXT STEP, a new page will open and you will be asked to upload your photo. Find your photo on your computer and click upload.
That's it!
You're in!
Check back throughout the contest entry dates to see all the great entries and please come back between December 27 and December 31 and vote your top 2!
Don't forget to spread the word to your friends and family to vote!
You don't need to be a competitor to vote!