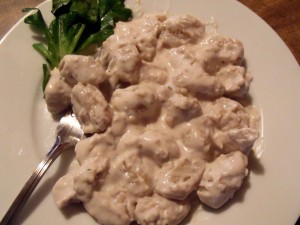 Weekday Suppers are all about having good, flavorful meals that are quick and easy; ready for busy households to enjoy without the fuss. These meals use easy to find ingredients, cook quickly or can be made ahead and ready to enjoy when needed.


Fast, easy meals are always welcome at my house. Quick cook frozen pastas are so versatile. Gnocchi, ravioli, cavatelli and tortellini from the frozen aisle usually cook up in under 10 minutes.

These pastas can be switched up with different sauces depending on your mood. I like to occasionally doctor my favorite jarred spaghetti sauce. A little extra garlic. Maybe some Italian seasoning. Pestos work once in a while too. I like traditional basil, sun-dried tomato, watercress or spinach and this one from Emeril . Alfredo can be too rich at times and heavy for a weeknight meal.
I wanted something creamy, different and a bit lighter. I made Walnut Cream Sauce.
This sauce uses Neufchatel cream cheese with 1/3 the calories of regular cream cheese. The roasted garlic brings out the best in walnut flavor without overpowering it.
Walnut Cream Sauce
Ingredients
1/4 cup walnuts, finely chopped
8 ounces Neufchatel cream cheese
1/2 cup skim milk
2 cloves garlic, roasted
1 Tbs parsley flakes
1 bag frozen gnocchi or homemade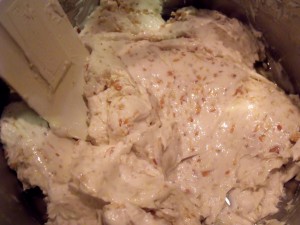 1. Add walnuts and cheese together in a food processor. Pulse until chucks are broken up then blend until smooth. Add garlic, blend.
2. Transfer cheese mixture to a medium saucepan. Whisk in milk and add parsley. Cook over medium-low heat until thoroughly heated.
3. Prepare gnocchi according to package directions. Toss gnocchi in sauce and serve. This walnut cream sauce also goes well over your favorite pasta or use as a sauce for chicken or turkey.
Check out this week's menu for more ideas from our Weekday Supper Lineup!
05/27/13 – Monday – The Not So Cheesy Kitchen delicious Polenta with Mushroom Ragout
05/28/13 – Tuesday – The Girl In The Little Red Kitchen offers Asparagus, Ricotta and Egg Tart
05/29/13 – Wednesday – Cindy's Recipes and Writings making – Gnocchi in Walnut Cream Sauce
05/30/13 – Thursday – Comfy Cuisine -features Oven BBQ Asian Chicken
05/31/13 – Friday – 30AEATS – Sizzling Pork Tacos with Tomatillo Salsa & Salsa Crudo
Visit our #WeekdaySupper Pinterest board for wonderful weekday menu suggestions all month long!