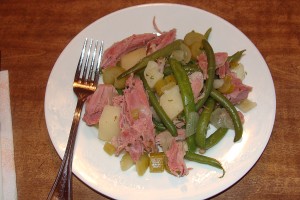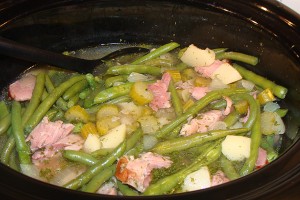 This week our Sunday Supper group took on the challenging of creating and sharing meals that warm our souls. Susan from The Girl In The Little Red Kitchen is this week's gracious host! Thank you Susan!
Soul warming food to me means comfort food that warms my belly and sparks my memories of meals gone by. Meals with Mom. Meals with my daughter before she could rest her chin on top of my head. 😉
Likewise, these aren't Holiday meals. Holiday meals have a special mental file. Can you believe how close that time of year is getting? 8)
So if I need to pick just one comforting, soul warming dish today, I think Ham and String Beans (green beans, wax beans, haricot verts, snap beans) with potatoes is my choice.
Smoked ham hocks or shanks have a flavor and texture all their own. The meat is tender and moist. If you never had this portion of a pig, I'd compare it to the dark meat of poultry.
The cuts come from the same place, a shank named for German name of schenkel or thigh and a ham hock, which is a cut just above the foot.
My earliest gardening memories are of sitting at our kitchen table with a big colendar of green beans on my lap. My job was to snap off the ends, grab the little "string" and pull it off.
Today most varieties are "stringless" but every once in a while, I'll find some farm fresh beans and I get to pull one!
Ham and String Beans
Ingredients
2 ham shank or 2 hocks
1 pound fresh or frozen beans, ends removed
4 medium potatoes, peeled and cubed (about 3 cups)
4 cups of homemade or 1 (32 ounce) carton of chicken stock
2 cup celery, chopped
1 cup onion, chopped
1/4 cup fresh parsley, chopped or 2 Tablespoons dried
Place ham, celery, onions, potatoes and stock in slow cooker.
Set on High and set probe for 160 or time for 3 hours.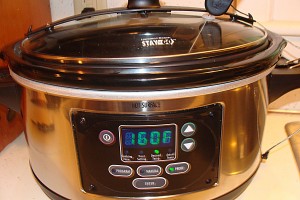 Check for doneness, meat should pull away from bone.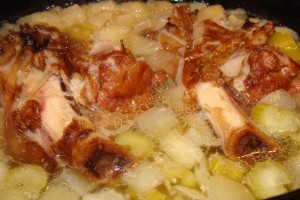 You can cook your beans on your stovetop then add them to the mix if desired. I choose this method because I'm fussy about how tender (not mushy) my beans get! 😉
If you don't have a slow cooker, no worries!

Place ham, celery, onions and stock in large Dutch oven and bring to a boil.
Reduce heat, and simmer about 2 hours or until meat easily separates from the bone.
Move meat to a plate and allow to cool slighty. Remove meat from bone, set aside.
Add potatoes and beans to stock and bring to a boil. Reduce heat and cook until tender.
Return meat to the pot, add parsley.
Serve on a plate or as a stew with the broth.
This goes great with salad or crusty bread!
Need more great recipe ideas?
We have over 50 contributors this week, bringing you their best warm you up dishes.  We have everything from stews, soups, main entrees and even some hot drinks and desserts.
Just look at the list below that is coming to the #SundaySupper table this week!
Main Entrees:
Chili/Stews:
Soups:
Desserts/Beverages:
Join on us on Twitter throughout the day during #SundaySupper.  In the evening we will meet at 7pm EST for our weekly #SundaySupper live chat.
All you have to do is follow the #SundaySupper hashtag or you can follow us through TweetChat.
We'd also love to feature your Sunday Supper Soul Warming Recipes on our #SundaySupper Pinterest board and share them with all of our followers, too.