Crepes can be a fun way to use leftovers or experiment with new combos. Ham, pesto and broccoli and cheddar go so well together. If seafood is more your style, try these Seafood Crepes .
Crepes adapted from Alton Brown's recipe
Ingredients
1 large egg
1/4 cup plus 2 Tablespoons milk
1/4 cup water
1/4 cup all-purpose flour
1/4 cup kamut flour
1 1/2 Tablespoons butter, melted
(Butter or spray for coating pan)
Directions
Combine all ingredients in a blender and pulse until mixed about 10 to 15 seconds. Put batter in the refrigerator for an hour to settle and be easier to use with less tearing.
While batter chills, prepare the filling.
Filling
Ingredients
1/2 lb cooked ham or turkey ham, chopped
1 cup cooked broccoli, chopped
1/2 cup shredded cheddar cheese
1/2 cup pesto, jarred or fresh made
Mix ham, broccoli and 1/2 cup pesto together. Cook over medium-low heat until heat through. Keep warm.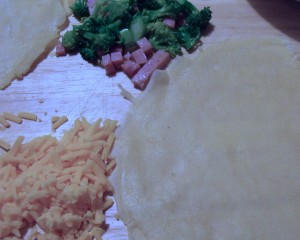 Directions for Crepes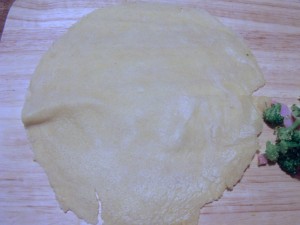 Coat a small non-stick pan with melted butter or cooking spray. Heat the pan, over medium heat. Add a small amount of batter, just enough to coat the pan. Swirl to create a thin coating. When making crepes, the thinner the better.
Cook until crepes set, about 30 seconds. Flip.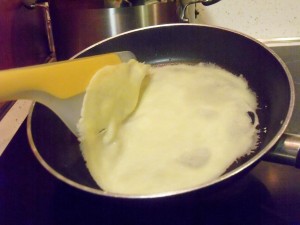 Cook a few seconds longer until firm.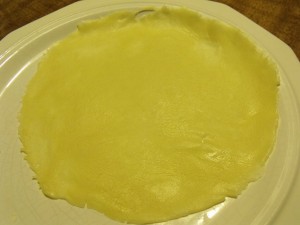 Remove crepes from pan and cool in a single layer on a cutting board or parchment paper.
Makes about 6 crepes.
Assemble crepes by placing about 2 tablespoons of filling in the center. Sprinkle with cheese. Roll crepes and tuck in ends.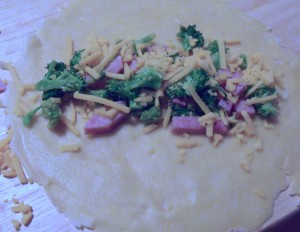 Put a small amount of remaining pesto on the bottom of a 9×13 baking dish. Lay crepes seam side down on the pesto. Cover with remaining filling, cheese and pesto.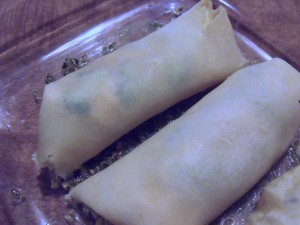 Bake at 350 for about 30 minutes or until heated through and cheese is melted.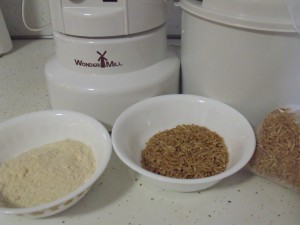 DISCLAIMER: I used the WonderMill I own to grind the kamut into flour. I was not compensated for producing this post. I have entered this recipe into the WonderMill Grain Mill Challenge. This disclaimer will be updated if I receive any prize money.