I'm excited to be part of January's #Weekdaysupper Menu! This month we're focusing on Easy Weekday Meals! I thought this would be the perfect opportunity to redo an old classic!
Hamburger Macaroni Casserole is something I made often on those hurried nights when I worked 2 jobs and still didn't want to just open a can! Back then, (please don't ask me how many years ago 😉 ) I'd fry up some hamburger, Boil off some elbows and open a jar of cheap spaghetti sauce. Boom! Dinner!
Now I find that it really doesn't take any more time to make it from scratch and you can control your fat and sugar intake better too! If time is an issue, skip the oven step. After you mix it together, heat all the way through then serve this casserole sprinkled with a little of the cheese on top!
Ingredients
1 lb ground chicken or turkey, 93%
2 cups tomato sauce, no added salt
1 cup diced tomato, canned or fresh
1 cup v-8 low-sodium
2 cups macaroni, shells cooked according to directions, drained
1 Tbsp Italian seasonings
2 teaspoons garlic powder
1/2 cup Mozzarella cheese shredded, non-fat
1. Preheat oven to 350 degrees. Cook pasta according to package directions and drain. While pasta cooks prepare sauce.
2. Brown turkey and seasoning., cook thoroughly.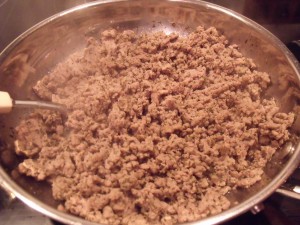 3. Add sauce, tomatoes and V-8. stir. Mix in pasta.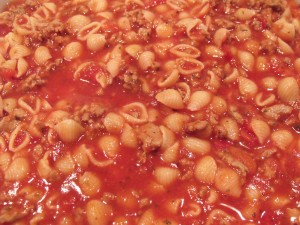 4. Pour mixture into a 3-qt casserole dish. Sprinkle with cheese. Cover and bake about 15 minutes until cheese melts and casserole is heated.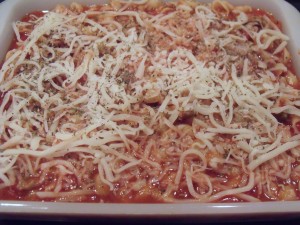 5. Serve with a salad or crusty bread!
Servings: 8
Nutrition Facts
Nutrition (per serving): 492 calories, 57 calories from fat, 6.4g total fat, 43.2mg cholesterol, 438.8mg sodium, 733.4mg potassium, 80.6g carbohydrates, 5g fiber, 7g sugar, 27.3g protein, 778IU vitamin a, 16.4mg vitamin c.
This Week's Weekday Supper Recipes:
Monday | Better than Panera Bread Broccoli Soup by 30A Eats
Tuesday | Simple Shrimp Florentine by Mama Mommy Mom
Wednesday | Healthy Hamburger Macaroni Casserole by Cindy's Recipes and Writings
Thursday | Apple and Ham Risotto by Vintage Kitchen Notes
Friday | Ham and Greens Pot Pie with Cornbread Crust girlichef
Check out last week's Weekday Supper Recipes here –> 1/7 to 1/11 Recipes
If you would like more information or have suggestions for #SundaySupper or #WeekdaySupper, head on over to www.sundaysuppermovement.com.  Our Weekday Supper Recipes can also be found on our #WeekdaySupper Pinterest Board.