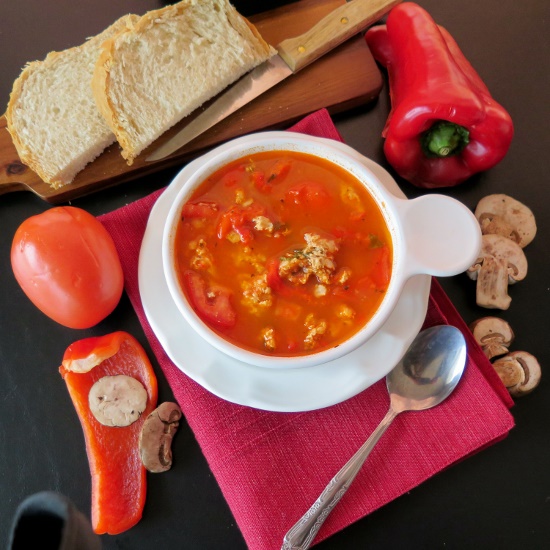 Sometimes I over cook. I don't mean soggy green beans or dried out chicken. I mean way too much food. Although with stuffed peppers that could be a good thing.
Healthy Stuffed Pepper Soup turns those leftover chicken, brown rice and mushroom packed red bell pepper in to a delicious soup.




It just so happens this month our Recipe ReDux Challenge is:
All about cooking once and eating twice.
In short, double dinners are better. Show us how you take a favorite recipe already on your blog – and ReDux the leftovers into a new dish. Or, whip up a new healthy recipe and give suggestions on how to make it a second meal. For example, slow cooker pot roast could become shredded beef tacos; or grilled chicken breasts might morph into chicken salad.
Spring doesn't mean it is time to stop eating soup. I just lighten it up a little. These stuffed red peppers boast ground chicken, brown rice, mushrooms and spinach. I like using red or orange bell peppers instead of green ones. Its a personal preference. Use what you like.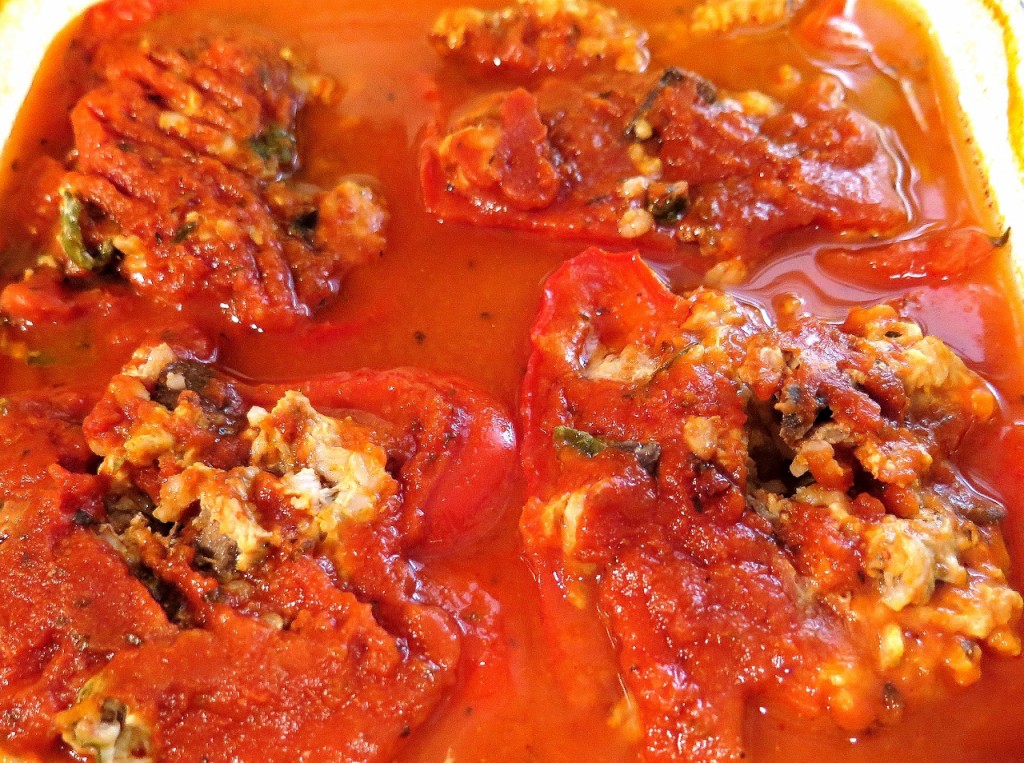 To make the soup, I added low-fat chicken broth and fresh tomatoes. So good!

Healthy Stuffed Pepper Soup #RecipeRedux
Ingredients
2 large red bell peppers
1/2 pound ground chicken
2 cups cooked brown rice
1 cup fresh spinach, divided
1/2 cup chopped mushrooms (I use portabella)
1/2 teaspoon fresh thyme
salt and pepper to taste
1 jar spaghetti sauce or homemade sauce
2 cups chicken broth
1 large tomato roughly chopped
Instructions
Cut peppers in half and steam for 2 to 3 minutes to soften. Place halves in baking dish.
Mix together chicken, rice, 1/2 cup spinach, mushrooms, thyme and salt and pepper to taste.
Loosely stuff peppers. Cover with sauce and bake at 350 for about 40 minutes and chicken is completely cooked.
To make soup, break up peppers in a 3 quart saucepan.
Add broth, fresh tomato and 1/2 cup spinach.
Simmer until thoroughly heated and tomatoes are cooked.
Serve alone or with bread or salad.
http://www.cindysrecipesandwritings.com/healthy-stuffed-pepper-soup-reciperedux/
Enjoy all these great 2 for 1 recipe meals from Recipe ReDux!