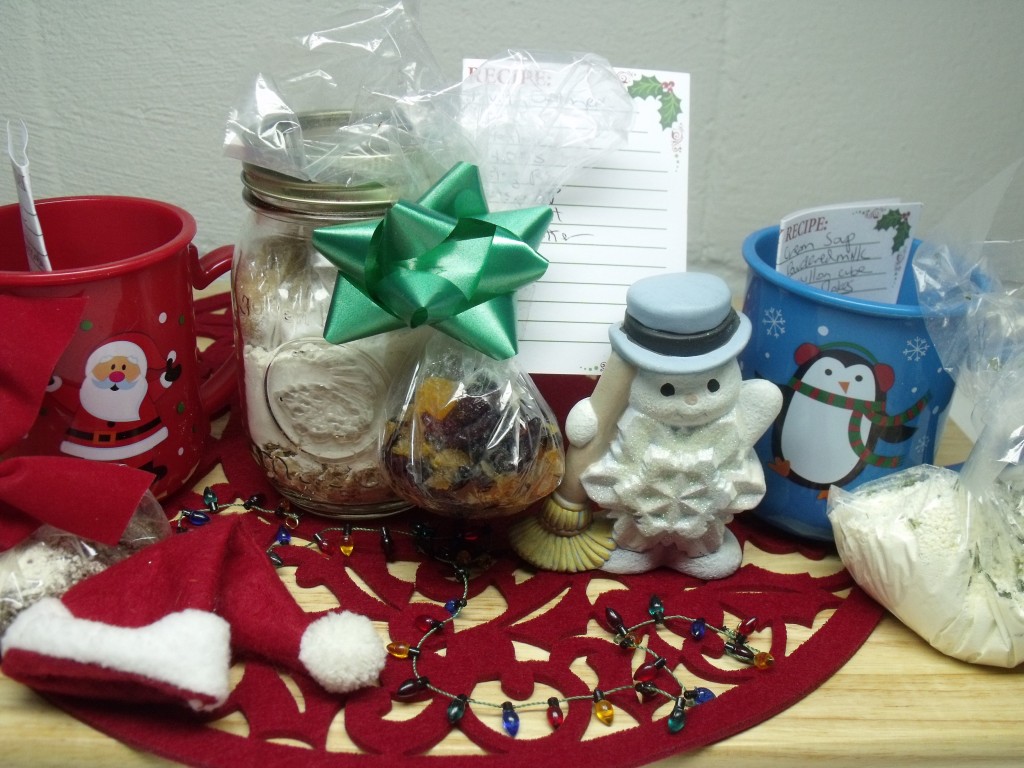 For November, Recipe ReDux is packing it up and hitting the road. No we're not moving or running away. We're sharing Merry Mixes from our kitchen to spread some shelf stable cheer!




Homemade gifts always bring a smile to my face. It doesn't matter if I'm getting or giving them. As always with our recipes we strive to bring you healthier versions of old and new favorites without compromising taste.
I love this theme because it's something I already do each Christmas. Last year my Daughter and Son-in-law received a beer bread kit from me. I bought a loaf pan, lined it with a new dish towel and matching oven hot pads, all the dry ingredients, a recipe card and a bottle of beer. I also acquired a flour mill and sent some whole grain flours and spice mixes too.
For this month's theme I decided to go instant with 2 drink mixes. I send these out in a festive mug with the recipe included. You just add water and enjoy. The first one is a skinny version of a powdered latte. Dry non-fat milk replaced whole milk. Add some cocoa, instant coffee and your favorite low-calorie sweetener.
>Skinny Mocha Latte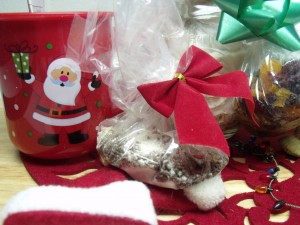 Ingredients
1/4 cup non-fat dry milk
1/2 teaspoon cocoa
1/2 teaspoon instant coffee
1 teaspoon sweetener
Add 6 ounces of boiling water. Stir to dissolve. Pour over ice for a refreshing cold drink if desired.
Cream of Potato Soup
1/2 cup non-fat dry milk
2 Tablespoons instant potato flakes
1/2 teaspoon minced dry onion
1/4 teaspoon dried celery flakes
1/2 low-sodium chicken or vegetable bouillon cube (1/4 teaspoon)
Add 6 ounces boiling water. Stir and serve.
Because I'm a traditionalist, I made an oatmeal cookie mix too. I needed something to dunk in my latte!

Fruitful Oatmeal Cookies
1 cup flour
1 cup rolled oats
1/2 teaspoon baking soda
1/2 teaspoon baking powder
1/2 teaspoon salt
1/2 cup brown sugar
2 Tablespoons sweetner
1 egg
1 teaspoon vanilla
1 cup chopped dried fruit (apricots, prunes, cranberries)
Layer oats, then flour, baking soda, baking powder, salt. Place brown sugar and sweetener in a separate bag and set on top of dry ingredients. Bag the fruit and attach to jar.
Recipe for instruction card.
Combine flour baking soda, baking powder, oats and salt.
In a separate bowl, cream together butter and sugars. Add egg and vanilla. slowly add dry ingredients. Stir in fruit.
Drop cookies on an greased or parchment covered cookie sheet. Bake at 350 for about 15 minutes. Cool on pan before moving to a rack to finish cooling.
Stop by these great Recipe ReDux member blogs for more great Merry Mixes ideas.