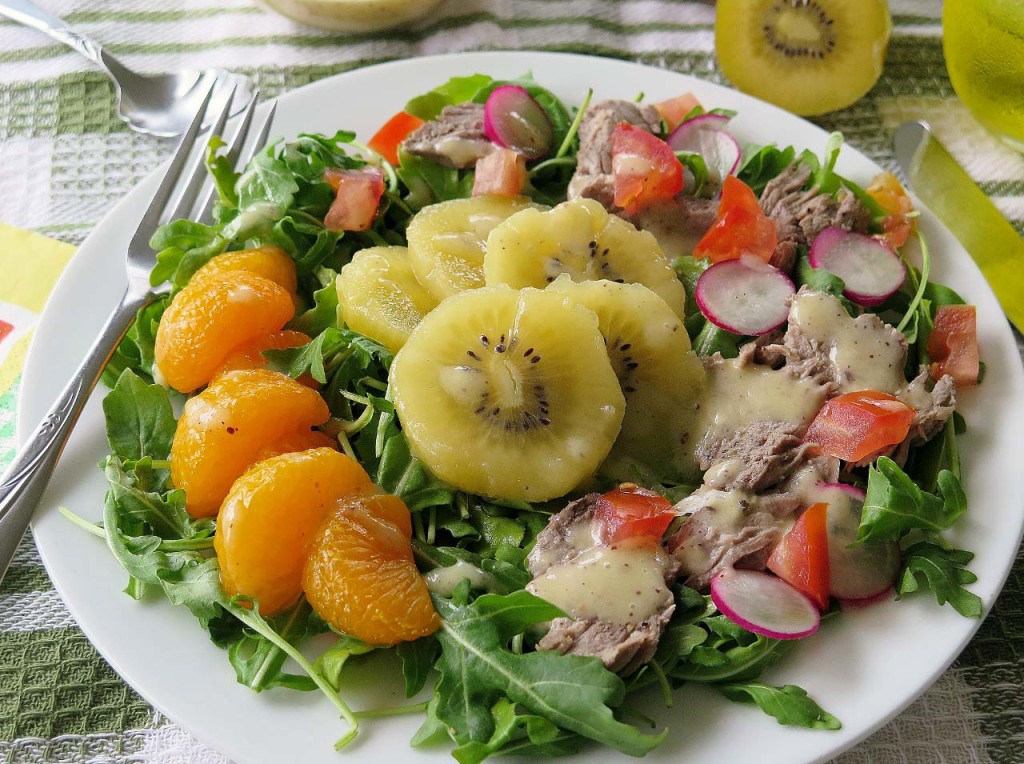 Kiwifruit and Steak Salad teases your taste buds with Sungold Kiwifruit on the salad and in the dressing. Doubly delicious!
"I received free samples of Zespri SunGold Kiwifruit mentioned in this post. By posting this recipe I am entering a recipe contest sponsored by Zespri Kiwifruit and am eligible to win prizes associated with the contest. I was not compensated for my time."
Welcome to another addition of The Recipe ReDux Challenge!
Zespri Kwifruit ReDux Challenge
Whether it's the yellow flesh or the high amount of vitamin C, SunGold is a surprising fruit. Zespri challenged Reduxers to "surprise and delight" with their SunGold recipes, showing off the surprising culinary versatility, pop of color, nutrition and taste of this delicious fruit!
About Zespri Kiwifruit
Zespri Kiwifruit is the world leader in premium quality kiwifruit. You may not always think about a specific brand when it comes to buying kiwifruit, but once you get to know Zespri, you'll always look for the label. The reason behind Zespri's superior eating experience is their comprehensive quality system, which ensures that Zespri consistently delivers great-tasting fruit. Zespri is a grower-owned company and all growers are held to the same growing standards.
You're familiar with delicious green kiwi. Juicy, sweet goodness packed in a fuzzy, brown shell. Kiwifruit has long been a great addition to salads, sauces and summertime drinks.
SunGold kiwifruit, a new variety from Zespri, is one of the fastest growing new fruits globally, with volumes doubling in North America this season (June-October). SunGolds are a natural cross between gold varieties of kiwifruit (all Zespri kiwifruit is non-GMO).
Five surprising facts about SunGold Kiwifruit:
1. Not all kiwifruit is "fuzzy" on the outside.
• Zespri SunGold kiwifruit have a smooth, hairless skin. SunGold is also yellow on the inside, a tropical-sweet taste.
2. You don't peel kiwifruit.
• Kiwifruit is the perfect portable snack because it is easy to eat! Just cut in half with a knife and scoop with a spoon. That's it – just cut, scoop, and enjoy!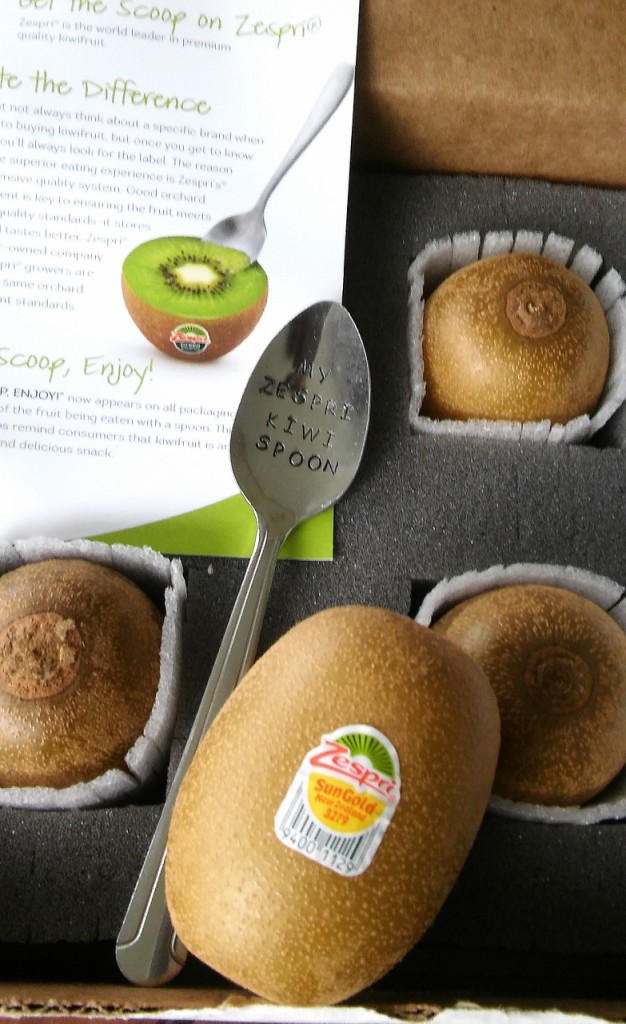 3. Kiwifruit is a good meat tenderizer.
• Both green and SunGold kiwifruit contain an enzyme called actinidin that helps break down proteins and facilitating digestion and emptying of the stomach.
4. They are a delicious source of micronutrients.
• One serving (2 kiwifruit) of SunGold provides three times more vitamin C than an orange and as much potassium as a medium banana. SunGold is a good source of antioxidant vitamin E.
5. You can "measure" the taste of SunGold.
• Zespri growers achieve the best-tasting kiwifruit through a measure called the brix. The higher the brix, the sweeter the fruit. The dry matter content (where all water is removed) indicates how high the brix will be once the fruit is ripe. A higher dry matter means the better quality the kiwifruit will be- it stores better and tastes better. Not all kiwifruit brands put so much focus on the brix and that's why not all kiwifruit is created equal. With Zespri, you can really taste the difference!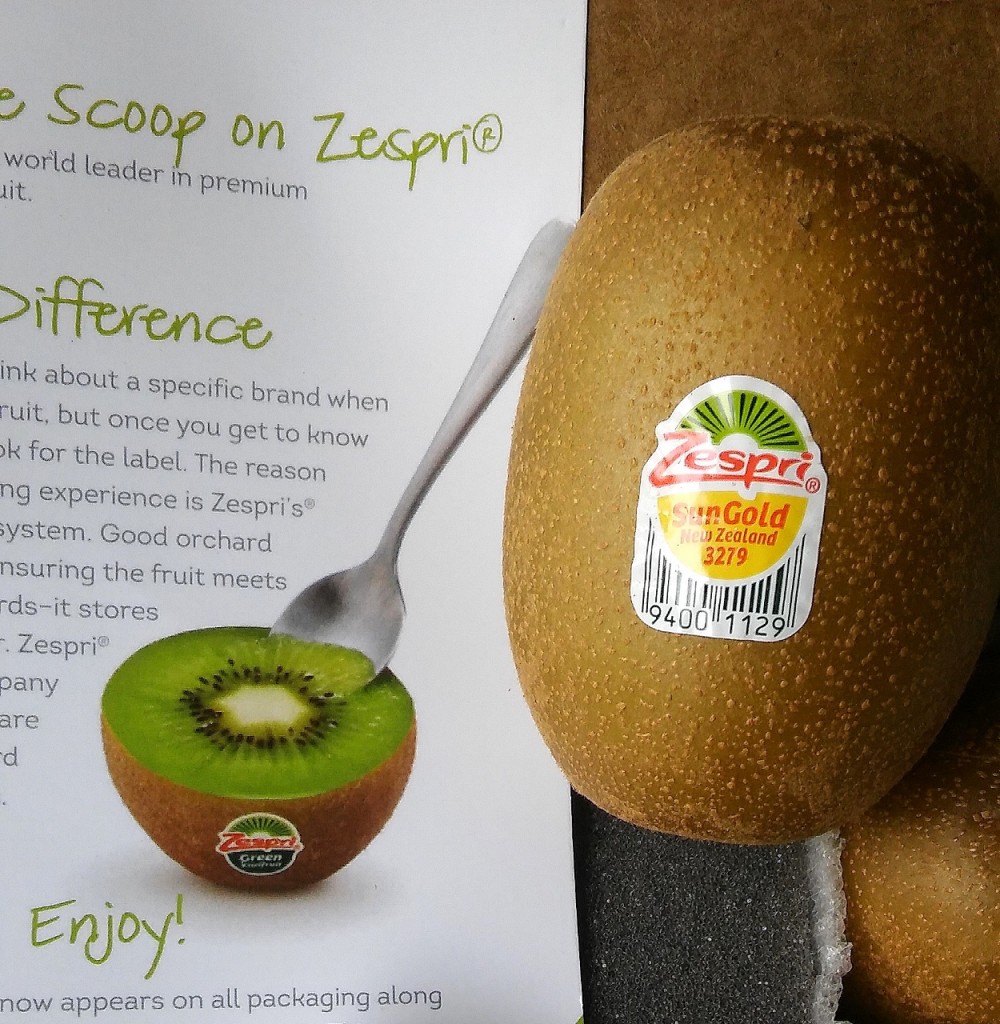 How to tell if a SunGold kiwifruit is ripe:
Hold a kiwifruit in the palm of your hand and squeeze gently. It should yield to slight pressure when ripe.
How to speed up ripening:
Leave SunGold kiwifruit out at room temperature approximately 3-7 days to ripen. Speed up the ripening process by putting kiwifruit in a paper bag with bananas or apples (the ethylene gas emitted by these fruits make kiwifruit ripen faster). Once kiwifruit is ripe, it can be kept in the refrigerator for up to 2 weeks.
Connect with Zespri Kiwifruit to get the latest news, recipes and more!
Website, Twitter, Facebook, Instagram, Pinterest.
Get a preview of the kiwi emoji coming this fall and start thinking about all the ways to show kiwi-love through emojis! Kiwi emoji preview!
I love a good balance of flavors in a salad. Kiwifruit and Steak Salad serves up satisfying umami flavor from the steak, a bit of bite from the radish and crunch from the greens. Sungold kiwifruit slices bring the right amount of sweetness to the plate.
Top this salad off with a Sungold kiwifruit based dressing for a refreshing lunch or dinner.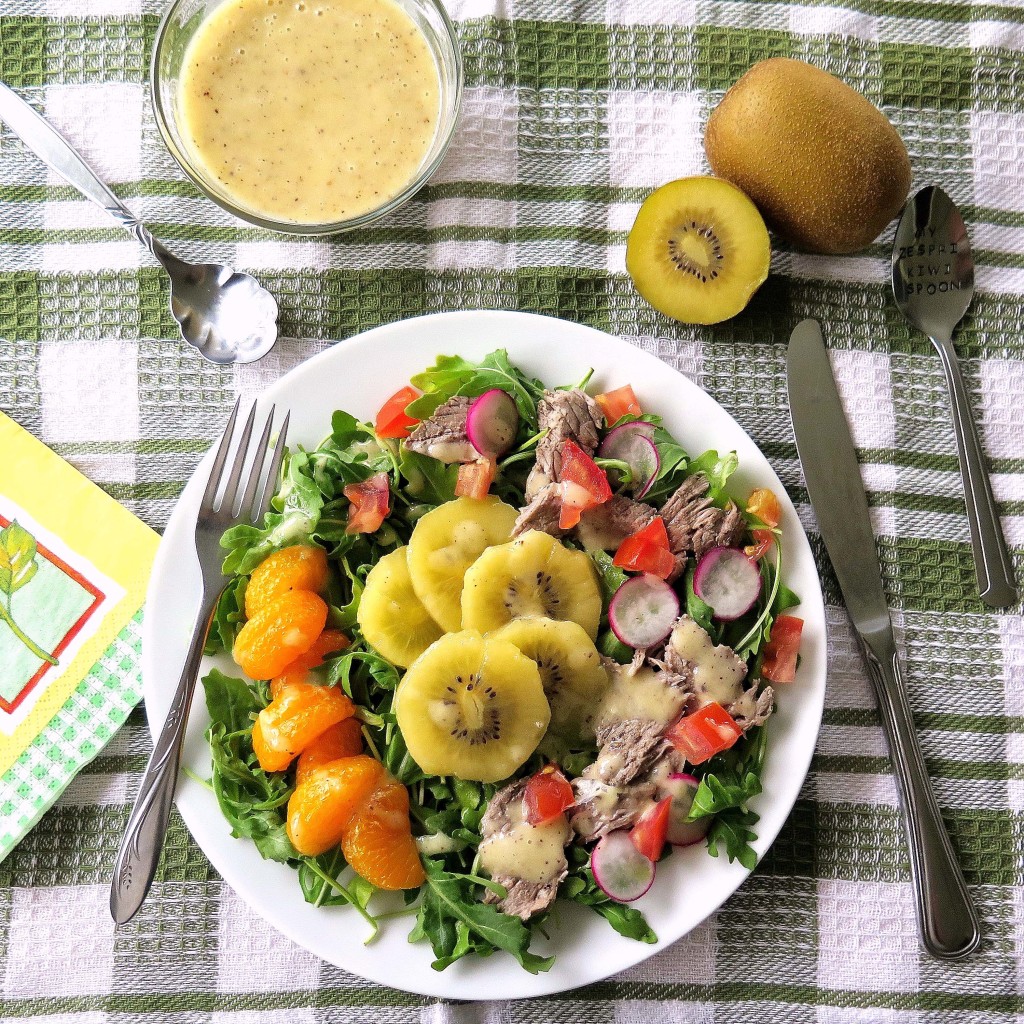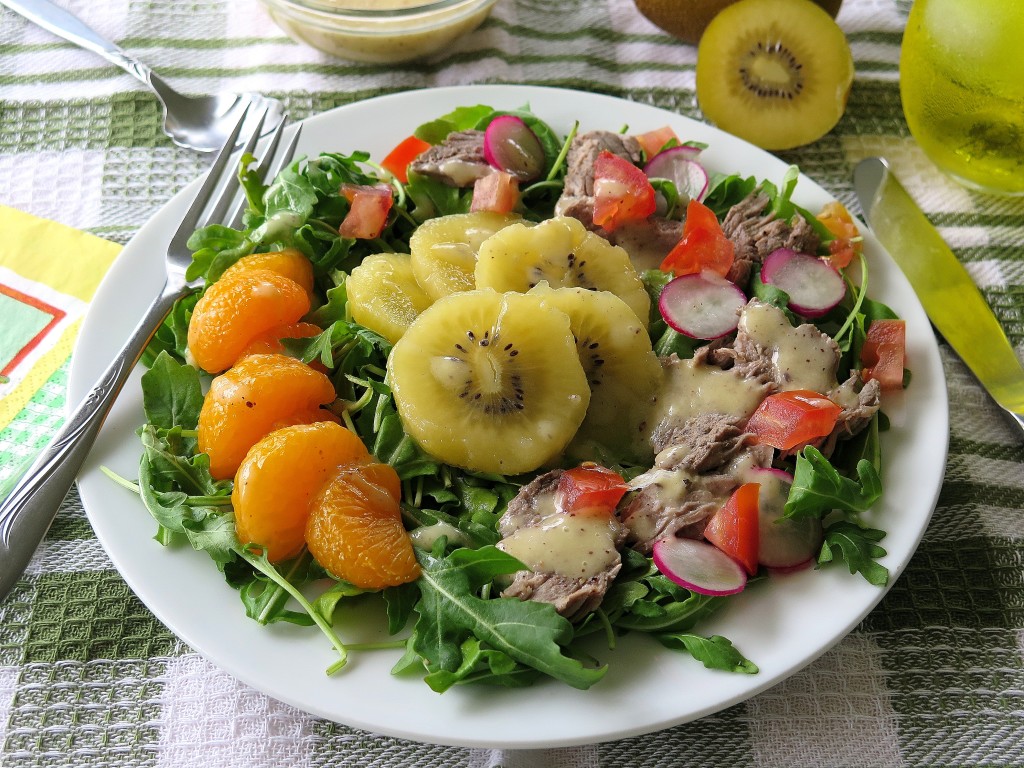 Kiwifruit and Steak Salad
Ingredients
1 Zespri Sungold Kiwifruit, peeled and thinly sliced
1/2 pound thin sliced steak, cooked (top round, flank, flat iron)
2 cups mixed greens
2 radishes, thinly sliced
1/2 cup chopped tomatoes
1/2 cup Mandarin oranges

dressing

1 Zespri Sungold Kiwifruit
1 tablespoon olive oil
2 tablespoons apple juice concentrate
1 teaspoon orange juice
salt and pepper to taste
Instructions
Arrange greens, Sungold kiwifruit, steak, radishes, oranges and tomatoes on two plates.

dressing

Puree Sungold kiwifruit, oil, juices together in a blender. Add salt and pepper to taste.
Drizzle dressing over salad. Serve.
http://www.cindysrecipesandwritings.com/kiwifruit-steak-salad-thereciperedux-ad/
Food for Thought… What is your favorite way to eat kiwifruit? Do you have a recipe you would like to share? Please leave a comment below I'd love to hear your thoughts about Sungold Kiwifruit!
More about the Recipe ReDux.

As the first and only recipe challenge founded by registered dietitians, The Recipe ReDux is focused on taking delicious dishes, keeping them delicious, but making them better for you. Dietitians Regan Jones (ofReganMillerJones, Inc.), Serena Ball and Deanna Segrave-Daly (both of Teaspoon Communications) founded the group on the belief that healthier eating should always taste delicious. As the Latin term "redux" means to revisit or reinvent, we are reinventing the idea of healthy eating with a taste-first approach. We aim to inspire the food lover in every healthy eater and inspire the healthy eater in every food lover.
Enjoy all these exciting Zespri Sungold Kiwifruit recipes from The Recipe ReDux!