I love lentils.
These legumes come in a variety of colors. I've used brown, green, yellow and red ones for soups, salads and even ground some into flour to make brownies .
I chose lentils for my #WeekdaySupper meal because it cooks fast, in 15 to 20 minutes and you don't need to soak it first. You can cook them longer and puree part or all of the soup for a different texture.
Is my version a lentil stew or soup? I think of lentil soup as more of a puree. This hearty bowl satisfies without stuffing you.

Ingredients
1 cup lentils
4 cups broth
1/2 cup celery, diced
1/2 cup carrots, diced
2 T garlic, minced
1/4 cup red peppers
1/4 cup red onions, diced
2 T olive oil
1/2 tsp turmeric
1/2 tsp cumin
1/2 tsp smoked paprika
1/2 tsp salt
Directions
Bring lentils and broth to a boil over medium heat. Reduce heat and simmer until tender, about 15 minutes.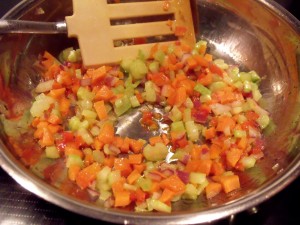 While lentils cook, saute celery, carrots, onions and peppers in olive oil until crisp tender. Add garlic and cook an additional 2 minutes.
Add veggies and spices to lentils and simmer for an additional 5 to 10 minutes to blend flavors. Stir occasionally to release starch from lentils and prevent sticking. This will also thicken stew without adding a thickening agent.
Serve alone or with a crusty bread and salad.
Stop by this week's Weekday Supper Contributor's blogs for some great meal ideas.
05/06/13 – Monday – Hip Foodie Mom – Kimchi Veggie Rice Bowl
05/07/13 – Tuesday – Cindy's Recipes and Writings – Lentil Stew 
05/08/13 – Wednesday – Gourmet Drizzles – Tarte Flambée- A Simple and Delicious French Pizza
05/09/13 – Thursday – Hezzi-D's Books and Cooks – Chipotle Teriyaki Pork Chops
05/10/13 – Friday – Kimchi MOM – Curried Sauteed Shrimp with Coconut Milk
Visit our #WeekdaySupper Pinterest board for wonderful weekday menu suggestions all month long!