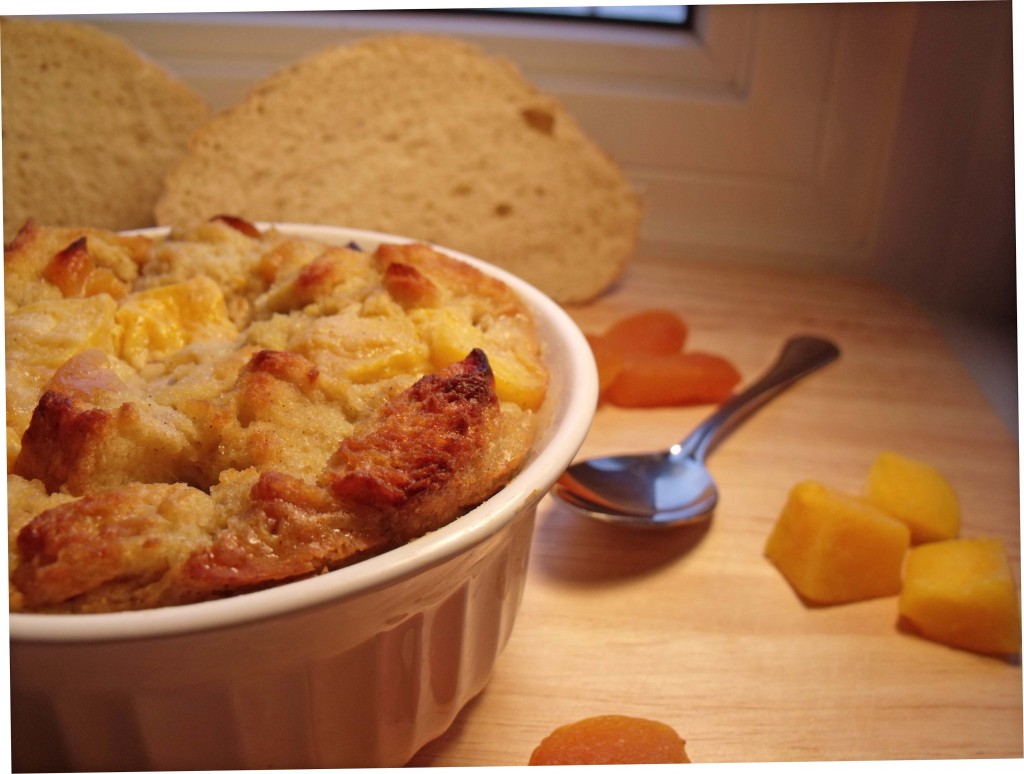 "I received a gift card to offset the expense of my ingredients. By posting this recipe I am entering a recipe contest sponsored by the California Milk Advisory Board and am eligible to win prizes associated with the contest. I was not compensated for my time."
March is National Nutrition Month. This year the theme is "Enjoy the Taste of Eating Right."


Mango Apricot Bread Pudding
I'm a fan of bread pudding. Unfortunately sometimes this can be a very heavy dessert. I wanted all the taste and richness of it without the calories and fat. That's where California yogurt comes in.
According to http://www.healthyeating.org/ yogurt is a calcium powerhouse and a source of high-quality protein. Yogurt is nutrient rich because it is an excellent source of vitamins and minerals for its calories!
The nutritional and caloric contents of yogurt are similar to those of the fluid milk from which it is made. So, it is an important source of
calcium, protein, vitamins A, riboflavin, phosphorus and potassium.  In fact, one serving of yogurt contains about as much potassium as a banana (around 400 mg).
Yogurt is a unique food because it is a cultured milk product, made by adding certain "friendly" or "good" bacteria called probiotics to milk, skim milk, and/or cream to produce a thicker and more textured product. These "good" bacteria are live active cultures that are similar to the ones that already exist in the human digestive tract. They help maintain and restore the delicate balance of both "good" and "bad" bacteria necessary for a healthy digestive system.
I mixed in California yogurt instead of some of the California butter. California half and half replaced the California heavy cream.
I found this Brown Cow California yogurt to use as a snack or part of the meal. One bite for me one for the recipe. So smooth and creamy!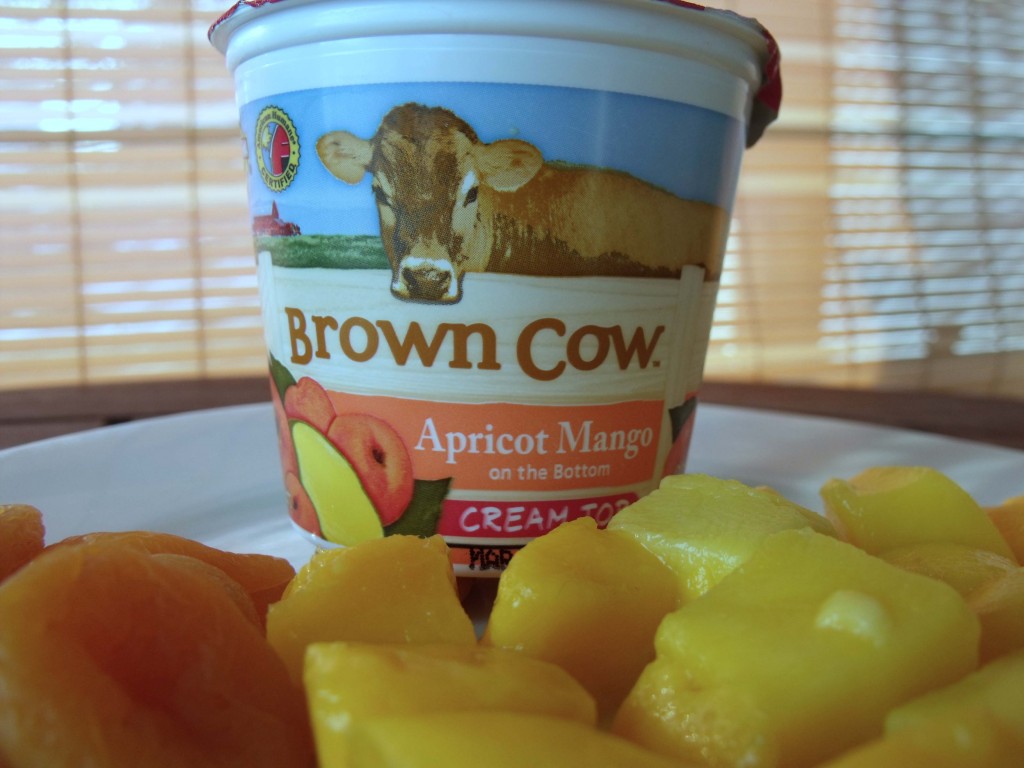 Here's the bread soaking up all the goodness!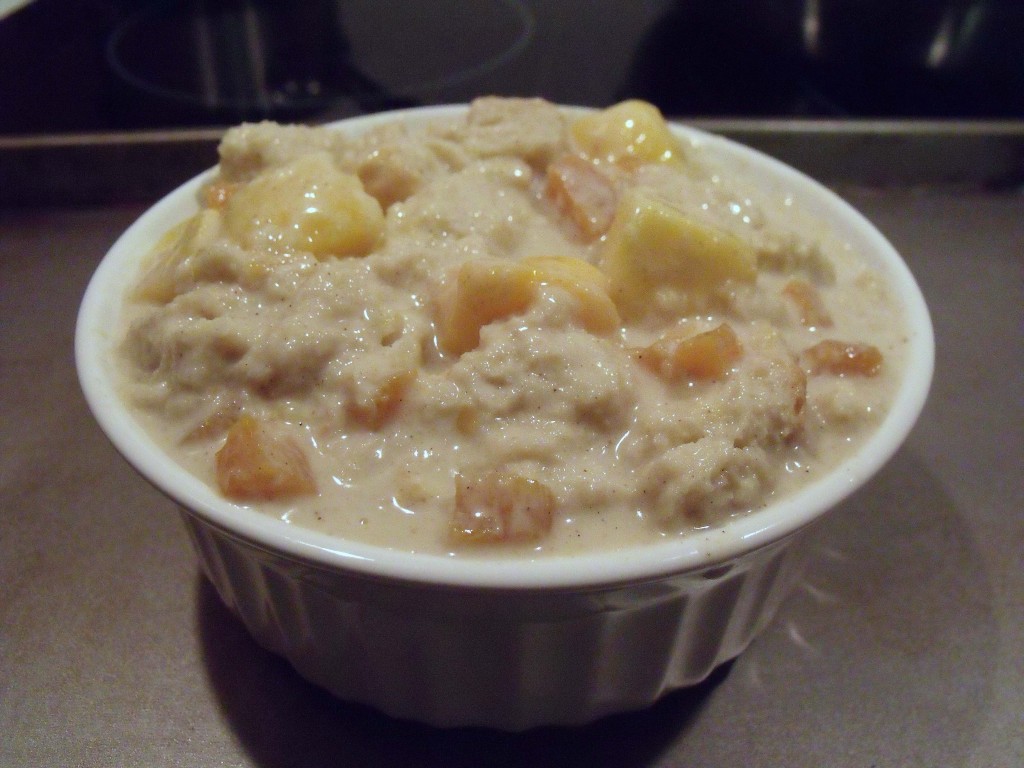 The finished product turned out so delicious! A hint of allspice and ginger laced the custard soaked bread. Big chunks of mango and bits of apricot. You could use plain yogurt or vanilla just as easily with this recipe.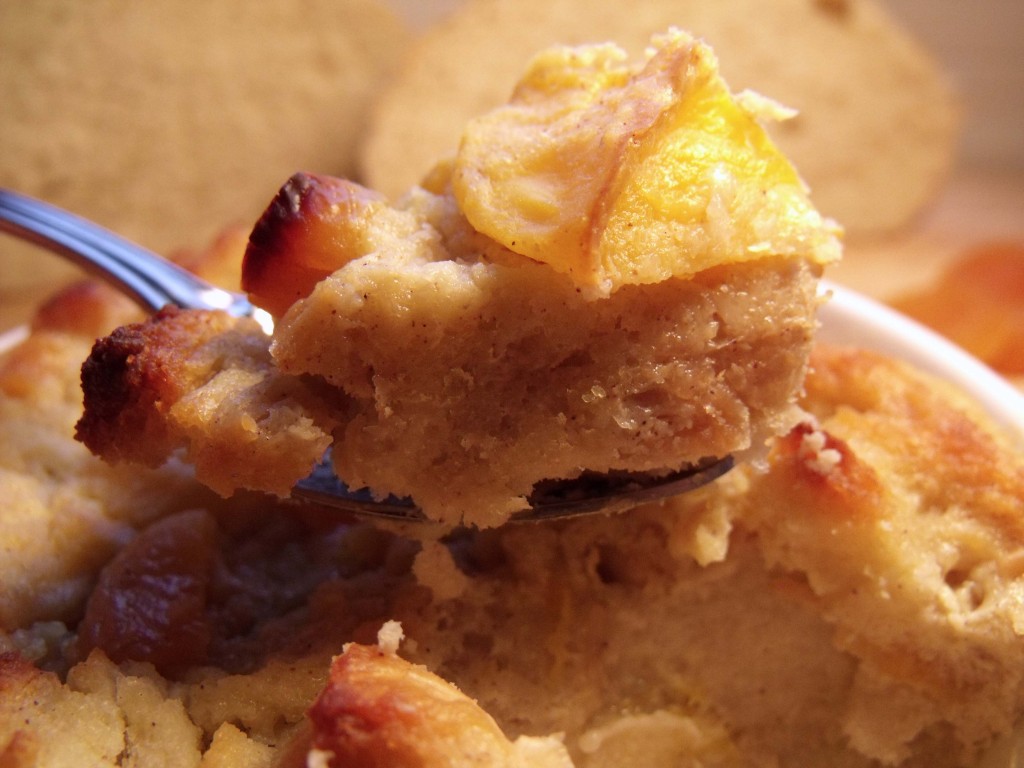 Mango Apricot Bread Pudding #CADairyHealthy #spon
Ingredients
3 Tablespoons California yogurt
1 Tablespoon California butter, plus extra to grease pan
¼ cup California milk
½ cup California half and half
1 egg, slightly beaten
2 Tablespoons sugar
1 cup mango pieces
¼ cup dried apricots, chopped
¼ teaspoon ginger
¼ teaspoon allspice
3 cups sourdough bread, cut into 1½ inch pieces
extra California yogurt for serving
Instructions
Preheat oven to 350 and grease a casserole dish with California butter.
Combine California yogurt, California milk, California half and half, butter,sugar and spices in a medium saucepan. Cook over medium heat until hot but do not boil, stir constantly.
Remove from heat and cool a few minutes.
Add a teaspoon of mixture to egg to temper then slowly whisk egg into mixture.
Add mango, apricot pieces and bread. Stir and allow bread to soak up the mixture. If it seems too dry, add a little more California yogurt.
Bake for 30 to 40 minutes until browned and firm to the touch.
Serve warm with additional California yogurt.
For more healthy ideas to incorporate dairy in your diet, visit the Dairy Council of California's website at HealthyEating.org .
Stay connected with California Milk Advisory Board for the latest news, recipes and ideas.
RealCaliforniaMilk.com
http://facebook.com/RealCalifMilk.com
http://twitter.com/RealCalifMilk
pinterest.com/RealCalifMilk
instagram.com/realcalifmilk
Check out these great ideas for using California Dairy from Recipe ReDux!