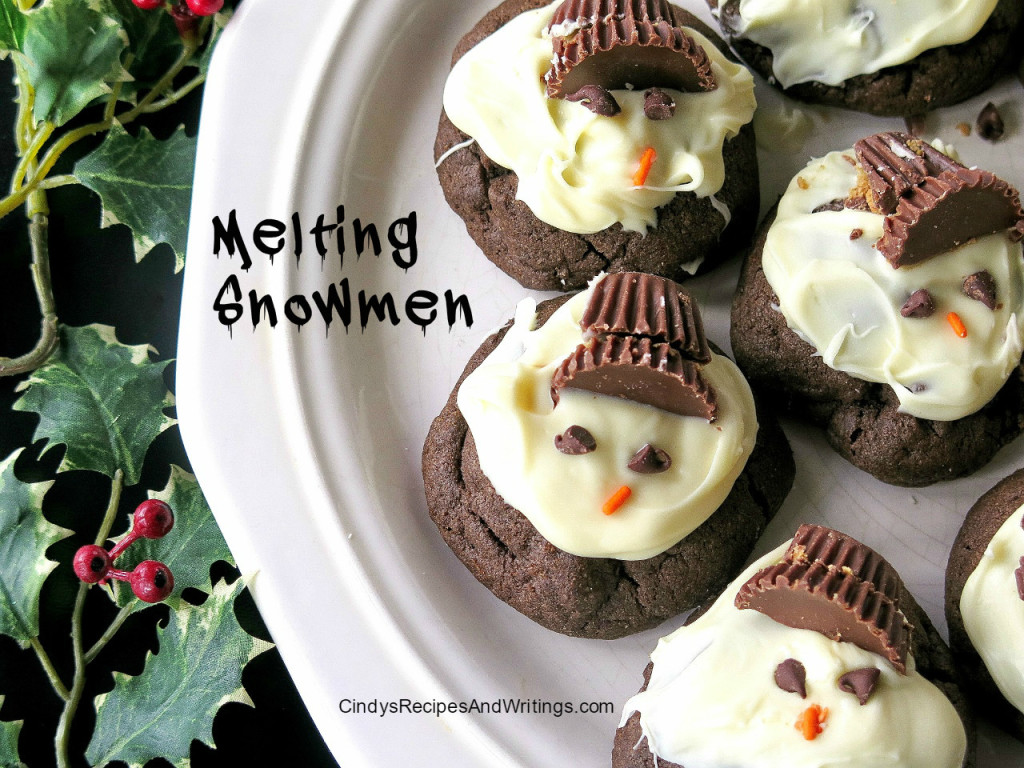 Melting Snowmen cookies melt your heart! Kids will love these easy to make cuties! Adults will too!
First, I want to share a bit about the 12 Days of Cookies event!
Welcome to the 12 Days of Cookies, hosted by Family Around the Table and Cooking With Carlee.  We will be filling the season with all kinds of delicious cookies.  Be sure to check out some of the recipes below or you can follow along on Facebook or Twitter by searching #ChristmasCookies.  We also have a 12 Days of Cookies Pinterest board where you can see all of the goodness!  May your holidays be sweet!
Melting Snowmen use a basic chocolate cookie and dress it up a bit!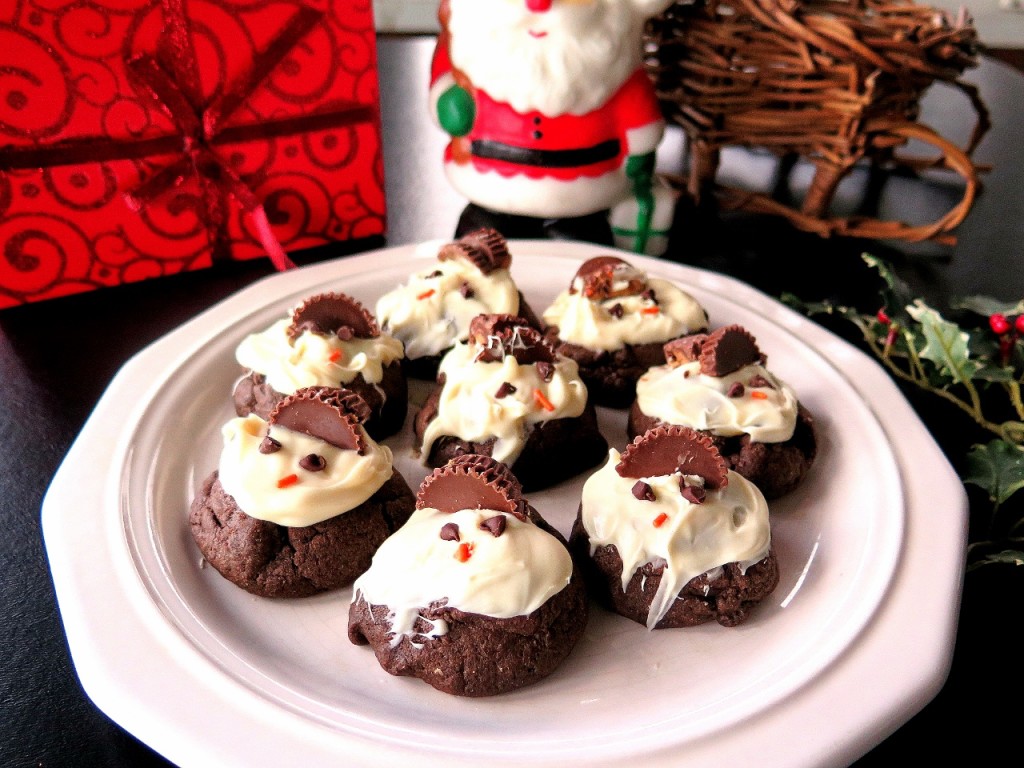 Frost the cookies with white chocolate. Add mini peanut butter cup pieces for the hat, mini chocolate bits for eyes and orange sprinkles for a carrot nose. Easy, right?
Here is a recipe for the cookie. I'd love to see your version of a melted snowman!
Ingredients
1/2 cup shortening
1/2 cup peanut butter
1/2 cup brown sugar
1/4 cup cocoa
1 tsp baking powder
1/4 tsp salt
1/8 tsp baking soda
1 egg
1/4 cup milk
1/2 tsp vanilla
1 1/2 flour
1 bag vanilla candy melts
1 bag mini peanut butter cups
1/4 cup mini choc chips
orange sprinkles
Instructions
Cream together shortening, peanut butter and brown sugar.
In a separate bowl, whisk together flour, cocoa, salt, baking powder, baking soda. Add to creamed mix.
Add egg, milk and vanilla.
Shape dough into 20 balls. Bake at 350 for about 10 minutes until set.
Melt white chocolate candy. Frost cooled cookies and add peanut butter cup pieces for hats, sprinkle for a nose and mini chips for eyes.
http://www.cindysrecipesandwritings.com/melting-snowmen/
Food for Thought…Do you make comical cookies or only traditional cookies at Christmas? I'd love to hear your thoughts in a comment below!
Enjoy Day one of the 12 Days of Cookies bloggers. A bit of something for everyone!
Anginetti from A Day in the Life on the Farm
Candy Cane Cookies from The Freshman Cook
Christmas Sprinkle Cookies from Family Around the Table
Chocolate Coconut Layer Bars from Making the Most of Naptime
Chocolate Dipped Coffee Shortbread Cookies from Feeding Big
Cookie Butter Crisps from Palatable Pastime
Crispy and Chewy Chocolate Chip Cookies from A Kitchen Hoor's Adventures
Cuppa Cookies from Cooking With Carlee
Gluten Free Gingerbread Cookies from Simple and Savory
Melting Snowmen from Cindy's Recipes and Writings
Meyer Lemon Cookies from Caroline's Cooking
Pizelles from Hezzi-D's Books and Cooks
Red Velvet Snowballs from The Chef Next Door
Snowday Cookies from Jolene's Recipe Journal