Breakout the spiralizer it's Zoodle season! Nourishing Noodles Cookbook by Christiana Anca shows veggie noodles don't need to be boring!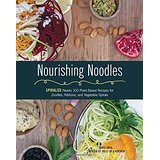 Vegetable ribbons, noodles and threads transform ordinary vegetables into spectacular meatless meals.
I'm always trying to incorporate more vegetables in our diet. I love my spiralizer but I  was lacking in ideas for meals beyond zucchini noodles.
Beginners to pros will find over 75 step by step plant-based recipes to turn vegetables into the stars of the show. These handy threads of veggie goodness will have you skip the pasta in favor of lighter, nourishing veggie noodles.
From appetizers to desserts, this cookbook has something for everyone.
You don't need to put your spiralizer away when zucchini season starts to fade away. You will find recipes for cool season fruits like apples and pears along with winter favorites like sweet potatoes and butternut squash.
Here are two of my favorite recipes from Nourishing Noodles  by Christiana Anca ©2016.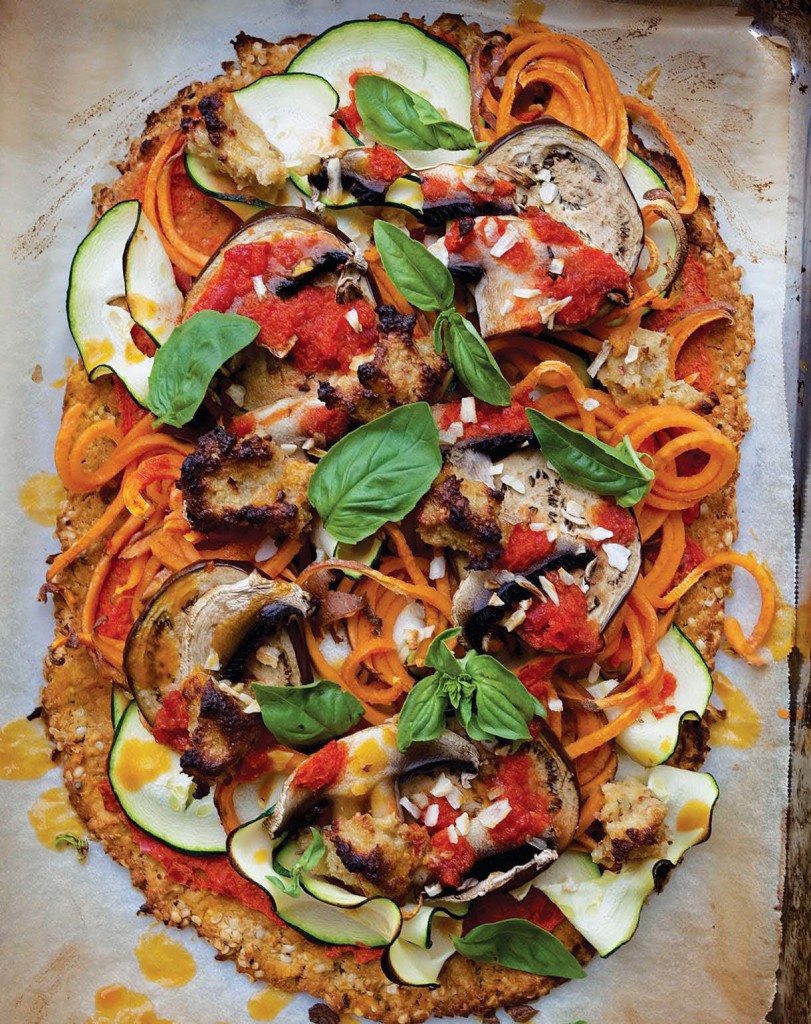 Photos and recipes reprinted courtesy of Nourishing Noodles  by Christiana Anca ©2016 Quarto Publishing Group USA.
NOODLE PIZZA Serves 2
CRUST
1 15.5-oz (439 g) can organic cooked chickpeas, drained 
1/2 cup (120 ml) water
1 tsp cumin powder
1/2 tsp paprika
1 pinch sea salt flakes 
1/4 medium zucchini, diced
1⁄3 cup (56 g) hemp hearts
SAUCE
1/2 large red bell pepper (capsicum), roughly chopped
NOODLES
1/2 medium zucchini, ribbon spirals (spiralize on the flat blade)1/2 medium sweet potato, thick spirals
TOPPINGS
1 small baby eggplant, thinly sliced 
1 medium button mushroom, thinly sliced
Garlic and Chives Cream Cheese (page 150), to taste1 tsp onion flakes
Basil leaves, to taste
Fermented Hot Chili Sauce (page 138), to taste
1 Preheat oven to 375°F (190°C).
2 Except for the hemp hearts, place all crust ingredients in a food processor and blend until smooth but still slightly chunky.
3 Transfer crust mixture to a medium bowl and fold in the hemp hearts.
4 Spread the crust onto a large baking pan lined with parchment paper, about ½ inch (1.5 cm)thick.
5 Bake crust for 20–25 minutes, checking it after 10–15 minutes to make sure it isn't burning.
6 While baking the crust, place the red pepper in a blender and puree. Set aside.
7 Remove the crust from the oven and allow to cool in the pan for at least 10–15 minutes or until completely cooled.
8 Spread half of the red pepper sauce onto the pizza crust, then distribute the zucchini ribbons,sweet potato noodles, eggplant, and mushrooms. Add the remaining red pepper sauce and top with dollops of cream cheese and the onion flakes.
9 Place the pizza back in the oven and bake for an additional 15 minutes, or until the toppings are tender but still crunchy.10 Top with fresh basil and chili sauce, and serve.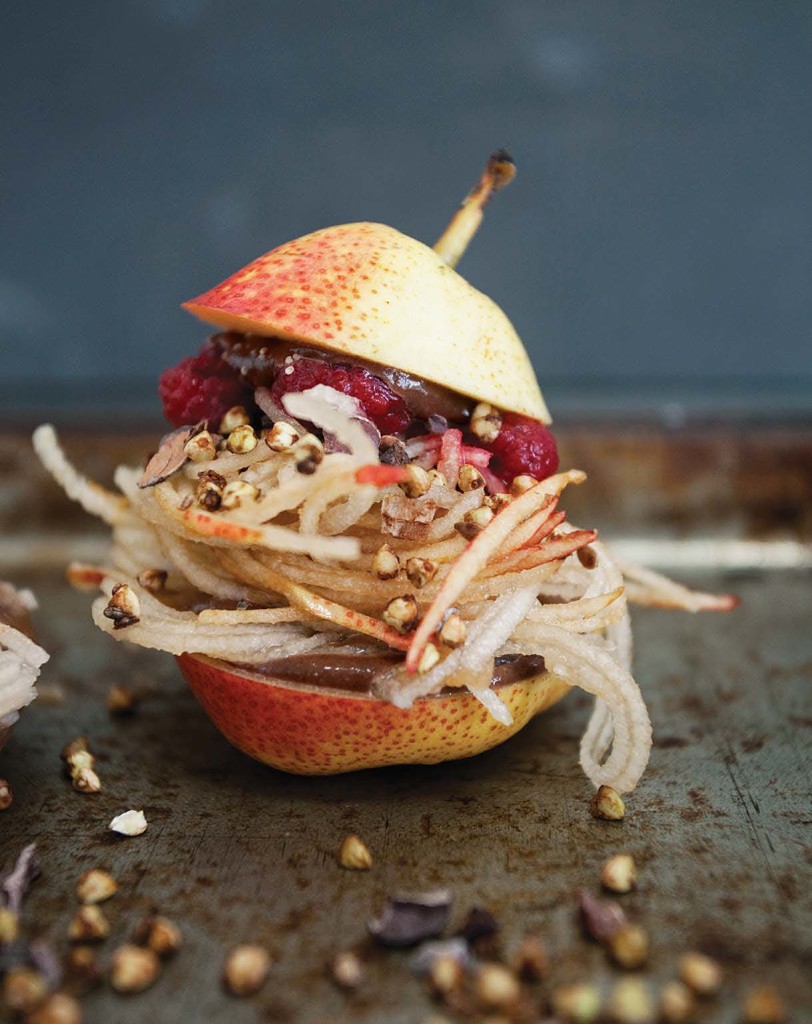 Photos and recipes reprinted courtesy of Nourishing Noodles  by Christiana Anca ©2016 Quarto Publishing Group USA.
PEAR NOODLES WITH CHOCOLATE SAUCE 

Serves 2
CHOCOLATE SAUCE
1 1/2 cups (225 g)cashews
1 cup (235 ml) water
3 tbsp raw honey or maple syrup
5 tbsp cacao powder
Seeds of 1 vanilla bean
1 tsp ground cinnamon
1 pinch cayenne pepper
1 pinch sea salt flakes
NOODLES
2 medium, firm, seasonal pears
TOPPINGS
2 tbsp Buckinis (page 140) or crushed almonds, divided 2 tsp cacao nibs, divided 1 tsp chia seeds, divided 1 small handful fresh raspberries
1 Add the chocolate sauce ingredients to a blender and process until smooth and creamy.Transfer sauce to a medium bowl and set aside.
2 Slice off tops of pears and set aside.
3 Spiralize pears on the thin blade, leaving about ¾-inch (2 cm) ends (bottoms).
4 Place the pear bottoms on a plate and spoon 1 tablespoon chocolate sauce onto each one.Sprinkle half of the buckinis or crushed almonds, cacao nibs, and chia seeds between the two,then carefully arrange the pear noodles on top.
5 Spoon another tablespoon of chocolate sauce on top of the pear noodles, sprinkle the remaining buckinis or crushed almonds, cacao nibs, and chia seeds between the two, and add the fresh raspberries.
6 Place the pear tops on top and serve immediately.
Enter the Rafflecopter below for a chance to win your own copy of  Nourishing Noodles  by  Christiana Anca ©2016!