Oh My Cherry Pie Waffles! Sweet dark cherries in the batter AND cherry syrup sprinkled with crumb topping.
Welcome to #WaffleWeek2017 ! Our group of waffle-loving bloggers want to share some of our new favorites.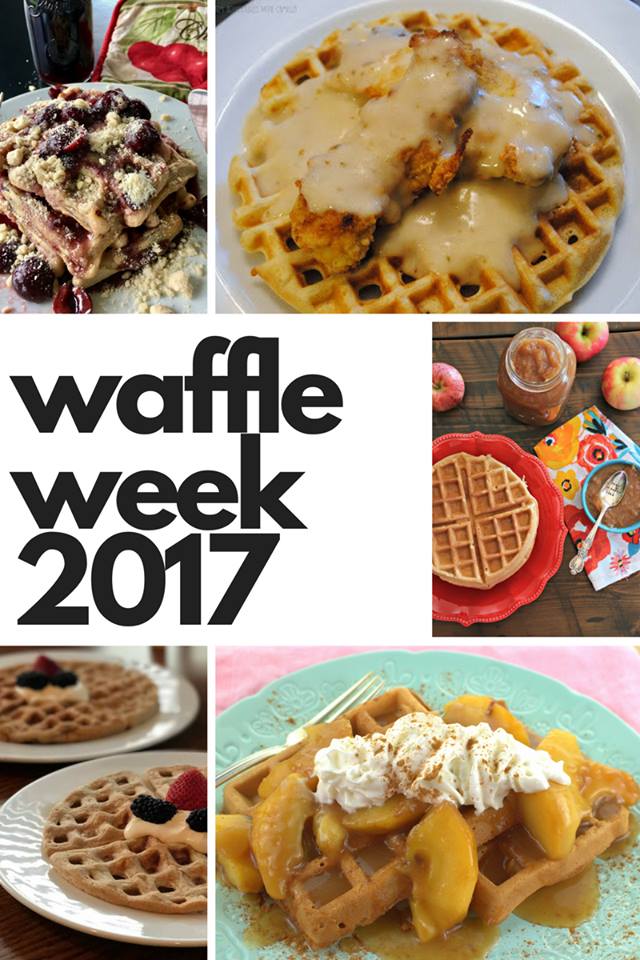 Who says no to waffles? Not me. I love watching those little doughy square fill up with syrup. What I find most intriguing is pairing different waffles with different toppings. What a challenge.
For today's contribution to #WaffleWeek2017, I went with one of my favorites, Cherry Pie.
Oh My Cherry Pie Waffles uses the best parts of the pie. That would be the filling and the crumbs! 😉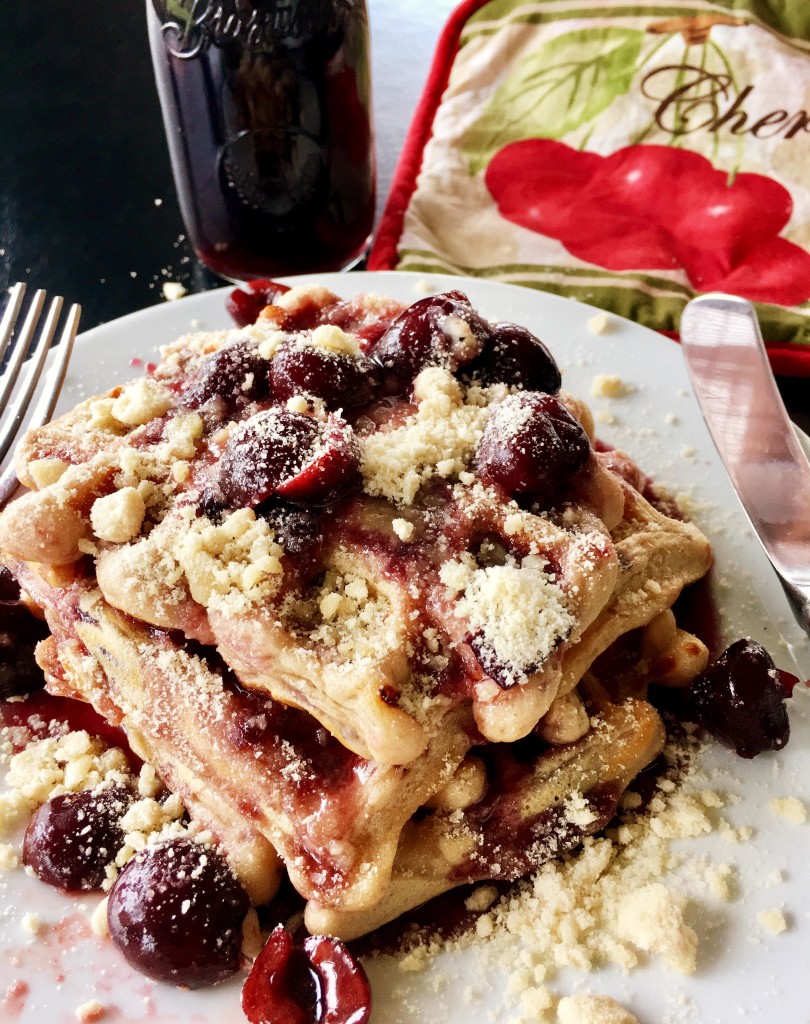 I used dark sweet cherries for these waffles instead of the traditional tart cherries or sour cherries for pie. If you love the real deal, crust and all, try this Cherry Pie Recipe.
Maybe cherry pie flavor in a mini version is more your style. Try these Cherry Pie Tassies.
But if waffles are what you want, these fruity beauties should do the trick!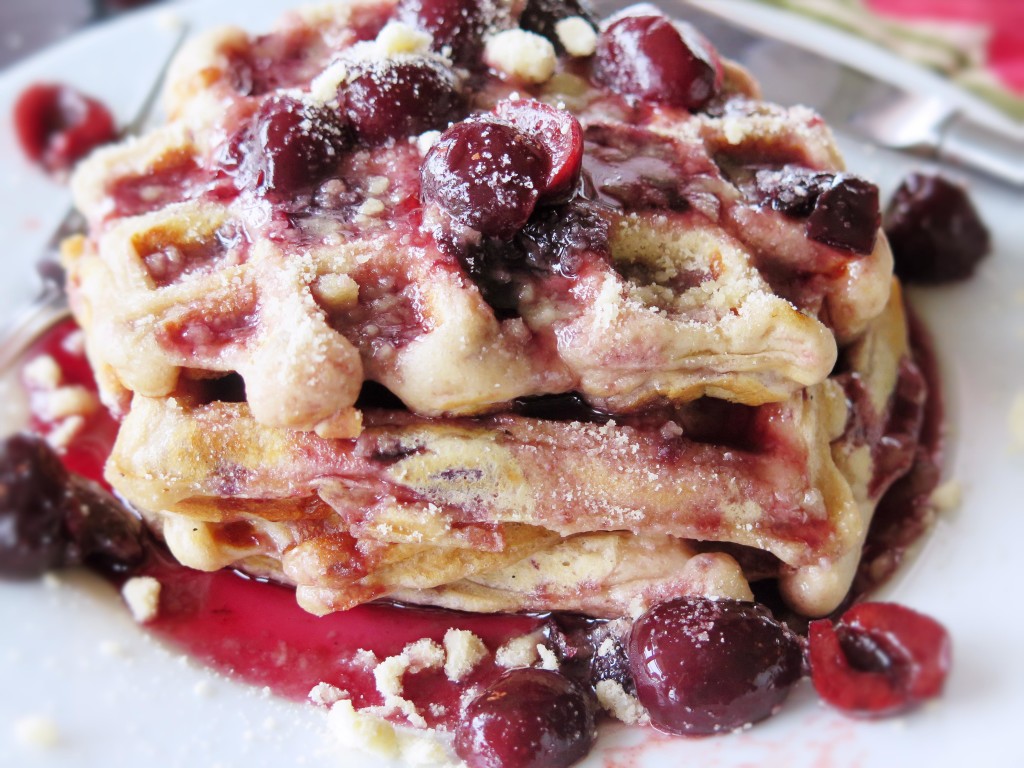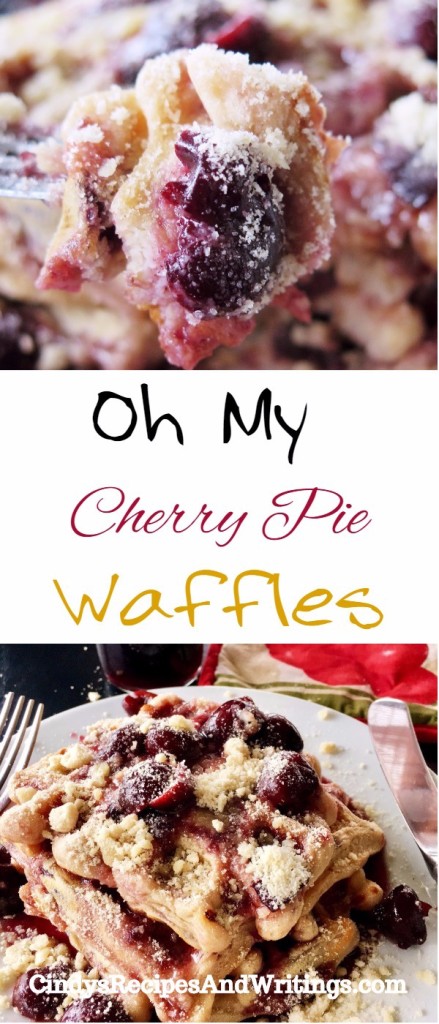 Oh My Cherry Pie Waffles
Oh My Cherry Pie Waffles #WaffleWeek2017
Ingredients
batter

2/3 cup flour
1 1/2 teaspoons baking powder
1/2 teaspoon salt
1/2 cup buttermilk
1 egg, beaten
1/2 teaspoon vanilla
1/2 cup chopped sweet dark cherries, fresh or frozen
1 tablespoon vegetable oil

syrup

1 cup sugar
1/2 cup water
1/2 cup chopped sweet dark cherries
1 tablespoon maple syrup
1/2 teaspoon vanilla

crumbs

1/2 cup flour
1/4 cup brown sugar
1/4 cup cold butter cut into small pieces
Instructions
crumbs

Whisk together flour and brown sugar. Cut cold butter into mix to form crumbs. Set aside.

syrup

Bring sugar, water, cherries, vanilla and maple syrup to a boil over medium heat. Cook until sauce reduces and thickens. Whisk frequently. Set finished sauce aside.

waffle batter

Whisk together flour, baking powder and salt.
In a separate bowl, whisk together egg, buttermilk, vanilla and oil. Add cherries. Combine mixture with dry ingredients.
Spray and heat waffle iron. Pour in batter and cook according to waffle iron directions. Top with syrup, sprinkle with crumbs. Add more cherry halves if desired.
Notes
Have a few extra cherry halves on hand for garnish.
http://www.cindysrecipesandwritings.com/oh-my-cherry-pie-waffles-waffleweek2017/
Here are a few more waffle recipes waiting in the wings for you to try:
Banana Crumb Waffles
Honey Bacon Waffles
Cinnamon Roll Waffles
Stop by and visit these Waffle Loving Blogs for more #WaffleWeek2017 recipes!
Delicious New Waffle Recipes
Tried and True Recipes