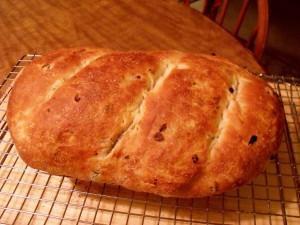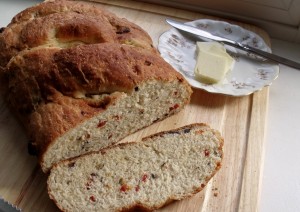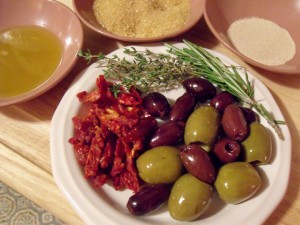 I was thrilled when Penna Gourmet Foods offered to sponsor my blog post! I am an olive nut and love that Penna is a family owned business and has been since 1979. Penna Gourmet Foods does it all; from being a grower and packer to processor of gourmet olives. The farm is located in the fertile Northern Sacramento Valley of California and owned and operated by Maurice and Cindy Penna.
These olive enthusiasts offer both fresh olives with home curing techniques at GreatOlives.com for the people who enjoy the art of home processing and canning as well as ready-to-serve gourmet olive options through Penna Gourmet Foods. Penna Gourmet Foods Fresh Olives are available starting around the middle of September (weather permitting).


As for myself, I stick with buying the already packaged items and go from there!
Ingredients
1 package yeast, quick rise
3 Tbs sugar, turbinado
1 1/4 cups water, 120-130 degrees
1/2 cup olives, diced
1/4 cup tomato
4 1/2 cups flour, unbleached bread
1 teaspoon salt
2 Tbs rosemary, fresh, chopped
1 Tbsp thyme, fresh, chopped
3 Tbs olive oil, divided
cornmeal
Cooking spray, as needed
1. In a medium sized bowl mix together 4 cups flour, sugar, salt, yeast and herbs.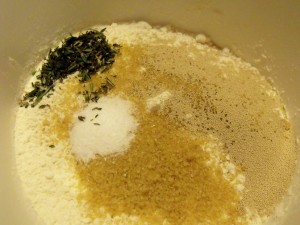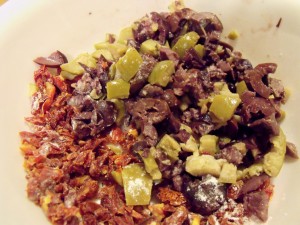 2. Dust chopped tomatoes and herbs with flour. Add to dry mix.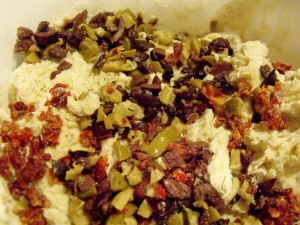 3. Add warm water (120-130 degrees) and 2 Tablespoons of oil.
4. Turn out onto lightly floured board. Knead 5 minutes or until dough becomes smooth, less sticky and more elastic. Add reserve flour or oil as needed as needed to obtain the desired consistency.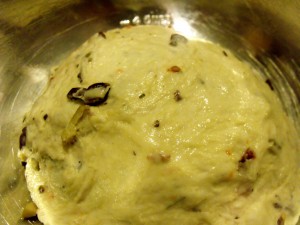 5. Grease a large bowl with cooking spray. Place dough in bowl and turn it until its coated. Cover with a damp towl, place in a warm area and let rise for about 10 minutes until it almost doubles in size. Test dough by inserting 2 finger tips into the center (you pick which two) 😉 of the dough ball. If the indent stays and doesn't close itself, its ready for the next step.

6. Give the dough a quick punch to partially deflate. Turn dough onto lightly floured board. Give it a quick knead to break up the gluten and let out some carbon dioxide. This will help keep those bubble holes from forming in your bread.
7. Here's where you get to be creative! Shape your dough anyway you want. For demonstration purposes, I made a long loaf. Turned the ends into the middle. Flip it over seam side down and transferred the loaf to a baking sheet that I sprayed with cooking spray and dusted with cornmeal.
8. Cover again with a damp towel and let rise until doubled in size about 40 minutes.
9. Make a few slices in the loaf top with a sharp knife or pizza cutter. Brush loaf lightly with olive oil and sprinkle with sea salt or kosher salt if desired.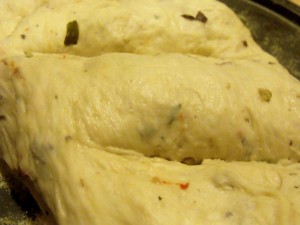 10. Bake in oven pre-heated to 425 degrees for 25 to 35 minutes. Bread is done when outside is browned and you can hear a "hollow" sound when you tap the bottom.
11. Place on a wire rack to cool. You can eat it warm, or store after completely cooled in the fridge for up to a week. If it lasts that long!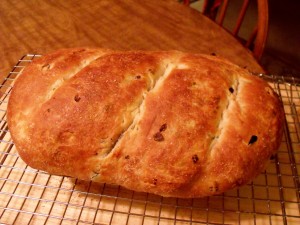 Servings: 12
Yield: one loaf
Oven Temperature: 425°F
Cooking Times
Preparation Time: 30 minutes
Cooking Time: 30 minutes
Inactive Time: 1 hour
Total Time: 2 hours
Nutrition Facts
Nutrition (per serving): 219 calories, 43 calories from fat, 5g total fat, 0mg cholesterol, 270.3mg sodium, 99.7mg potassium, 36.8g carbohydrates, 1.9g fiber, <1g sugar, 6.3g protein, 61.2IU vitamin a, 1.1mg vitamin c.
This sponsorship is brought to you by Penna Gourmet Foods who I have partnered with for this promotion.
This post was shared at Girlichef.com BYOB (Bake Your Own Bread) August linky party!