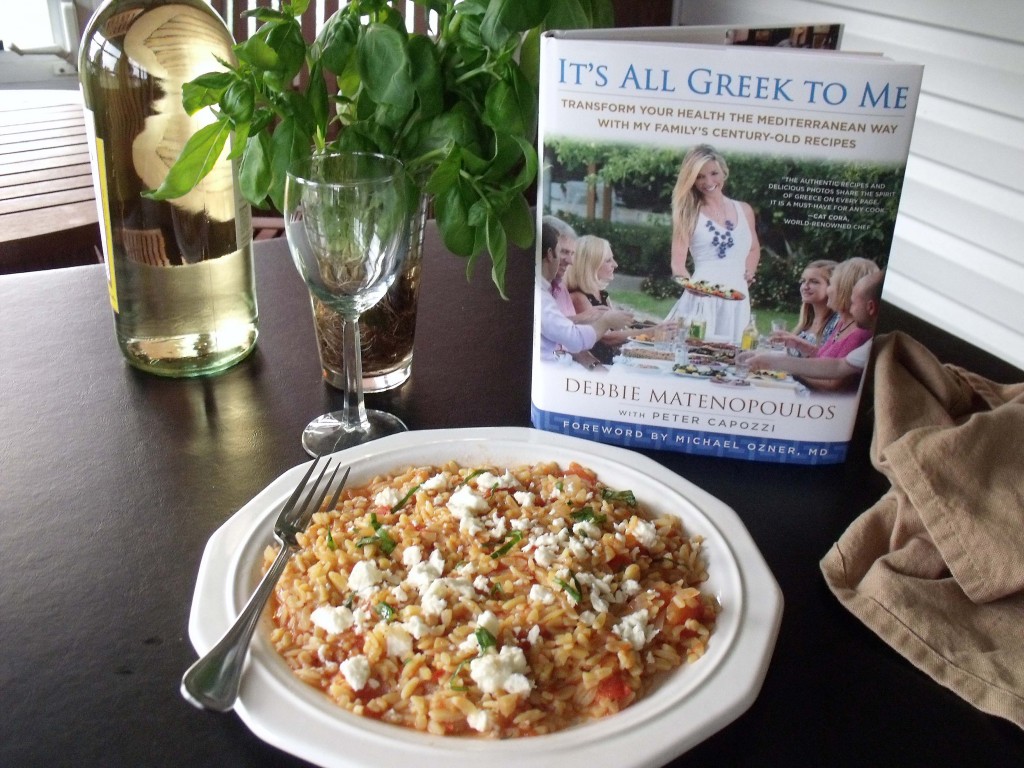 Greek cooking uses all those healthful Mediterranean ingredients that I love. Combine briny olives, salty Feta, juicy tomatoes in an array of satisfying meals and I'm in heaven. As good as that sounds I know there is much more to Greek cuisine.
That's why I was so happy to be chosen for Debbie Matenopoulos's blog tour of her new cookbook, It's All Greek to Me: Transform Your Health the Mediterranean Way with My Family's Century-Old Recipes.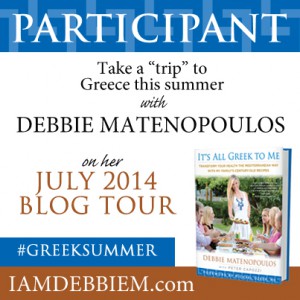 Debbie shares her family's delicious classic Greek recipes. I love the way she includes the pronunciation of each dish along with a bit of personal history.
I was fortunate to have a chance to ask this busy lady a few questions about Greek cuisine. Thank you Debbie!
Me: Do you have a favorite region of Greece that inspires your cooking?
D.M.: It's hard to say what my favorite region in Greece is. It's not a very large country (only 11 million people). But I've probably been most inspired by the cuisine of Northern Greece because that's where my family is from and where I spent most of my summers growing up. Places like Thessaloniki, Kavala, Xathi. They are on the mainland, but on the coast, so there is always an abundance of fresh fish, octopus, and calamari. There are also loads of farms all over Greece so all of the produce is picked that morning and on your table that afternoon. I've never had fresher food in my life as I have in Greece. It's what the Greeks really pride themselves on.
Me: What 5 items are a must in a well-stocked Greek pantry?
D.M.: A Greek pantry is NOT a Greek pantry without some very key ingredients. I know you've asked for 5, but there are actually 7 that every Greek kitchen should be stocked with. They are Greek extra virgin olive oil, dried Greek oregano, fresh lemons, fresh flat leaf parsley, fresh tomatoes, and onions. Combined, those ingredients and you have the base of a lot of Greek dishes.
Me: What is your go-to dessert?
D.M.: I'm not really big on dessert and I've never had a sweet tooth, but my go to sweet would have to be Paksimathia (Greek Biscotti). They are so great to dunk in your coffee and they have just the right amount of crunch. They are light and not too sweet which is what I love. They have a nice cinnamon-y flavor. You can make the traditional recipe or add chocolate chips, or raisins. There are lots of variations.
Me: The Mediterranean Diet is high in healthy fats. How do you incorporate heart-healthy oils into your recipes?
D.M.: It has been proven time and time again that extra virgin olive oil is the most heart healthy of all oils. It is all I have ever used and it is all that my family ever used growing up. Although the smoke point is much lower than it is on other oils, in my opinion, it is still the best way to go when cooking or flavoring any dish. I wouldn't consider cooking with anything else. Extra virgin olive oil has been proven to lower cholesterol and fight heart disease. As a matter of fact, one of the leading cardiologists in the country, Dr. Michael Ozner, wrote the forward to my book and in it, he discusses this very issue. That's why he too believes that the Mediterranean way of eating that I describe in my book is the most healthy way of eating on the planet.
Me: Do you have a favorite of wine varietal you use in cooking?
D.M.: I'm an equal opportunity lover of wine for cooking. It doesn't matter if it's a cheap red or white that was left over from the night before or a very expensive bottle, in the end they all do the same job. So if I were you, I'd save the good stuff for drinking with the meal, not putting it in it.
You can stay in touch with Debbie through her Website , Facebook , Twitter , Instagram .
Would you like to win a copy of It's All Greek to Me?
Enter the Rafflecopter below to win a copy sent directly from the publisher!
I was very excited to try out one these healthful recipes. I chose Debbie's Orzo with Tomatoes and Feta found on page 180. This dish uses her Mom's Stewed Tomatoes ( Mama's Domata Saltsa), on page 74 which made a delightful sauce for this pasta dish. Thanks Debbie for sharing your recipe!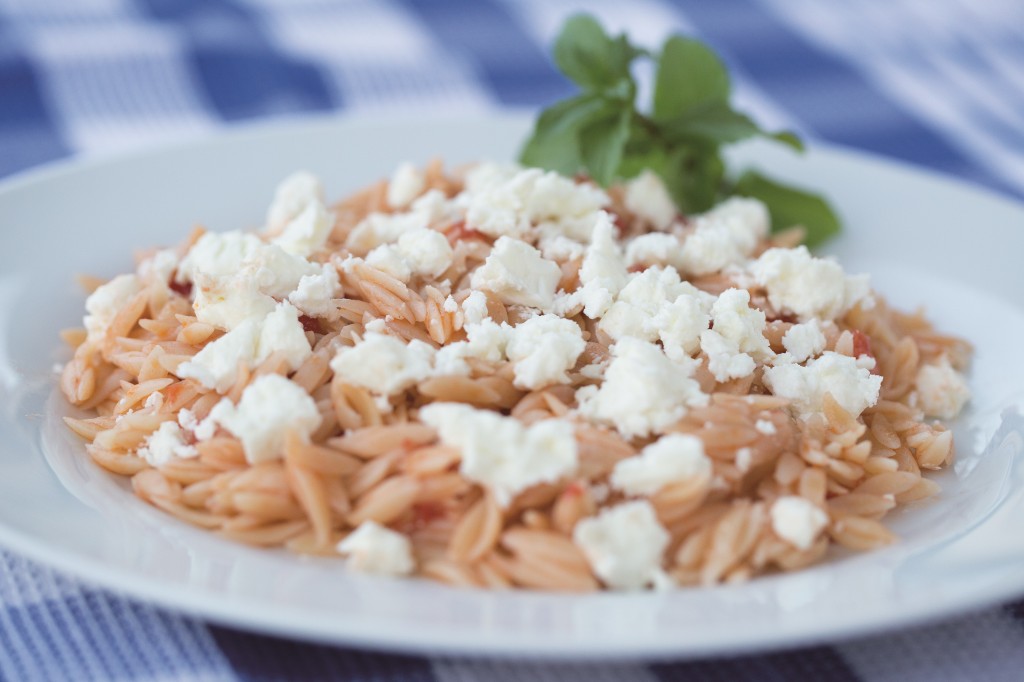 Orzo with Tomatoes and Feta It's All Greek To Me Cookbook Review and Giveaway #GreekSummer
Kritharaki me Domata kai Feta (kree-thah-RAH-kee meh doh-MAH-tah keh FEH-tah) Orzo with Tomatoes and Feta Orzo, tomatoes, and feta are classic Greek kitchen staples that combine to create a quick, luscious pasta dish. Serve with crusty bread and a fresh salad for a hearty and delicious meal that is ready in no time.
Serves:
serves 4 Author: Debbie Matenopoulos
Ingredients
4 tablespoons extra-virgin olive oil, divided
1 medium yellow or red onion, finely chopped
2 cloves garlic, finely chopped
½ teaspoon sea salt, plus more to taste
¼ teaspoon freshly ground pepper
¼ teaspoon crushed red pepper flakes (optional)
1 recipe Mama's Domata Saltsa (page 74) recipe below
4 quarts water
1 pound dried orzo
½ cup chiffonade-cut fresh basil (see tip, page 94)
¼ to ½ cup brine-packed Greek feta, crumbled small
Instructions
Heat 2 tablespoons of the olive oil in a large saucepan over medium heat. Add the onion and sauté until translucent, 5 to 6 minutes, stirring frequently. Stir in the garlic, salt, pepper, and crushed red pepper flakes (if using) and cook for 1 minute more. Add the stewed tomatoes and simmer for 10 minutes, covered, over very low heat. Taste and adjust seasonings, if necessary. Ladle out 1 cup of the sauce, and reserve.
Bring the 4 quarts of water, liberally salted, to a boil. Add the orzo and cook for about 7 minutes, leaving it slightly undercooked. Ladle 1 cup of the pasta cooking water into the reserved tomato sauce. Drain the orzo well and add it to the tomato sauce. Stir to combine and cook over low heat for 1 to 2 minutes, until the orzo is al dente and well coated in the sauce. If the orzo seems dry, add some of the reserved sauce, a couple of tablespoons at a time, to taste.
Remove from heat and stir in the basil, the remaining 2 tablespoons of olive oil, and the feta. Serve immediately, passing any remaining tomato sauce at the table.
Notes
Debbie's Tip: To make this dish vegan, simply omit the feta cheese. Without feta, this dish is a light accompaniment or bed for many of the heartier dishes throughout the book.
Mama's Domata Saltsa
Author: Debbie Matenopoulos
Ingredients
21/2 pounds (about 3 to 4 large) tomatoes, whole with stems and cores removed
3 cups water
2 Tablespoons tomato paste
½ teaspoon sea salt, plus more to taste
¼ teaspoon freshly ground black pepper, plus more to taste
Instructions
Place the tomatoes and water in a medium saucepan and bring to a boil over medium-high heat. Boil for 1 minute, then remove the tomatoes with a slotted spoon and submerge them in a large bowl of ice water. Quickly slip their skins off and return them to the cooking water.
Set over medium-high heat and return to a boil. Reduce heat to medium-low, cover, and cook for 30 minutes, until the tomatoes are tender.
Remove the saucepan from the heat and mash the tomatoes into a chunky puree with a large fork or potato masher. To prevent lumps of tomato paste, ladle a cup of the tomato mash into a small bowl and add the tomato paste, stirring to combine completely. stir the tomato paste mixture back into the tomatoes in the saucepan and add the salt and pepper. cook uncovered and stirring frequently, over medium heat, until the mixture has reduced to a thick chunky sauce, about 20 minutes more. Remove from heat, taste, and season with additional salt and pepper, if necessary.
I received a free copy of Debbie Matenopoulos's It's All Greek To Me Cookbook to review plus the opportunity to give a copy away. Opinions are my own. I received no further compensation for my post or review.