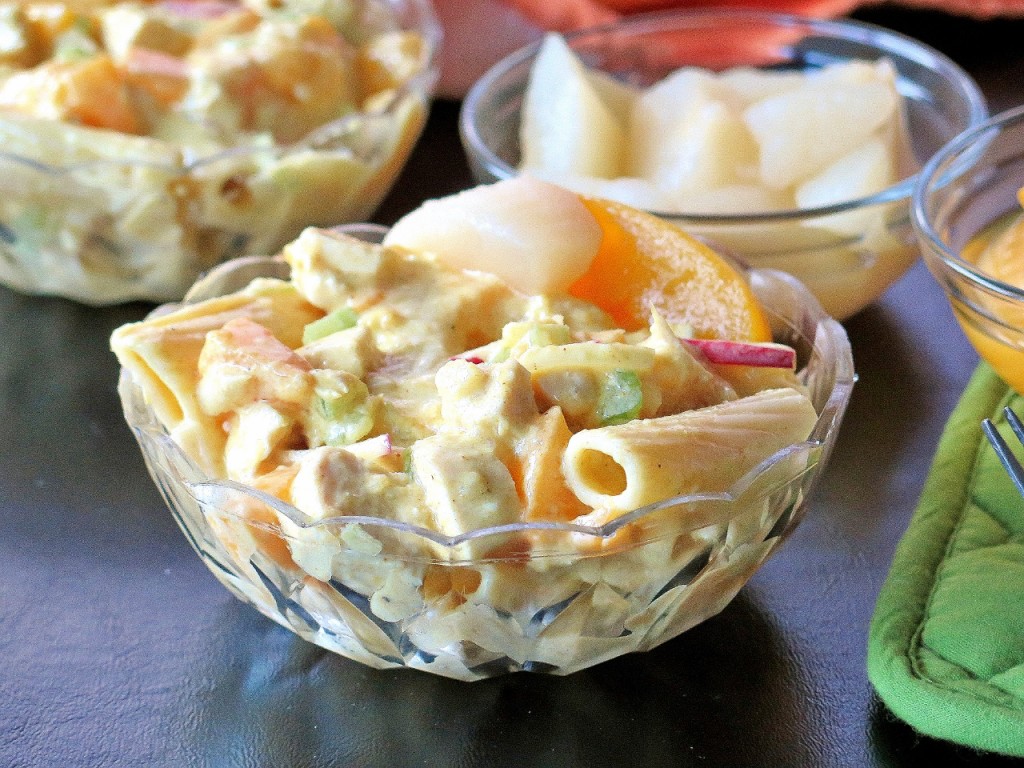 "I received free samples of Libby's Fruits & Vegetables mentioned in this post. By posting this recipe I am entering a recipe contest sponsored by Libby's Fruits & Vegetables and am eligible to win prizes associated with the contest. I was not compensated for my time."
The Challenge
Libby's is challenging Recipe Redux members to create quick; easy unique recipes that show off the convenience and surprising on-trend culinary versatility and taste of Libby's Fruits and Vegetable products by pairing them with one (or more) of Google's 2016 Food Trends.
For this challenge I chose Libby's Sliced Pears and Libby's Sliced Peaches. Both these fruits belong in a line of canned fruit that uses only natural fruit juice without added sugar.
Libby's been serving wholesome, convenient high-quality canned products to the public since 1868. Busy families can appreciate these kitchen helpers. Libby's canned vegetables and fruits will deliver fast, wholesome meals on the table without sacrificing flavor or nutrition.
Chicken and fruit have always been a favorite pairing of mine. I've made chicken with pineapple, oranges, and strawberries but never with peaches AND pears.
That was about to change.
Chicken and some kind of pasta salad was calling my name for this challenge. Rigatoni was on the trends list, so that was easy. I had the peaches and pears ready to go.
What about dressing?
I scrolled the list. Kefir, turmeric, and ground ginger sounded like a great combo. Tart kefir with warm spices. A little bit of apple cider vinegar and salt and pepper to balance the flavor.
No sugar or honey is needed. Libby's canned peaches and pears are naturally sweet. Not overpowering.
Some diced celery and radish slivers for crunch.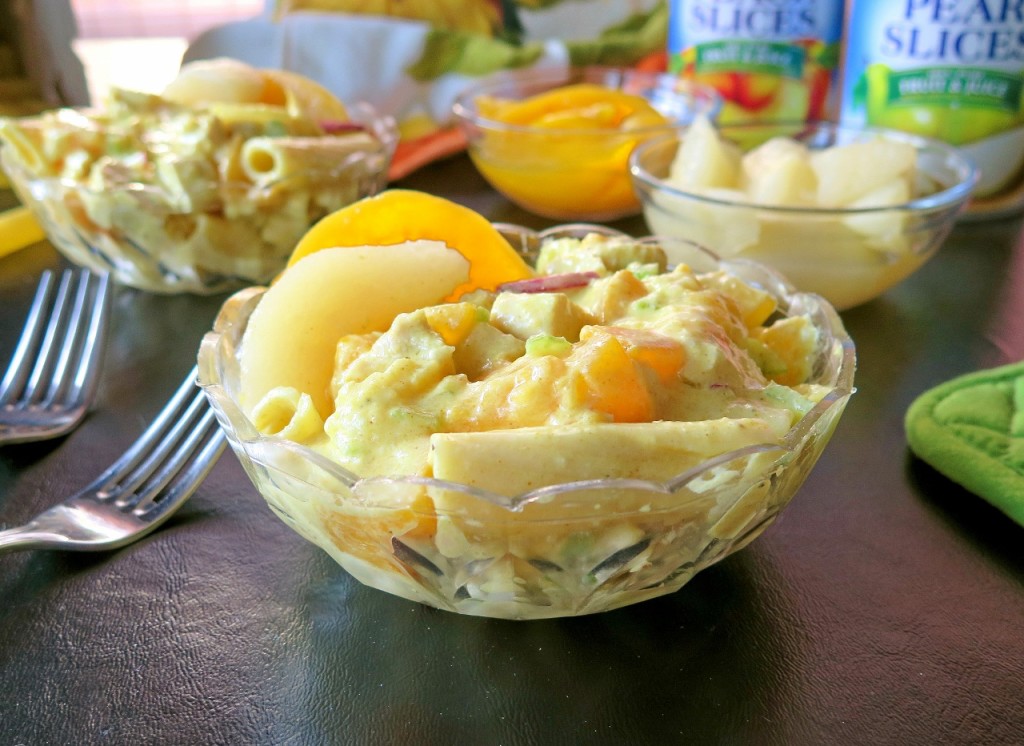 Put it all together and you have one healthy, tasty, summertime salad!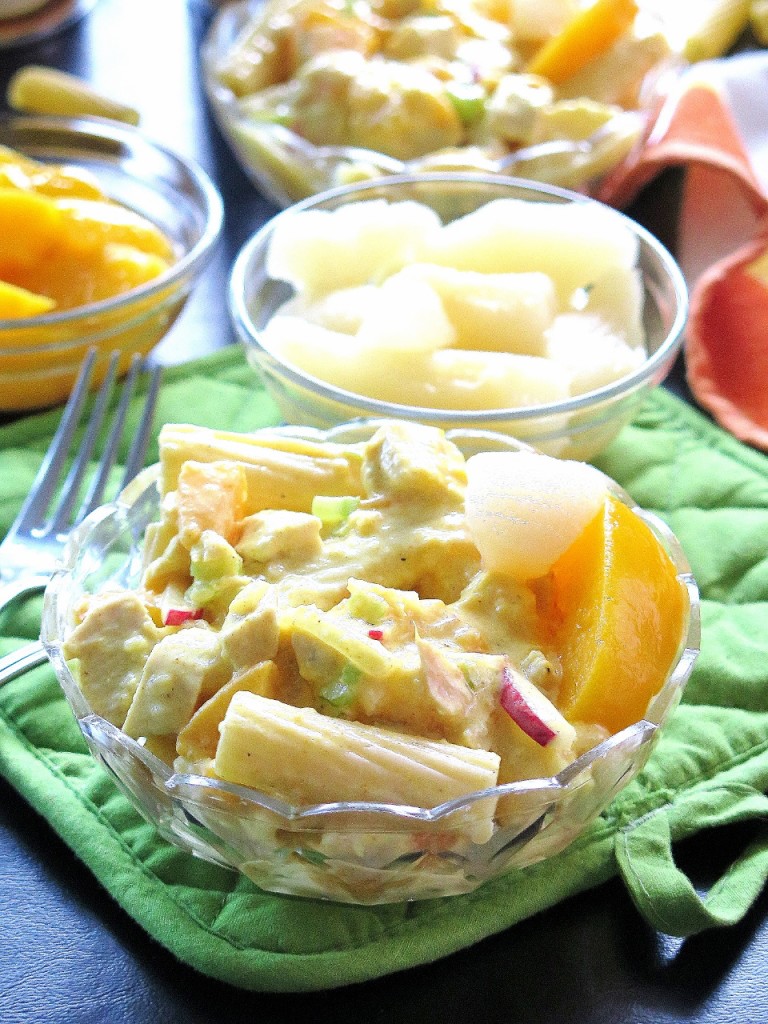 Peachy Pear Chicken Rigatoni Salad with Turmeric Kefir Dressing
Ingredients
4 cups cooked rigatoni
1 can Libby's sliced peaches drained and chopped, reserve liquid
1 can Libby's sliced pears drained and chopped, reserve liquid
2 cups diced cooked chicken
1/4 cup diced celery
1/4 cup slivered or diced radishes

dressing

1/2 cup pure kefir, strained
1/2 teaspoon turmeric
1/2 teaspoon ground ginger
1/2 teaspoon apple cider vinegar
salt and pepper to taste
Instructions
Whisk together kefir, turmeric, ginger. Add apple cider vinegar adjust to taste according to tartness of kefir. Add a small amount (1/2 teaspoon at a time) of reserved pear juice if desired to sweeten. Salt and pepper to taste. Set aside.
Toss together rigatoni, peaches, pears, chicken, celery and radishes. Fold in dressing. Refrigerate until ready for use.
http://www.cindysrecipesandwritings.com/peachy-pear-chicken-rigatoni-salad-with-turmeric-kefir-dressing-thereciperedux-ad/
Connect with Libby's Fruits and Vegetables on social media at their website:
www.GetBackToTheTable.com
Facebook: @LibbysTable
Twitter: @LibbysTable
Pinterest: @LibbysTable
Enjoy more "Chic from a Can" trendy recipes using Libby's canned vegetables and fruits at the linky below!