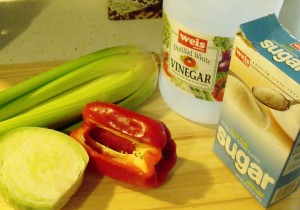 You can make this fast and easy make-ahead salad with just a few simple ingredients. The sweet-sour combo is very refreshing on a hot day! Holds up well at picnics since it has no dairy items to worry about. Mix it up a little with red, green or yellow peppers!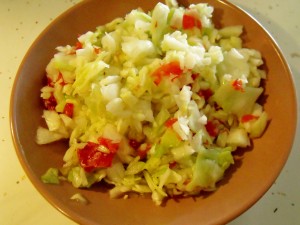 Pickled Cabbage Salad
4 cups cabbage, shredded or chopped
1/2 cup diced peppers, red or green
1/2 cup celery, diced
1 cup sugar,
3/4 cup white vinegar
Salt and pepper
Add all the vegetables together in a large bowl, stir to mix.
Dissolve sugar in vinegar. Add salt and pepper to taste.
Mix vegetables and dressing together. Refrigerate and allow to marinate for at least 2 hours.
Stir to recoat all the vegetables. Remove salad to a serving bowl with a slotted spoon; reserve the dressing to use to refresh salad or for serving on the side.