Welcome to our National Margarita Day Celebration!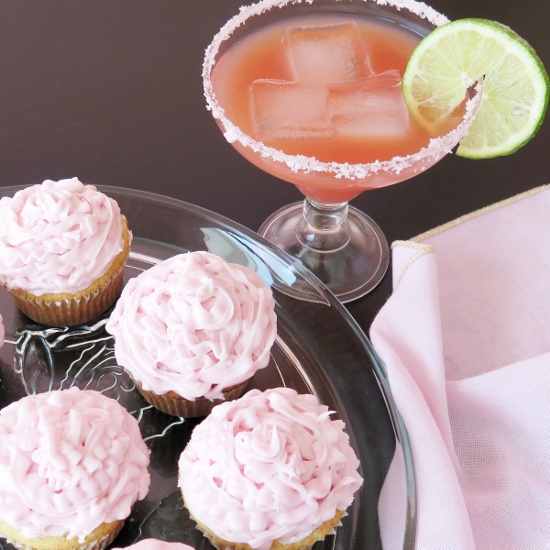 I'm not a big mixed drink consumer but I do appreciate a good Pink Cadillac.
No, not this Pink Cadillac. (Go ahead, play it I'll wait… 😉 )
This Pink Cadillac Margarita. (See recipe below) 😉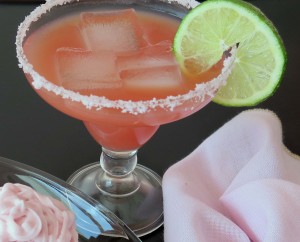 My Pink Cadillac Margarita Cupcake plays with the flavors of cranberry, orange and lime with a bit of gold tequila tossed in too!
Thank you Heather from Girlichef.com for hosting this event! Cheers, Heather!
Pink Cadillac Margarita Cupcakes
Ingredients
¼ unsalted butter, softened
¼ cup butter flavored shortening or addition ¼ cup unsalted butter
1 cup sugar
2 eggs
2¼ cups cake flour
2 tsp. baking powder
¾ tsp salt
½ cup cranberry juice or blend NOT cocktail juice
¼ cup orange juice
1 tablespoon lime juice
2 teaspoons tequila
Instructions
In a standard mixer on low speed, cream together butter and sugar.
Add eggs one at a time.
In a separate bowl, mix together flour, baking powder and salt.
In a separate measuring cup mix together cranberry juice, orange juice, lime juice and tequila.
Add half the dry ingredients then half wet ingredients. Mix and repeat.
Batter should be thick and spongy.
Bake in lined cupcake pan at 350 for 12 to 15 minutes until set and test clean with inserted toothpick .
Cool and top with your favorite frosting.
If you want to enjoy a Pink Cadillac Margarita with your cupcake (which I highly recommend) here is the recipe! The pink salt rim is colored with a few drops of cranberry juice.
1 1/2 oz. Top Shelf Tequila (Cuervo 1800)
splash of fresh squeezed Lime Juice (more Lime Juice for rim)
1 oz. Cranberry Juice
3/4 ounce simple syrup
1/2 ounce Grand Marnier or Cointreau
Instructions
Shake with ice and strain. Serve over ice.
Enjoy these great takes on Margaritas from our group of talented bloggers!
National Margarita Day 2015
Margaritas:
Margarita-inspired food: