"I received free samples of Wonderful Pistachios mentioned in this post. By posting this recipe I am entering a recipe contest sponsored by Wonderful Pistachios and am eligible to win prizes associated with the contest. I was not compensated for my time."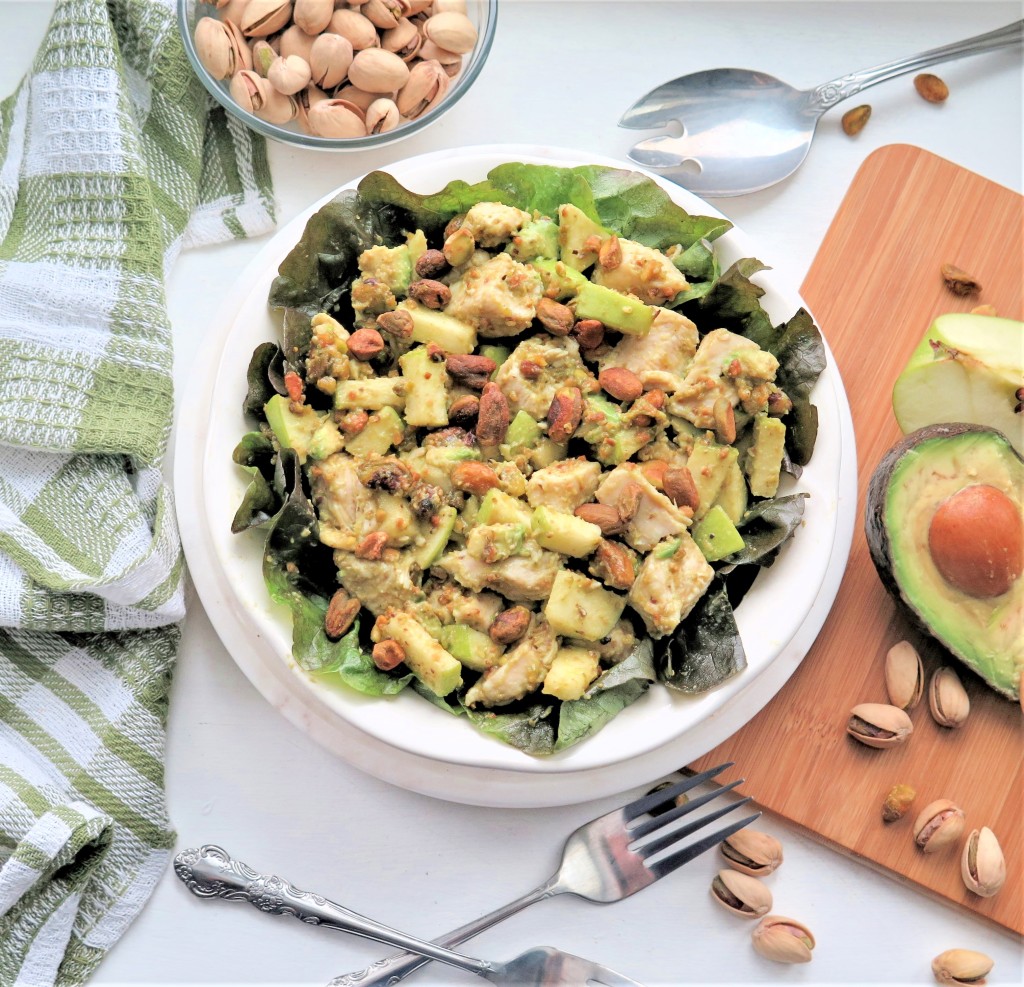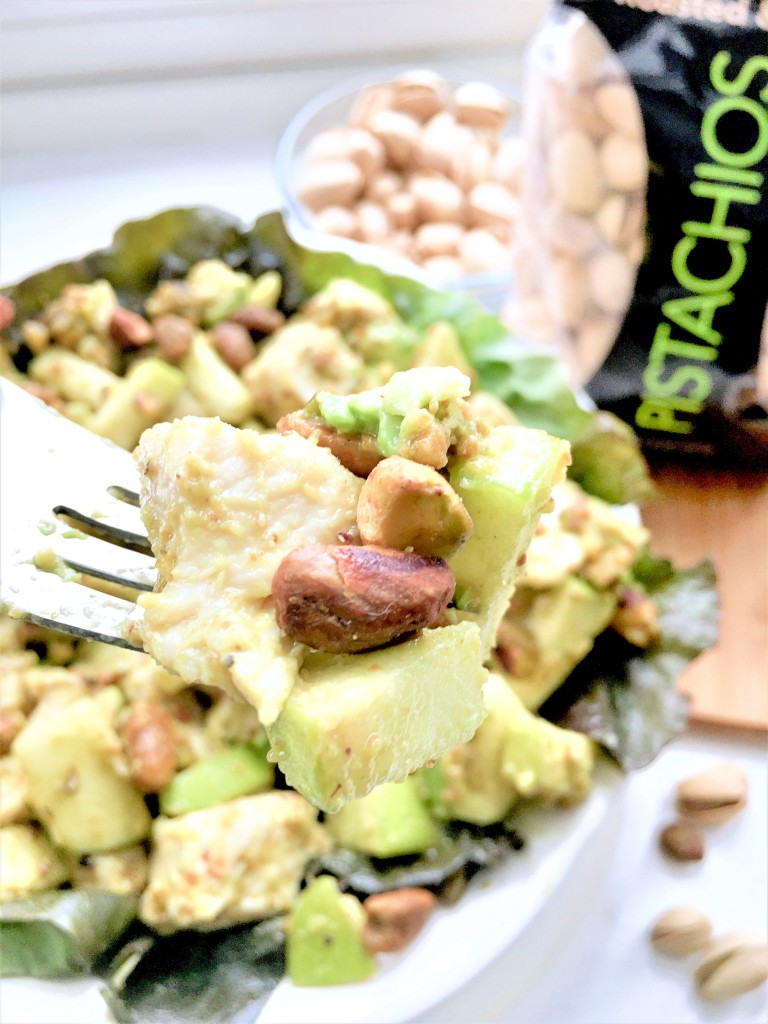 Pistachio Chicken Apple and Avocado Salad serves healthy Wonderful Pistachios with tender chicken, tart apples and creamy avocado. A great start for American Heart Month.
It's time to #getcrackin with some Kitchen Love for Heart-Smart Wonderful Pistachios!
Welcome to The Recipe ReDux Sponsored Contest with Wonderful Pistachios
We eat a lot of Wonderful Pistachios in our house. I buy them in the shell.
I also know everything should be eaten in moderation. Wonderful Pistachios can help you with that. In-Shell Pistachios are known as The Mindful NutTM because they may help you "fool yourself full" because the leftover shells may provide a visual cue for portions, potentially helping to curb intake. They call this the Pistachio Principle.
I'm a visual person. It works for me.

Most people eating in-shell pistachios only consume about 125 calories worth of nuts.
I know I'm eating a healthy snack with Wonderful Pistachios. This Fit NutTM ranks as one of the highest protein and fiber snack
nuts that are part of a heart-healthy lifestyle. Scientific evidence suggests but does not prove that eating 1.5 ounces per day of most nuts, such as pistachios, as part of a diet low in saturated fat and cholesterol may reduce the risk of heart disease. These Skinny NutTM nuts are one of the lowest calorie and lowest fat snack nuts.
Wonderful Pistachios are fun to eat too. I know they say that we eat with our eyes first. As a bonus, those bright green and reddish purple hues on The Colorful NutTM come from antioxidants.
So much flavor and healthy benefits packed in The Happy NutTM that smiles back at you!
Wonderful Pistachios can enhance just about any dish. Ground, they can be used as breading, pie crust and even made into pistachio butter.
Toss nuts in a stir-fry or pasta dish. Better yet, make Pistachio Chicken Apple and Avocado Salad.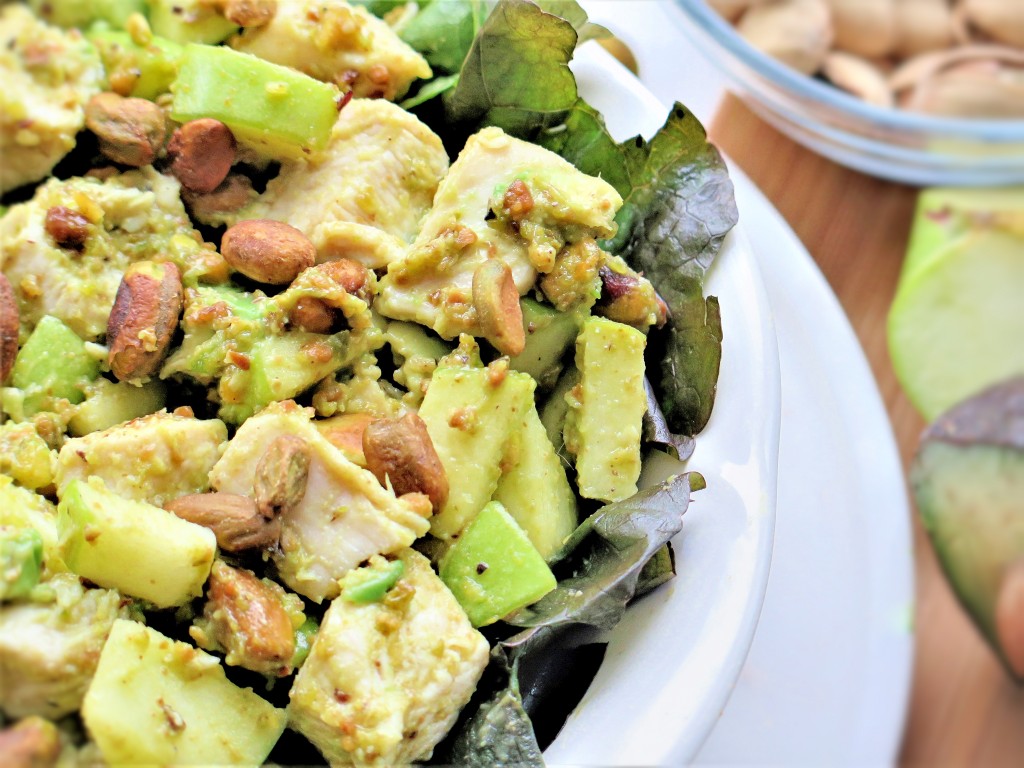 Ground Wonderful Pistachios cling to the chicken, apples and avocado. Whole Wonderful Pistachios add crunch and nuttiness to the mix.
This salad also makes a great sandwich!
Pistachio Chicken Apple and Avocado Salad
Ingredients
5 ounces cooked chicken,diced
2 ounce shelled whole Wonderful Pistachios, divided
1/2 cup diced Granny Smith apple or tart apple
1/4 cup diced avocado
1/2 teaspoon lime juice
1 teaspoon honey
2 teaspoon olive oil
1/4 teaspoon salt
1/16 teaspoon cayenne pepper
red leaf lettuce, optional
Instructions
Place chicken, apple and avocado in a bowl. Toss.
Place one ounce Wonderful Pistachios in a resealable bag. Gently smash into fine pieces with a mallet or rolling pin. Add to chicken mixture.
Mix together oil, lime juice, salt and cayenne. Add to chicken mixture.
Arrange salad over lettuce. Sprinkle with remaining whole Wonderful Pistachios.
Notes
Makes a great sandwich too!
http://www.cindysrecipesandwritings.com/pistachio-chicken-apple-and-avocado-salad-thereciperedux/

More about the Recipe ReDux.


As the first and only recipe challenge founded by registered dietitians, The Recipe ReDux is focused on taking delicious dishes, keeping them delicious, but making them better for you. Dietitians Regan Jones (of ReganMillerJones, Inc.), Serena Ball and Deanna Segrave-Daly (both of Teaspoon Communications) founded the group on the belief that healthier eating should always taste delicious. As the Latin term "redux" means to revisit or reinvent, we are reinventing the idea of healthy eating with a taste-first approach. We aim to inspire the food lover in every healthy eater and inspire the healthy eater in every food lover.
Enjoy these Wonderful Pistachio recipes via The Recipe ReDux!