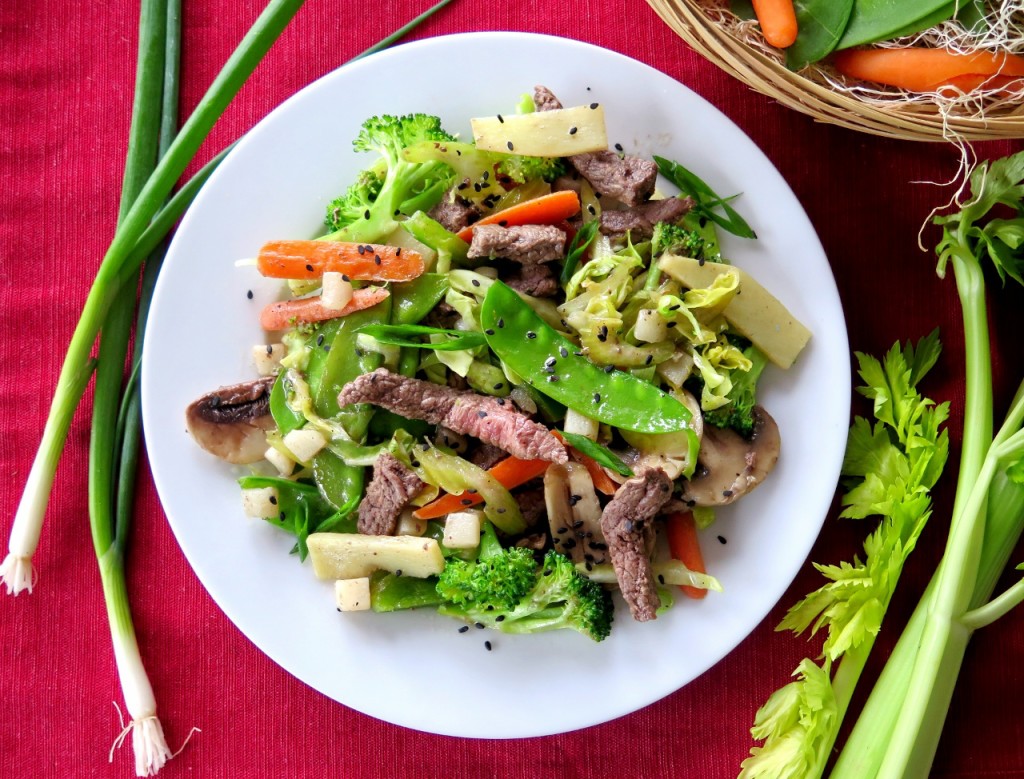 Beef Stir-Fry with vegetables adds colorful, full-flavored nutrition to a quick dinner.
Beef often gets a bad reputation as an unhealthy food, but lean beef can make for some healthy and delicious recipes.
Here's some facts about lean beef from The Beef Checkoff.
A 3 o.z. serving of lean beef is about 150 calories
Nearly half of the daily value for protein which helps build strong muscles
Less than 10 grams of fat per serving, 4.5 grams or less of saturated fat
Less than 95 mg of cholesterol
delivers iron and B-vitamins to help satisfy you and maintain a healthy weight
Research suggests that eating lean beef can also improve cholesterol levels.
Stir-fry is a quick and easy meal as individual as you are. I like to add a lean protein like beef that cooks quickly but add a lot of flavor. I use Certified Angus Beef® brand in all my beef meals.
Bright colored veggies stay that way when you flash cook them in a hot pan with oil. Quick cooking also reserves the crunch of vegetables like celery, broccoli and carrots.
Texture is also important. I add water chestnuts and bamboo shoots for contrast.
A good base vegetable is cabbage. Cabbage goes with any protein and you can vary the thickness depending on your tastes at the time.
I'm hooked on black sesame seeds lately for their taste and appearance. Hemp seeds also often find their way into my stir-fry.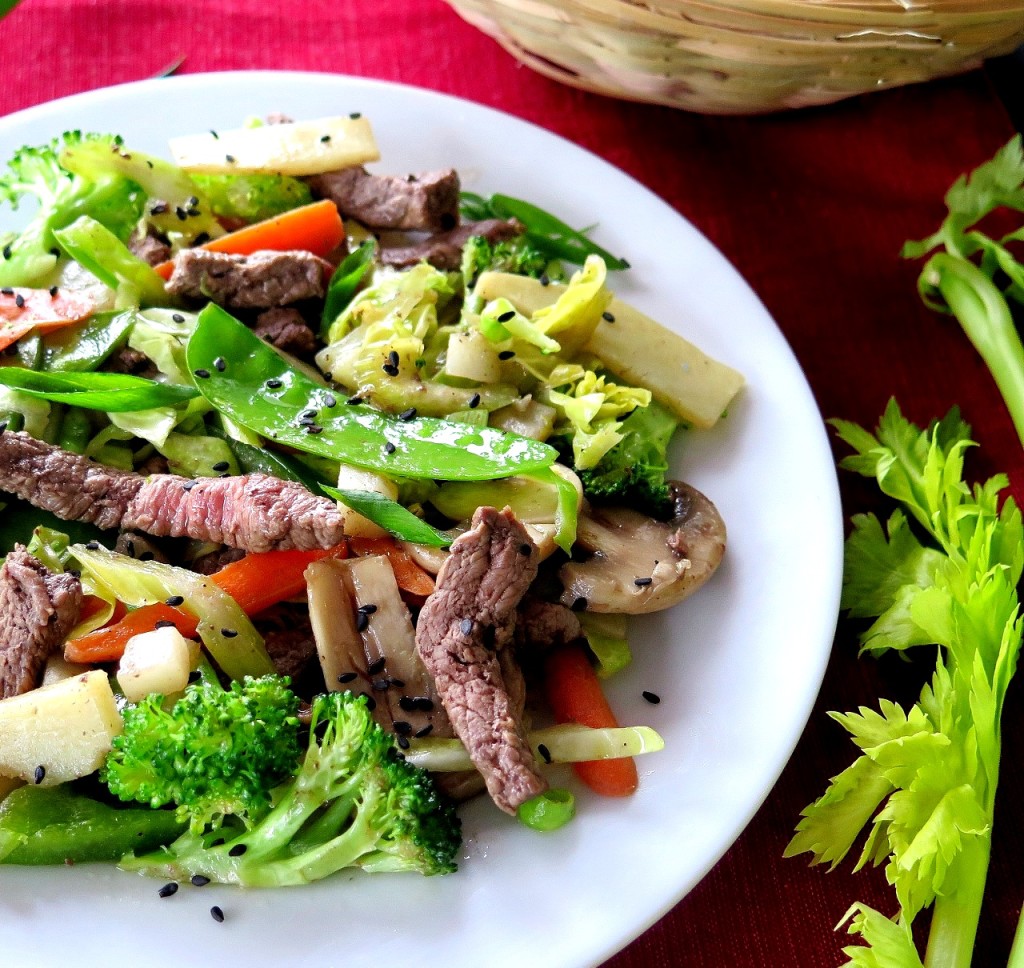 Beef Stir-Fry
Beef Stir-Fry A Meal In Minutes
Ingredients
12 ounces lean beef pounded thin and cut into 1/-inch strips (I use Certified Angus Beef® brand flank steak or top round)
4 cups assorted vegetables chopped; cabbage, broccoli, carrots, scallions, snow peas, red peppers, mushrooms
1/2 cup sliced or diced water chestnuts
1/2 cup bamboo shoots
1 tablespoon sesame oil
1 tablespoon vegetable oil
1/2 cup beef stock
salt and pepper to taste
1 tablespoon cornstarch, optional
2 teaspoons black sesame seeds for garnish, optional
Instructions
Heat oils in skillet below smoke point. Add beef and vegetables. Fry for 3 to 4 minutes, stirring constantly.
Add water chestnuts, bamboo shoots and broth. Reduce heat slightly and cook until beef is done and vegetables are crisp tender. Sprinkle with cornstarch if desired to thicken.
Serve as is or over cooked rice or ramen. Sprinkle with sesame seeds if desired.
http://www.cindysrecipesandwritings.com/quick-beef-stir-fry/
Original recipe published 1/8/17 and can be found HERE.