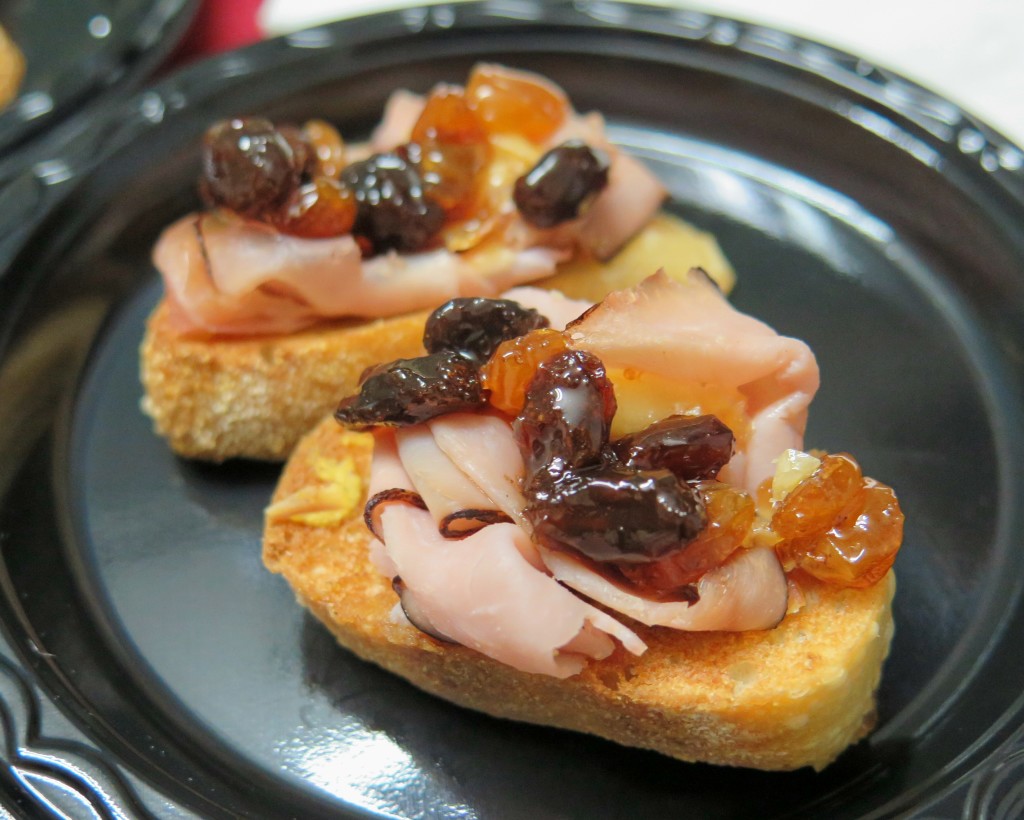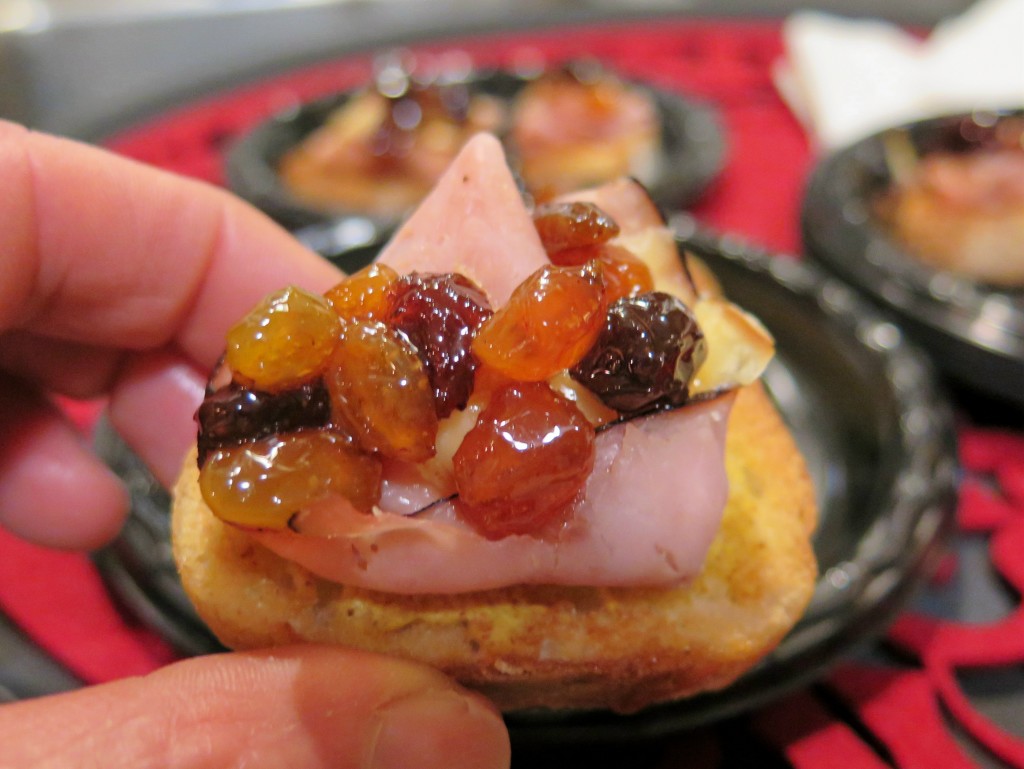 Naturally Sweet for the Holidays with California Raisins ~Sponsored by: California Raisin Marketing Board (CRMB)
"By posting this recipe I am entering a recipe contest sponsored by the California Raisin Marketing Board and am eligible to win prizes associated with the contest. I was not compensated for my time."
The Challenge hosted by the Recipe ReDux:
California Raisins is looking for the best holiday recipe that is both delicious and includes extra nutrition for a little less indulgent of a holiday.

About the Recipe ReDux:
As the first and only recipe challenge founded by registered dietitians,The Recipe ReDux is focused on taking delicious dishes, keeping them delicious, but making them better for you. Dietitians Regan Jones (ofReganMillerJones, Inc.), Serena Ball and Deanna Segrave-Daly (both of Teaspoon Communications) founded the group on the belief that healthier eating should always taste delicious. As the Latin term "redux" means to revisit or reinvent, we are reinventing the idea of healthy eating with a taste-first approach. We aim to inspire the food lover in every healthy eater and inspire the healthy eater in every food lover.
I do love raisins. I enjoy them in oatmeal cookies, bread pudding and sauces and even right out of the box. When my daughter was little, I used to buy the little snack pack size boxes to toss into her lunch bag. That was 30 years ago but I can safely say she still enjoys raisins.
According to the USDA, raisins are the most economical dried fruit. All-natural California raisins are dried-by-the-sun with minimal processing. The label says it all. Ingredients: raisins. Don't let the simplicity fool you. Raisins have zero fat, no cholesterol and no added sugar. One quarter cup offers 9% of your daily fiber and potassium, and 6% of your daily iron.
For the recipe challenge I decided to remake one of my Mom's favorite Holiday dishes: glazed ham.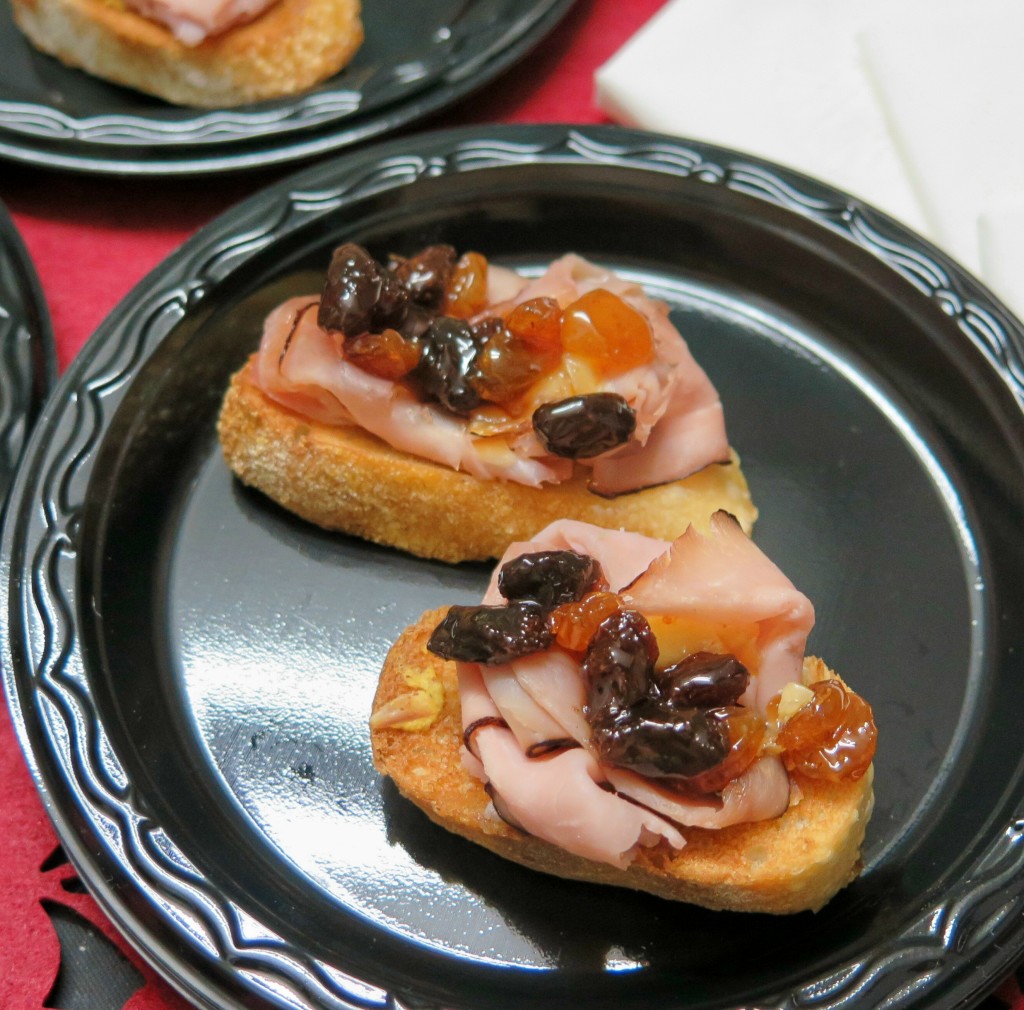 Raisin Glazed Ham and Cheese Crostini uses Black Forest Ham, Smoked Gouda and a wisp of spicy brown mustard on a toasted baguette slice. This yummy appetizer is topped with golden and seedless raisins reconstituted in apple juice concentrate and lightly seasoned.

Raisin Glazed Ham and Cheese Crostini #RecipeReDux
Ingredients
1 baguette, thinly sliced
2 Tablespoons olive oil
2 Tablespoons spicy brown mustard
¼ pound Black Forest Ham or luncheon ham thinly sliced
¼ cup grated Smoked Gouda cheese
¼ cup raisins, golden, seedless or combination
⅓ cup thawed out frozen apple juice concentrate
pinch of ground cloves
salt and pepper to taste
Instructions
Brush baguette slices with oil. Broil until golden brown.
Spread a thin layer of mustard on toasted bread.
Loosely pile a slice of ham on top of each piece.
Sprinkle with cheese. Broil just until cheese is melted.
In a small saucepan, add raisins, apple concentrate, cloves and salt and pepper to taste. Bring to a boil, reduce heat and simmer uncovered until juice is reduced by at least half.
Spoon raisin glaze over crustini. Serve immediately. Keep extras warm.
A message from the California Raisin Marketing Board (CRMB)
For more information about all-natural, no-sugar added California raisins and for recipe inspiration, please visit www.loveyourraisins.com, or get social with us at www.facebook.com/californiaraisins, www.pinterest.com/calraisins, or www.twitter.com/caraisins.
Enjoy these exciting raisin recipes from The Recipe ReDux!