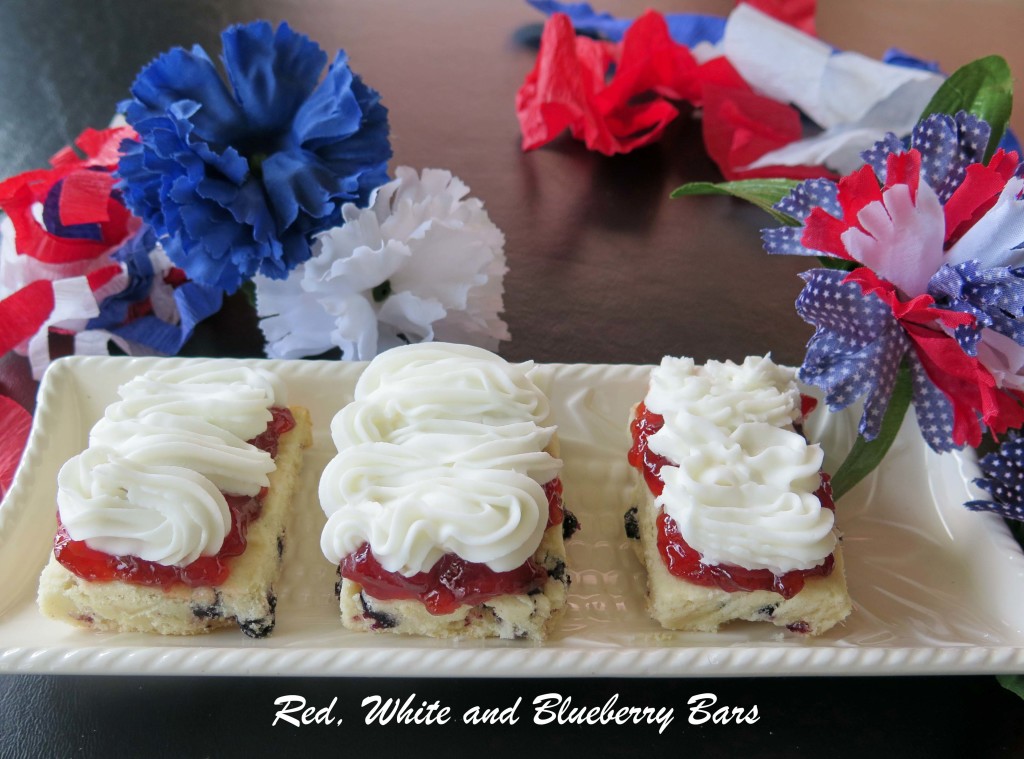 Welcome to another Fill The Cookie Jar Event!
Every month our #FillTheCookieJar cookie loving group meets to share our best cookies and bars to fit the theme. This month we will be sharing cookies that show your Red, White and Blue and summer holiday spirit!


Thank you Cynthia Landrie from  Feeding Big at http://FeedingBig.com for hosting this fun event!
Red, White and Blueberry Bars stack wild, dried blueberry shortbread with a layer of ripe strawberry preserves and topped with creamy vanilla frosting!
This was definitely a tough theme to tackle for a cookie or bar. Shortbread dotted with specks of blue reminded me of a flag. Shortbread tends to be dry, so I need a moist gooey layer. A jar of strawberry preserves in the fridge fit the bill!
A nice thick layer worked perfectly!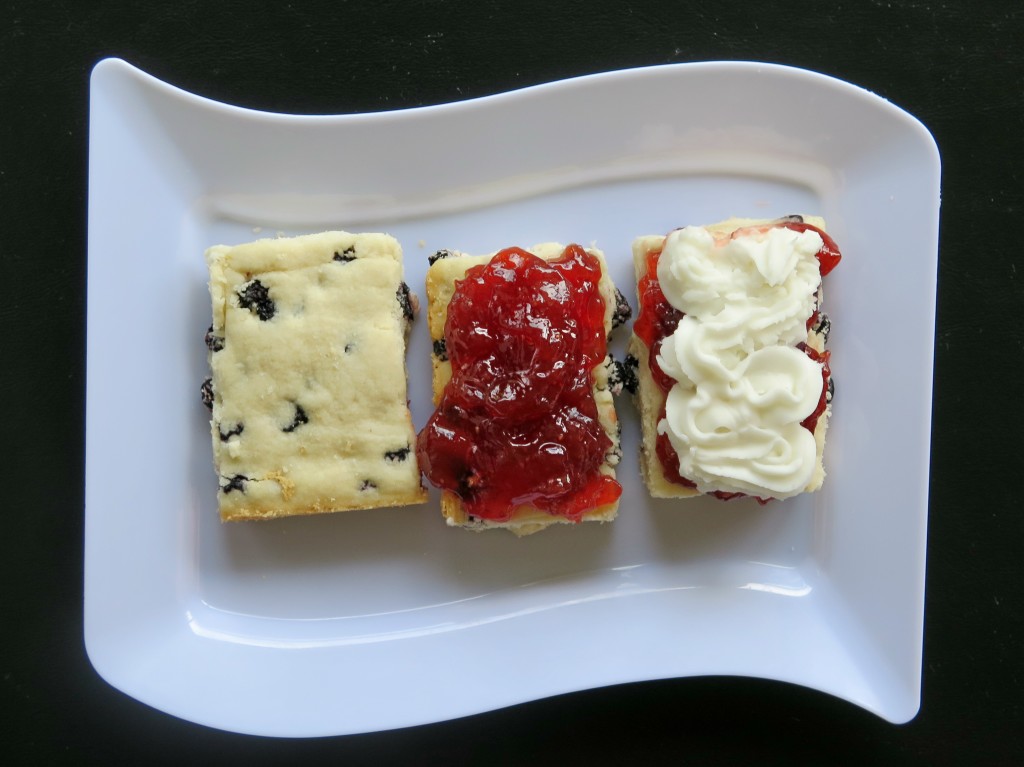 Oh yeah, I needed a layer of white. Meringue was too much work. I wanted to dig into these bars! Frosting added just the right amount of sweet, smooth texture.
The cool thing is this party recipe is so easy! You now have July 4th, Labor Day, Flag Day and Memorial Day potlucks covered.
No need to thank me, just send cookies!
Red, White and Blueberry Bars #FillTheCookieJar
Ingredients
Shortbread

1/2 cup butter, softened
1/4 cup powdered sugar
1 cup flour
1/4 cup cornstarch
1/2 cup dried wild blueberries
1/2 teaspoon vanilla
1/4 teaspoon salt
1/2 cup to 1 cup Strawberry preserves

frosting

1 cup powdered sugar
1/4 cup shortening
1/2 teaspoon vanilla
Instructions
Frosting

Cream together frosting ingredients. Set aside.

Shortbread

Cream together butter and powdered sugar and vanilla.
Mix together flour, cornstarch, blueberries. Add to creamed mixture.
Spread mixture evenly in a 8x8-inch ungreased pan. Press into a single layer.
Bake at 350 about 20 to 25 minutes until light brown on top and firmly baked.
Cool a few minutes, but while still warm, cut to desired size.
Spread bars with strawberry preserves.
Top with piped frosting.
http://www.cindysrecipesandwritings.com/red-white-and-blueberry-bars-fillthecookiejar/
Try all these wonderful cookie recipes to Fill The Cookie Jar!