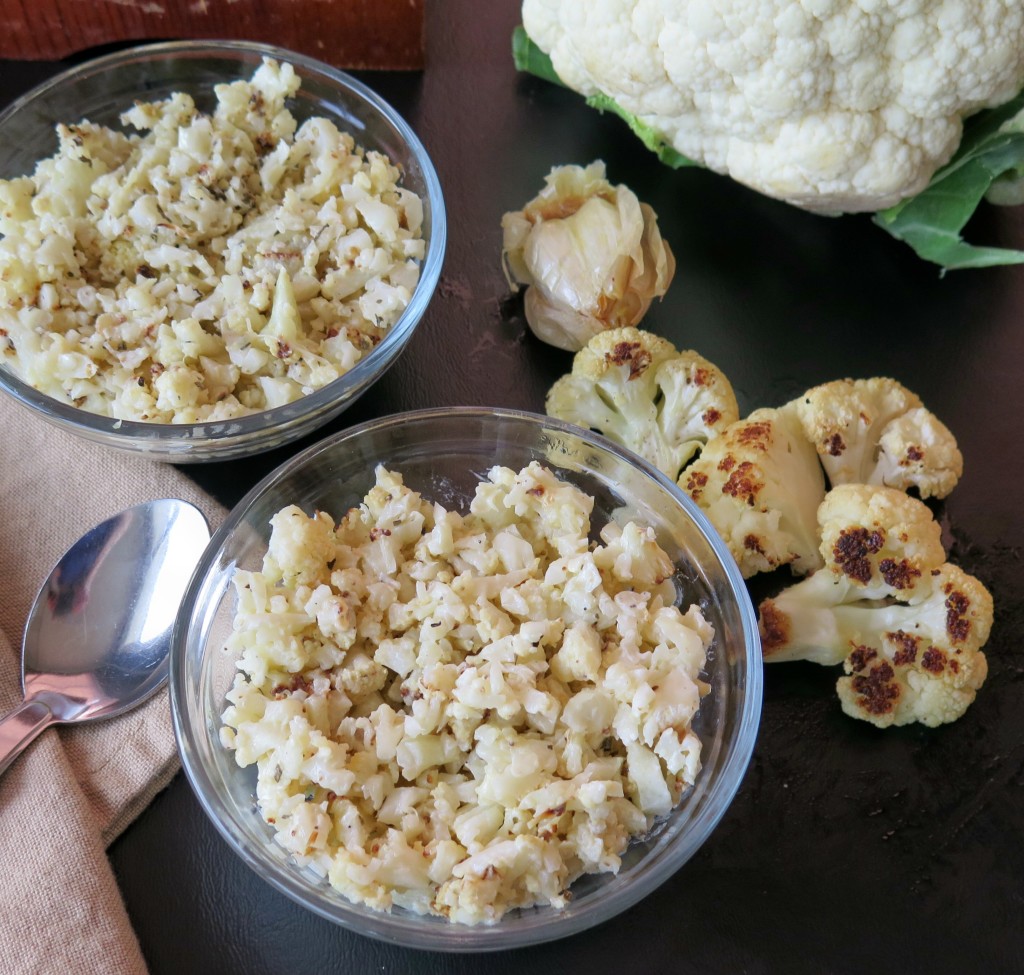 Calling all garlic lovers! Welcome to National Garlic Day 2015, hosted by Heather from girlichef. April 19th is a day for garlic lovers far and wide to come together and celebrate the wonder of "the stinking rose". Whether it's the ability to ward off vampires (and bugs), its numerous health benefits, or the way it lends flavor to a dish, there are so many reasons for singing the praises of garlic.
Garlic makes everything better. Add a little. Add a lot. Its all good.
In celebration of National Garlic Day, a group of us food bloggers got together to bring you some of our favorite garlic recipes.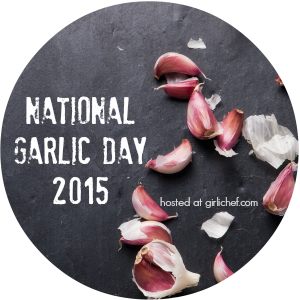 I put garlic in so many dishes. Dressings, sauces and marinades adore chopped garlic. I was taught to rub wooden salad bowls with garlic to infuse that killer flavor.
Then there's roasted garlic. Roasting brings out the sweetness and full flavor of this bulb.
Roasted Garlic Mashed Potatoes appear on menus everywhere.
Home cooks found out how easy it is to roast it. Cut off about 1/2-inch of the stem end to expose the cloves, brush with oil, wrap it in foil and bake until soft and golden colored.
So it wasn't a stretch to add it to some butter, thyme and a sprinkle of salt and pepper. Now I needed a veggie to coat with this deliciousness.
Cauliflower came to mind. Roasted cauliflower to be exact. Roasting brings out the flavor and sweetness in cauliflower too. Double treat.
This is a simple recipe, but sometimes those are the best.
If you don't like your cauliflower chopped, of course you can eat it like this!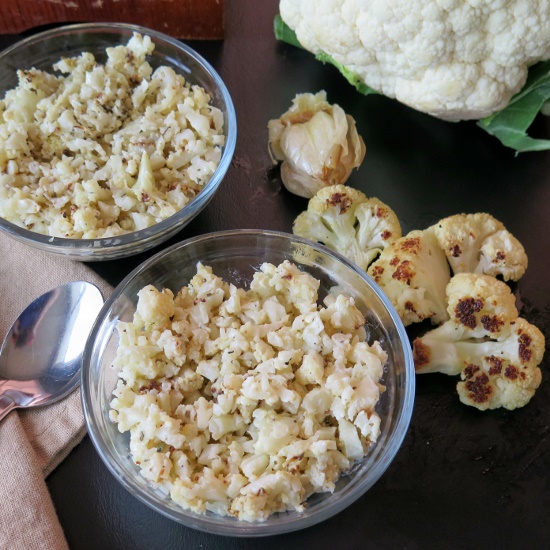 Roasted Garlic Cauliflower #GarlicDay
Ingredients
1 head cauliflower cut into florets
2 Tablespoons olive oil, divided
1 head garlic
1 tablespoon fresh thyme leaves
4 Tablespoons butter
salt and pepper to taste
Instructions
Preheat oven to 350. Cut stem end off garlic, rub with oil, wrap in foil and bake until cloves are soft and golden brown. (about 30 minutes)
While garlic roasts, rub florets with oil. Lay out in a single layer and roast until softened and browned. About 20 minutes.
Remove roasted garlic cloves from bulb. Smash or chop.
Melt butter. Toss cauliflower, garlic, thyme and seasoning in melted butter.
Serve florets whole or mashed.
http://www.cindysrecipesandwritings.com/roasted-garlic-cauliflower-garlicday/
Enjoy all these great ways to serve up wonderful garlic for National Garlic Day!