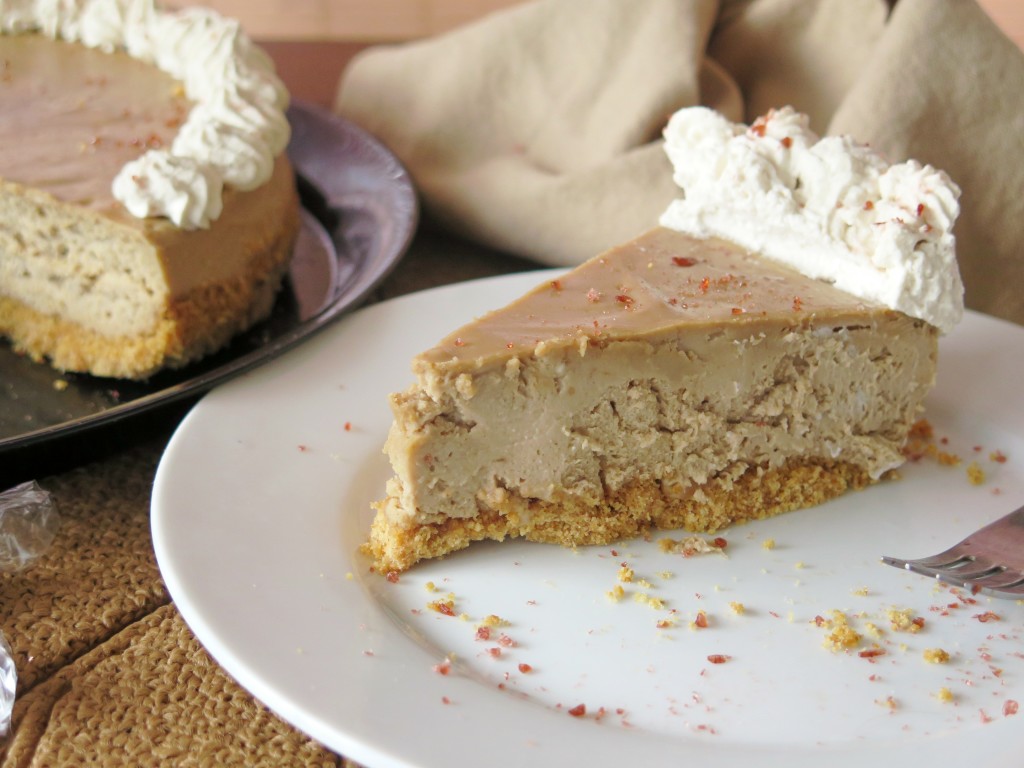 Root Beer Float Cheesecake takes you back to the soda shop to enjoy a rich, creamy root beer treat.
My guy has a thing for root beer. I have a thing for cheesecake. So why not try a Root Beer Float Cheesecake? Why not, indeed!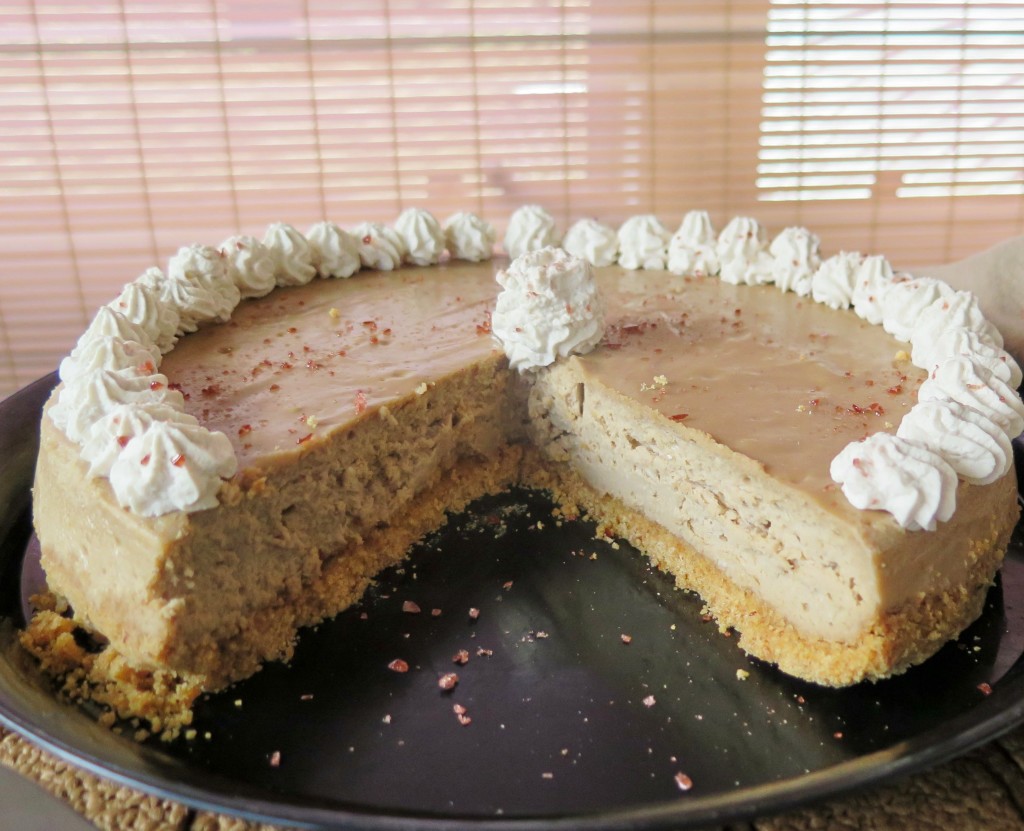 I jumped at the chance when Camilla from Culinary Adventures with Camilla invited some of her blogging friends to join in her wedding anniversary celebration. She celebrates with cheesecake!
Last year Camilla at Culinary Adventures with Camilla rallied some blogging friends to help her celebrate her 15th wedding anniversary. She was only looking for fifteen cheesecake recipes. But we posted waaaaaay more than #FifteenCheesecakes.
It was such a hit and we all had so much fun that she decided to see if she could get enthusiasm for another round of cheesecakes. Yep. This is an encore performance by some of her favorite foodie bloggers.
Cheesecakes can be a tricky treat to make. I scoured the web, piles of cookbooks and notes from school to gather these tips. I used all these techniques together and I must say, it was well worth the effort!
Tip #1 Don't spare the fat. Only use 100 percent cream cheese and sour cream never lower calorie or not non fat version.
Tip #2 Let your ingredients reach room temperature. You're better to avoid lumps from using warm cream cheese. Eggs incorporated that were at room temperature won't re-harden the fat. Less lumps=smoother cheesecake.
Tip #3 Add a bit of flour. The gluten in the flour helps keep the cheesecake from cracking as it cools.
Tip #4 Fold in eggs one at a time. Less is more when it comes to adding eggs. Gently fold in. Don't overmix.
Tip #5 Line bottom and brush sides of pan with butter. You can line the bottom with a parchment paper circle. brushing the sides with butter when you add the batter help in removal.
Tip #6 Water Bath a water bath really does help with even cooking. Just be sure in cover your pan tightly to avoid any water from seeping in.
Tip #7 Blast it first. Start your cheesecake on high heat for several minutes before cooking in a slow oven at low temperature.
Tip #8 Use residual heat. After initial baking for about an hour, turn off the oven and don't open the door. The residual heal will finish the job. Your cheesecake will look slightly runny or soft in the middle but within an hour, it should look evenly firm. Cool completely before refrigerating.
Now that you are ready  Grasshopper, let's bake a cheesecake!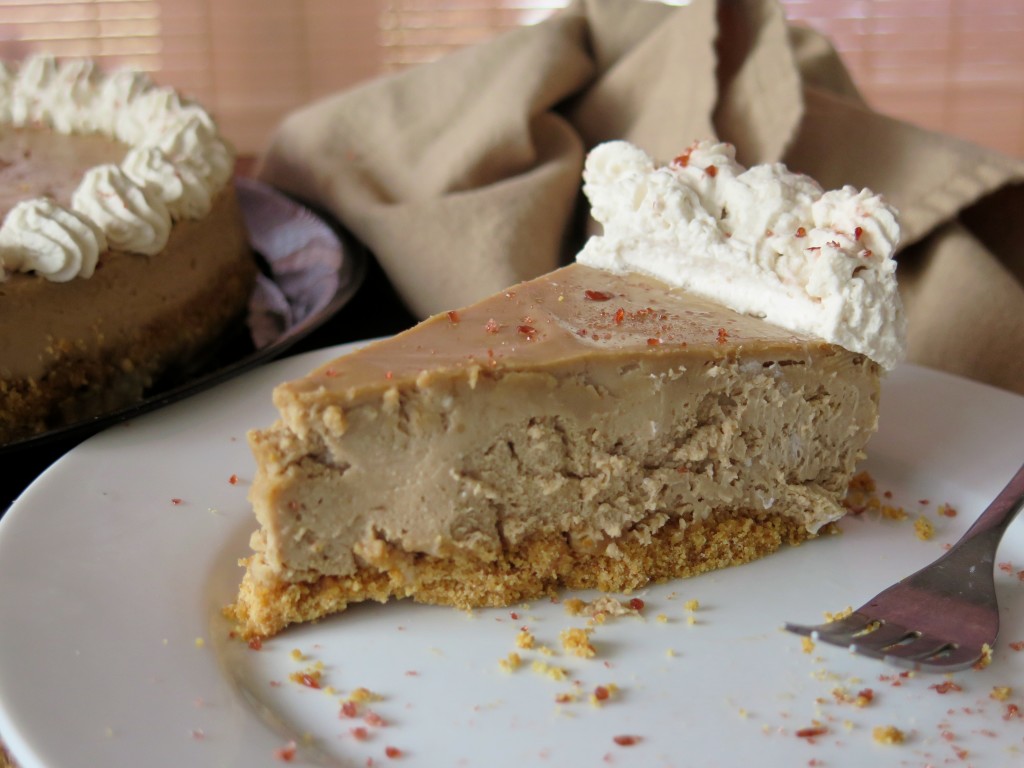 If you have a root beer barrel handy, place in a plastic bag and crush to sprinkle on top!
Root Beer Float Cheesecake
Ingredients
crust

6 Tablespoons sugar
6 Tablespoons butter, melted
2 1/2 cups graham cracker crumbs

filling

24 ounces regular cream cheese
1 1/2 cups regular sour cream
1/4 cup flour
2 teaspoons root beer flavoring
1 teaspoon vanilla
1 1/4 cups sugar
3 eggs
1 egg yolk

root beer whipped cream

1 cup heavy cream
6 Tablespoons powdered sugar
1 teaspoon root beer flavoring
Instructions
crust

Preheat oven to 350. Whisk together sugar and crumbs. Stir in melted butter,
Press into prepared 10-inch springform pan. Bake for about 10 minutes until set and firm. Cool.

filling

Cream together cheese, sugar, flour and sour cream until smooth.
add vanilla and root beer along with egg yolk.
Add additional eggs one at a time just folding in. Do not overmix.
Preheat oven to 400 degrees. Brush exposed insides of pan with melted butter. Pour batter into pan, level.
Place in hot water bath and bake on center rack for 10 minutes. Reduce heat and bake an additional 60 minutes.
Turn off oven and allow residual heat to finish baking. This takes about 60 to 70 minutes with the door shut.
Finished cake should look evenly firm yet slightly wet. Cool completely on wire rack before refrigerating.
Allow 6 to 24 hours chill time to set before removing cake from pan.
Whip together cream, powdered sugar and root beer flavoring until firm. Garnish cooled cheesecake. Top with candy bits if desired.
http://www.cindysrecipesandwritings.com/root-beer-float-cheesecake-plus-8-tips-sixteencheesecakes/
More than #SixteenCheesecakes